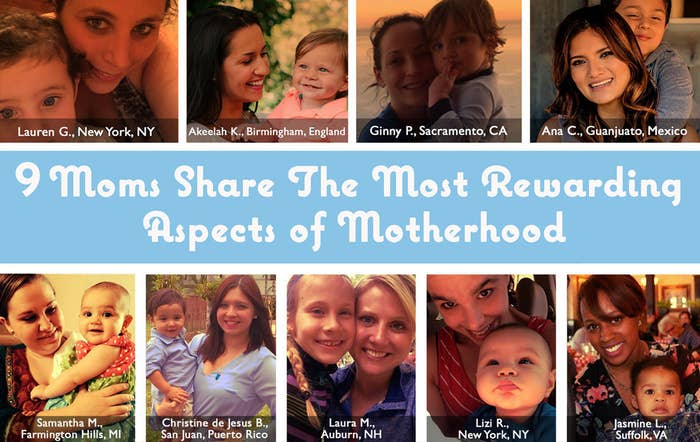 Here's what they told us:
Do you remember your kid's first word? What was it?
Lauren: "Mommy"! BEST THING EVER!
Ginny: "Want." And it's his favorite word to this day!
Jasmine: Yep. It was "Dada"!
Samantha: "Dada." But I don't think she had any association of it with her father.
Christine: "Papa." Yeah, Mommy was a little mad!
What's the one thing your kid has taught you about yourself?
Lauren: I can function on very little sleep, haha! No, but seriously, she has taught me how to love better.
Akeelah: He's the boss, and I am here to serve him.
Jasmine: My son has taught me that I'm capable of doing far more than I ever imagined. I'm a first-grade teacher, recently started a wedding planning business, have a 1-year old son, and am married!
Ana: He has shown me how to truly love someone and how it's possible to smile just by looking at him!
Samantha: I am capable of absolutely anything. We all are.
Christine: That even just one minute counts when it comes to making him happy!
Lizi: I've learned that I can live without having all the answers, and I can embrace the idea that he and I are learning together.
Is there something your kid has accomplished that has blown your mind?
Akeelah: My husband and I have been teaching him sign language, and our favorite thing that we do just for fun is POOP. A few months ago, he stood up, made his "I'm having a poop" face, and made the sign for POOP. I could've cried with glee!
Ginny: The day he decided he had to only go potty in the toilet now that he was a "big boy"!
Jasmine: Whenever my husband and I would have one of our Saturday-morning dance parties, our son would imitate our dance moves. Watching him try to snap his little fingers and move his hips was absolutely hilarious!
Ana: At the age of 5, he was already able to read a book!
Laura: Whether it's learning to walk, talk, read, ride her bike, tie a shoe, or show me how kind and sweet she is, every day blows my mind. I just have to remind myself to really enjoy it; it happens fast!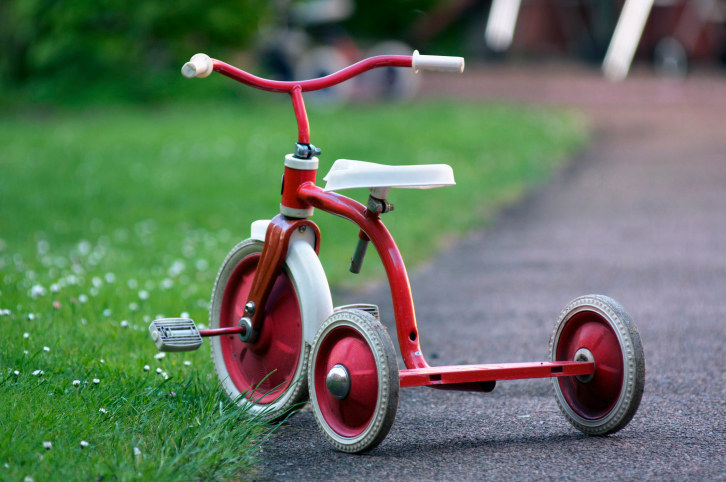 Would you do it all over again right now?
Lauren: Yup! Wouldn't change a thing!
Akeelah: Labor is no joke, but the reward is pretty great. So, yes.
Ginny: Yes!
Jasmine: Yes! In a heartbeat.
Ana: YES!
Samantha: Would I do it again right now? Like, right NOW right now? As if I'm not already getting enough pressure from my mother!
Christine: Of course, no questions asked!
Lizi: Logistically, now is not an ideal time, but if it happened, I would embrace it while buckling my seat belt!
When did your kid first laugh and why?
Lauren: She first laughed when she was around 4 months — because I sneezed.
Ana: The very first time I held him, he gave me a beautiful smile and a soft laugh.
Samantha: She first laughed one evening when she was about 4 months old when I was imitating Elmo's laugh.
Christine: I was rubbing his belly, and he started laughing out of nowhere!
Laura: Her first belly laugh was at the cat walking around. Evidently this was hysterical!
Lizi: He was almost 2 months old, and I made a face that caused a small giggle. Or perhaps it was gas.
When is the first time he or she made you laugh, and why?
Lauren: She makes me laugh so much I can't even remember the first time!
Akeelah: He looked like a grumpy little old man when he was newborn, so that was ALWAYS good for a laugh.
Ginny: The minute I first saw his face, I laughed and cried at the same time.
Ana: When he was just two days old, I was changing his diaper, and supposedly he was sleeping — then suddenly I realized I was getting urinated on!
Samantha: I remember cracking up when she was just a few days old and managed to poop across the whole room during a change. What a talent!
Christine: Every single day he makes me laugh. Everything he does is funny!
Lizi: He was only a couple weeks old, and we dressed him up like an elf at Christmas. Because he was so small, the elf costume did not fit by any stretch of the imagination, and he made a face that would seem to indicate he was aware of how ridiculous he looked.
What's the perfect way to spend a weekend day with your kid?
Lauren: I love taking her to the pool or the zoo where she can play with other kids and experience new things.
Akeelah: Morning snuggles in bed, then letting him run amok on the beach and in the ocean (we're lucky that we live by some beautiful beaches, and he is a beach babe!).
Jasmine: Saturday-morning breakfast dance party, followed by a nap and then a nice family picnic at a local playground.
Ana: We have a tradition: Every Saturday morning, we have lunch together. It's our date!
Samantha: We spend our weekends taking walks, playing, watching her discover new things, having tickle fights, taking too many photos, and just laughing together.
Laura: Together is the best way. Out and about or home, it doesn't matter.
Lizi: Cuddling.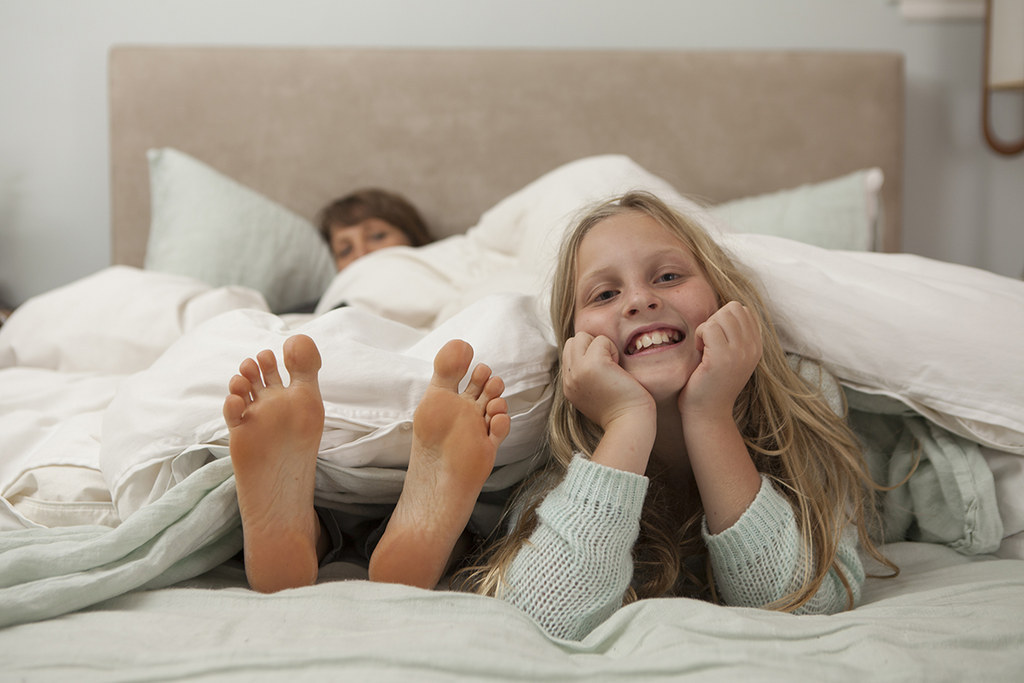 What's something you do now as a mom that you NEVER imagined you would do before?
Akeelah: Go out without my makeup, hair, and nails done. Sunglasses and hat cover all evils!
Ginny: Laugh off little messes in the house to be cleaned another day.
Jasmine: I'm way more aware of time. I'm very conscious of how much time I spend away from my son. I'm naturally an extrovert and just go with the flow...not anymore! Mama needs her quality time with her baby!!
Ana: I don't care about myself anymore. Any decision I make is with my beautiful son in mind!
Samantha: I talk about poop so much now, it's crazy.
Christine: Go to bed at 9 p.m., lol!
What sound is "music to your ears" as a mom?
Lauren: My little girl's laugh. There's nothing like it.
Ginny: "I love you, Mommy."
Jasmine: When I hear him humming the alphabet or our favorite nursery rhymes. Hearing "Mama" also melts my heart.
Akeelah: SILENCE. SILENCE. SILENCE. Oh, and the sound of his belly laugh when my husband chases him around the kitchen. :)
Ana: My son's words and his laugh.
Christine: My son's laugh.
Laura: Laughter. Crying is awful and whining is painful!
Lizi: It's a toss-up between belly laughs and pure, unadulterated silence at 2 a.m. Both are divine.
What is, in a few words, the absolute best part of being a mom?
Lauren: The unconditional love. That, and the smiles, laughs, hugs, and "Mommy"s!
Akeelah: Giggles, snuggles, and watching my son learn and achieve things himself. But maybe best of all is watching the joy and love between my husband and son. That's my big heart melter.
Ginny: Christmas, Halloween, 4th of July... Having kids makes holidays even better than they were for you as a kid. It's your turn to make it special for them, and there is no better feeling than that.
Jasmine: You're able to give and receive unconditional love daily.
Ana: Knowing that a beautiful little person loves me so much, trusts me, and sees me as his hero.
Samantha: Realizing my own strength through my love for my daughter.
Christine: Being able to see my son grow.
Laura: It's like no other love I will ever experience. I love my daughter unconditionally and endlessly. I didn't know you could love this much. :)
Lizi: The unconditional love. The way my son looks at me in the morning. The fact that when he wakes at night, my touch can soothe him. The chance to watch him grow and discover the world. Dressing him is pretty rad too!