If you and your dog both have a penchant for adventure but require a healthy dose of luxury too, then the Ritz-Carlton Bachelor Gulch is the place for you. This Ritz has twice-daily hikes planned specifically for you AND your dog, plus offers in-room massages for you both to enjoy afterward. (Oh yeah, and they have fresh cookies and s'mores every day at 3:00pm, so that's like, pretty good.)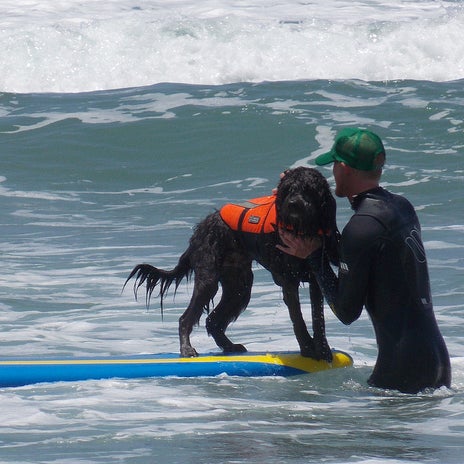 Surfer dudes and dudettes take heed of Loews Coronado, where they'll teach your dog to take on the waves along with you. The dog surfing package includes a lesson, doggy board shorts, a surf-and-turf dinner, and even some light reading for the return home—The Dog's Guide to Surfing.
So close to the Green Mountains you'd be a fool not to take advantage of 'em, your dog will probably require some heavy R&R afterwards. Fortunately, Topnotch's spa offers a Rover Reiki massage treatment tailored just for dogs—and when she's all rested up, she can take a load off in her very own fleece-wrapped AeroBed.
Miami isn't just for "the most attractive people in America" anymore—now they want your dogs, too. The Mandarin offers several "play dates" for dogs, including exercising with a professional dog trainer or even training for rebellious dogs. And if you need to head out without your pooch, hotel staff will walk him or her for free.
Part of the super-dog-friendly Kimpton Hotels group, Hotel Monaco doesn't just provide its dog guests with beds, treats, and toys, it also offers them a complimentary happy hour. Don't worry, your dog won't be slamming brews, but he will be slamming unlimited treats and water while you cool your heels at the saloon.
There are few other places that'll treat your dog as close to an equal than S.F.'s W Hotel. Every dog gets a toy, personalized tag, treats, clean-up bags; and rooms include a bed, food, and water bowl just for your furry traveler. Plus, when the sun goes down (or it's "five o'clock somewhere"), you can grab a delicious beverage while your dog can sip a Bowser Beer (nonalcoholic) and y'all can recount the day.
Little known fact: Dogs enjoy handmade goods just as much as you do. The XV Beacon offers homemade doggie biscuits on top of plush and rubber toys and a bed with turndown service.
Well-known fact: Dogs love hamburgers. They have those too.
Not only is Scottsdale's Hyatt Regency dog-friendly, they have their very own doggy ambassador, Uno. He runs the 4paws program and will make sure your dog is treated right. 4paws includes customized beds with fleece-covered pet pillows and a "bistro" menu with such delectables as a veggie bruschetta and chicken risotto (let's not even get started on the "cupcake" dessert!).