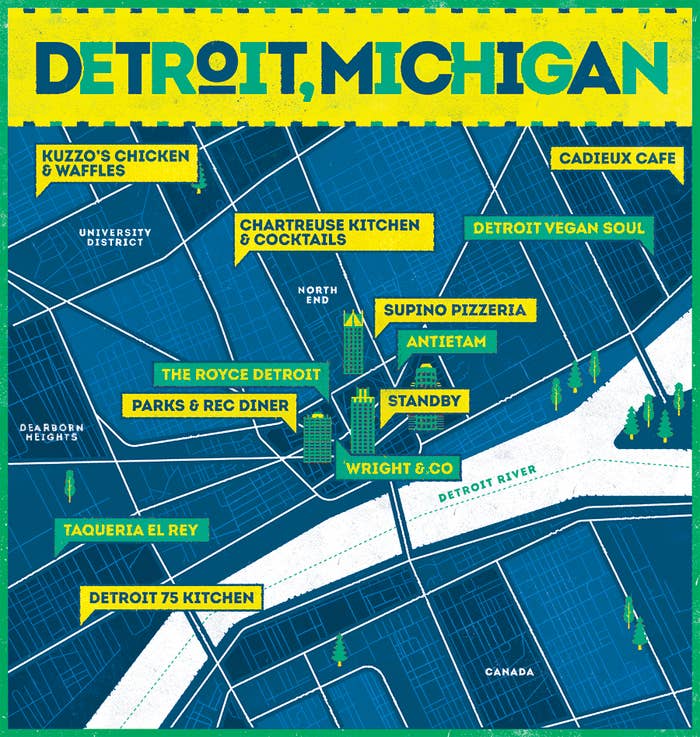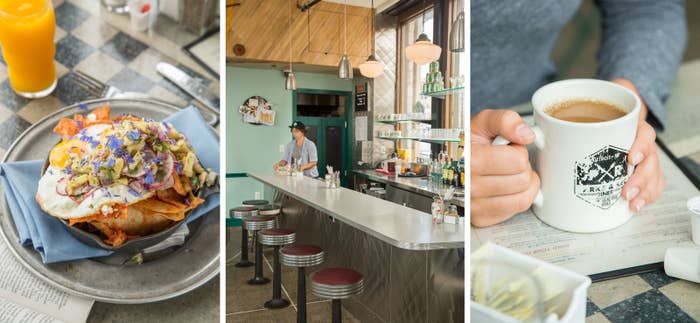 The name isn't just cutesy: Parks & Rec Diner sits inside a building that actually served as the City of Detroit Parks and Recreation Department for 40 years. The diner is decorated with old roller skates, doors, windows, and shuffleboards found in the historic building. When you come to this downtown diner, come early. We spoke to the staff, and they told us on weekend mornings there will often be a line around the block. And believe us: After you take your first bite, you'll see why.
Kuzzo's Chicken & Waffles, which sits on Detroit's Historic Avenue of Fashion, cooked us up a breakfast so good I immediately wanted to return to my hotel room to take a blissful food-coma nap. Don't gloss over the menu at Kuzzo's. The dish names are creative, and there is a lot to choose from. The waffles were full of flavor, and the chicken was cooked just right. And, of course, it wouldn't be a chicken-and-waffles breakfast without grits.

We couldn't leave pizza off this list! Supino Pizzeria, located in the Eastern Market, is a Detroit favorite. The bright and airy interior made for a lovely lunch. This place is a local favorite. We arrived at Supino right as it opened, and there was already a line of people waiting to get in. Our advice? Try the titular pizza: The Supino. It's a red pizza with roasted garlic, black olives, chili oil, ricotta, and mozzarella!

Downtown, Standby describes itself as a cocktail place first and then a food place. Given its impressive drink menu, it totally makes sense. We had such a fun time drinking these wildly creative cocktails. Standby is just down the street from an art gallery downtown, so its walls are decorated with a collection of constantly rotating pieces. Take some time to hang out in the little alleyway Standby is located in. String lights and bright murals make it a picture-perfect location prime for earning likes.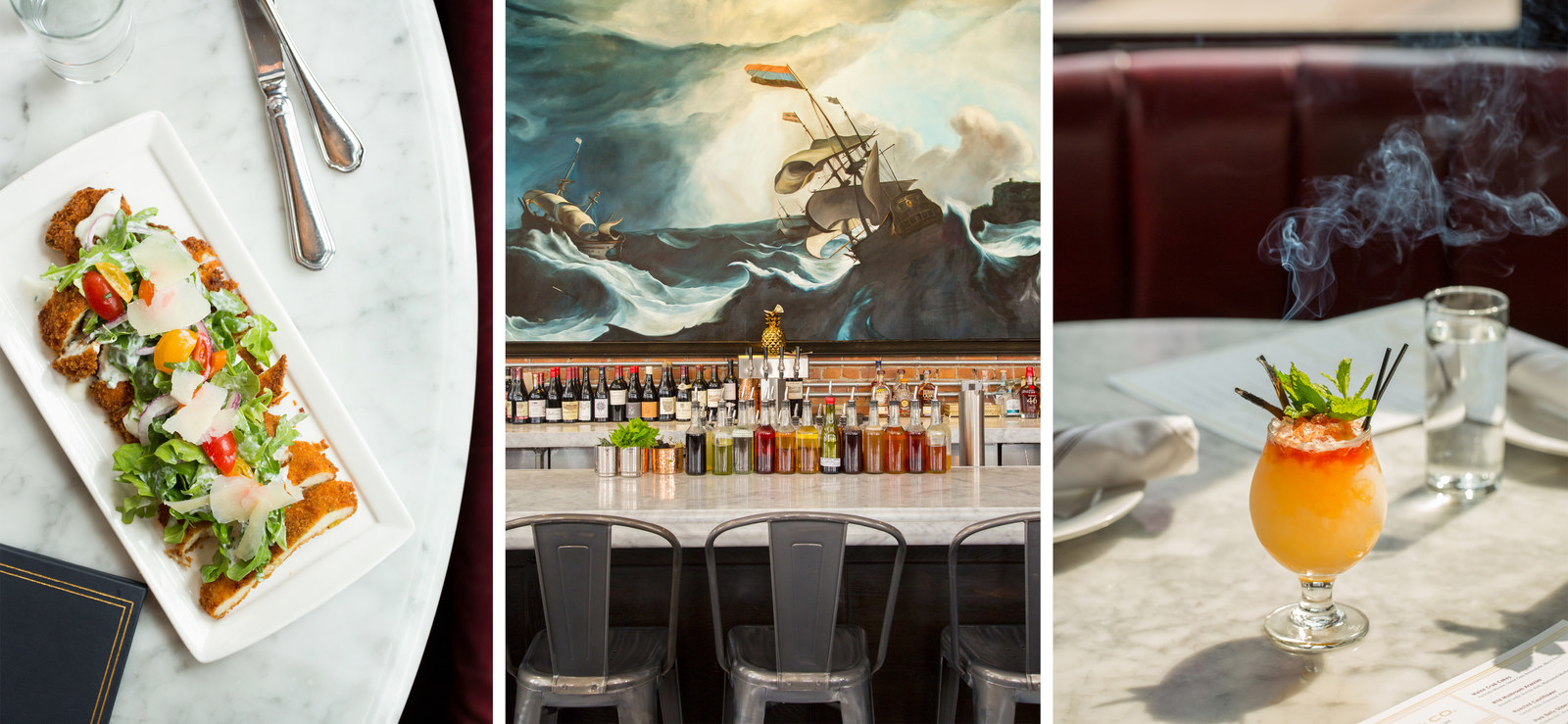 When we landed in Detroit, the first place we stopped was downtown at Wright and Company, a big, bright space surrounded by cool shops and new boutiques. The drinks were so fun. The mixologist was an artist who made us drinks that were almost too beautiful to drink. (Of course we drank them). The cherry on top of the sundae that was Wright and Co.? The playlist full of early 2000s throwback songs.


Before we went out for the night, we stopped downtown at The Royce for wine and cheese. This place had such an adorable vibe. It was the perfect blend of "hip" and "relaxed." I mean, there was an antique speaker playing chill electronic music. Need I say more? With wine tastings every Wednesday and an intimate lofted seating area, it's definitely the type of place you could meet with your friends after work to catch up. The best part about The Royce was that it made us feel fancy as heck, but its prices were super affordable.


Add Chartreuse to the long list of restaurants in Detroit with beautiful interiors. This midtown cozy, seasonal American dining spot had decor that made me feel like a kick-ass woodland fairy. The inventive menu was curated with care, and each dish was almost too pretty to eat. Don't leave this place without trying its famous cocktail, The Last Word; it's a Detroit specialty.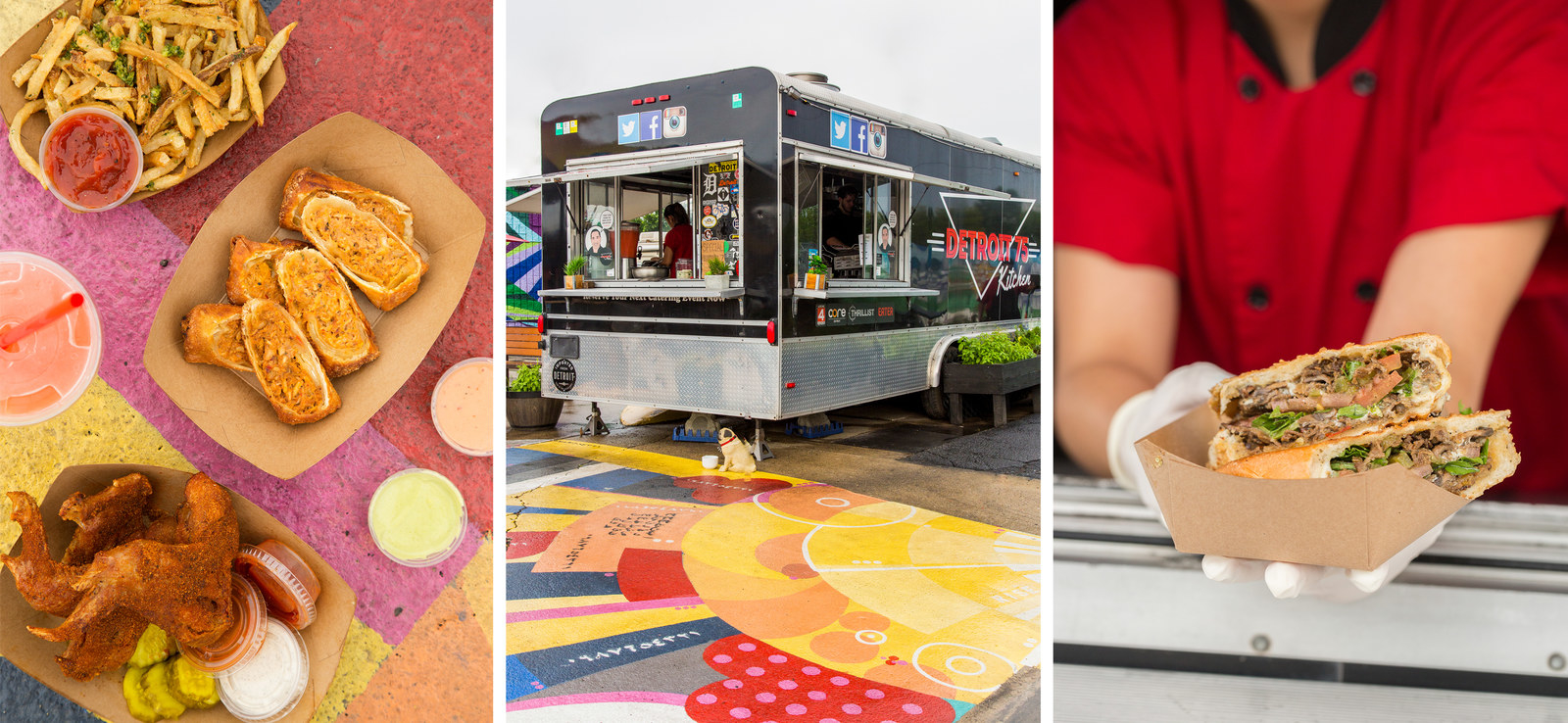 Detroit 75 Kitchen is a food truck that is not to be missed. If you're not careful, you may drive right by it. Located in Southwest Detroit, it sits on a plot of land right beside a gas station. Underneath the truck sits an Instagram-worthy painted mural. Grab a refreshing strawberry lemonade, jam out to some old-school '90s rap, and eat some of the best dang sandwiches you've ever had in your life.

In the West Village, on a quiet and beautiful street lined with trees, Detroit Vegan Soul had a chill, laid-back vibe that we absolutely loved. Located in a beautiful part of town, the menu offered a fresh vegan take on soul-food classics. Highlights included refreshing hibiscus tea, a mouthwatering sandwich, and yam chips so good I immediately took out my phone and googled how to make yam chips at home.

While at Taqueria El Rey, one of Detroit's favorite Mexican food spots, we chatted with some patrons who told us that this place, in Mexicantown, was one of the "best-kept secrets" in Detroit. I will honor this by asking you to read this next part in a hushed whisper: *whisper* If you're looking for authentic Mexican food that will fit your budget, look no further than Taqueria El Rey. This beloved spot in Detroit offers grilled chicken, tacos, and imported beers. We loved it. I ate so many tacos.

By the end of our trip, we had to convince ourselves that Antietam wasn't a dream. Even if you don't think you're hungry, stop by Antietam. Located in the Eastern Market, the gorgeously designed interior makes it a spot that can't be missed on your next trip to Detroit. We had our dinner in Antietam's main room: a bright room with handcrafted wooden chairs, big windows, and a ceiling draped in delicate fabrics. Even the bathrooms at Antietam were cool. Come for the food; stay for the decor. The food blew us away, and the drinks were lovely and crafted with care.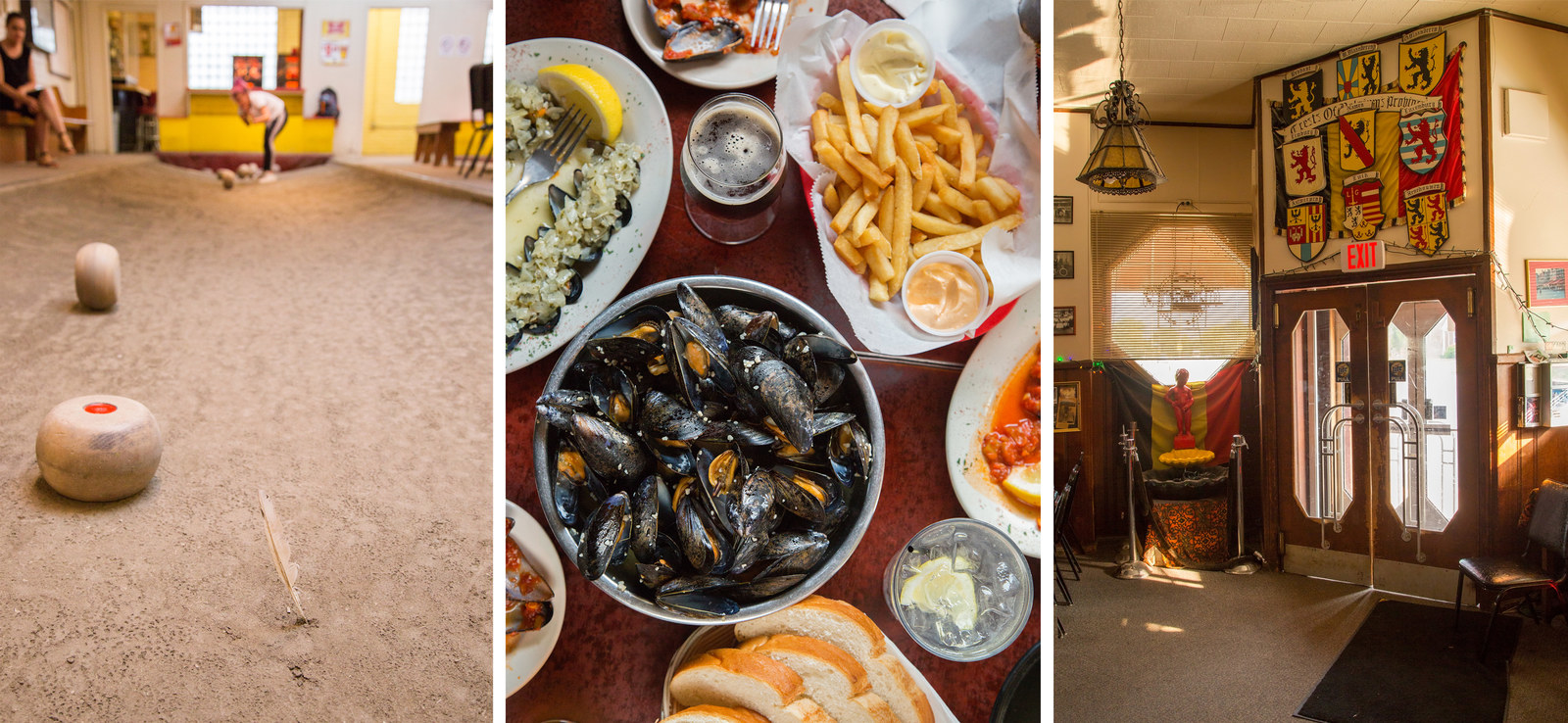 The minute we walked into the dimly lit, intimate Cadieux Cafe, we could feel it buzzing with history. This restaurant, which serves up traditional Belgian cuisine, gave us some of the best mussels we've ever eaten. Don't expect just butter with these mussels; these are packed with flavor. Before we left, we got to play a bit of feather bowling. Don't know what feather bowling is? That's okay; we didn't either. It's a very old game that started in Belgium, and the only place you can play it today is in Michigan. It's like a mix of shuffleboard, curling, and bowling. Even though our bellies were stuffed to the brim with mussels and Belgian ale, we had a blast.
Photographs by Sarah Stone / © BuzzFeed
Design by James Devogelear /© BuzzFeed
In the blink of an eye, our 48 hours were over. We lived, laughed, loved, ate, and drank. Our stomachs would never be the same. Do us a favor and do the same: Visit Michigan.