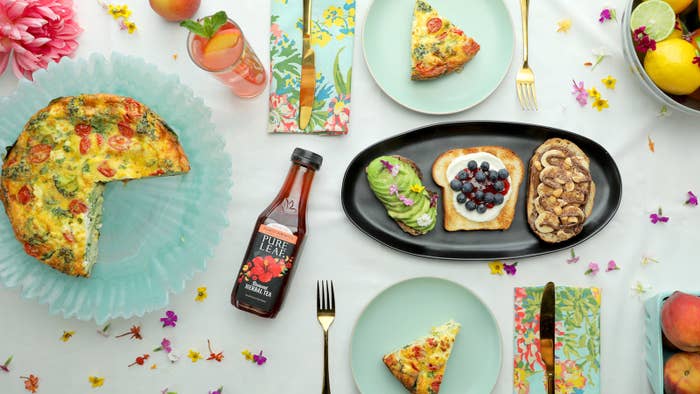 Ingredients
PURE LEAF PEACH HIBISCUS CITRUS TEA
Servings: 4
1 bottle Pure Leaf Hibiscus Peach Iced Tea
3 oranges, juiced (about 3⁄4 cup)
1⁄2 lime, juiced (about 3 tablespoons)
1 lemon, juiced (about 3 tablespoons)
1 cup sparkling water
Fresh mint
VEGGIE FRITTATA
Servings: 8
12 eggs
1⁄2 cup cream or milk
1 teaspoon salt
1⁄2 teaspoon pepper
3⁄4 cup broccoli florets, cooked
1⁄2 cup grape tomatoes, halved
2 tablespoons parsley, chopped
2 tablespoons green onions, sliced
1 cup spinach, packed
1⁄4 cup goat cheese crumbles
AVOCADO TOAST
Servings: 1
1 slice of whole-grain bread, toasted
1⁄2 avocado, thinly sliced
1⁄2 lemon, juice
Flaked sea salt
Flower petals (for garnish)
RICOTTA AND JAM TOAST
Servings: 1
1 piece of brioche, toasted
1⁄2 –1⁄3 cup ricotta
2 tablespoons whole milk
1⁄4 cup strawberry jam
1⁄4 cup blueberries
NUTELLA AND BANANA TOAST
Servings: 1
1 piece of sourdough, toasted
1⁄4 cup Nutella
1 banana, sliced
2 tablespoons toasted hazelnuts
1 tablespoon chocolate, chopped, for garnish
Preparation
PURE LEAF PEACH HIBISCUS CITRUS TEA
1. Fill a large pitcher with ice. Add orange, lemon, and lime juices. Top with Pure Leaf Hibiscus Iced Tea, then top with sparkling water.
2. Garnish fresh mint.
3. Enjoy!
VEGGIE FRITTATA
1. Preheat oven to 325oF.
2. Grease a 9-inch glass pie dish with butter and set aside.
3. In a large bowl, whisk together the eggs, cream, salt, and pepper.
4. Place broccoli, tomatoes, parsley, green onions, spinach, and goat cheese in the pie dish. Pour the eggs over the top, making sure to disperse evenly.
5. Place in the oven for 20–25 minutes or until the center is no longer jiggly.
6. Slice and enjoy!
AVOCADO TOAST
1. Fan the avocado slices on a cutting board and sprinkle with lemon juice. Place on the slice of toast.
2. Garnish with a pinch of salt and flower petals.
3. Enjoy!
RICOTTA AND JAM TOAST
1. In a measuring cup, combine the ricotta and milk, stirring until smooth.
2. Spread the ricotta mixture evenly over the brioche toast.
3. Spoon the strawberry jam into the middle and spread slightly — not all the way to the edges.
4. Top with fresh blueberries.
5. Enjoy!
NUTELLA AND BANANA TOAST
1. Spread the Nutella over the toasted sourdough.
2. Top with sliced bananas and add a drizzle of hazelnut spread.
3. Garnish with toasted hazelnuts and chocolate.
4. Enjoy!