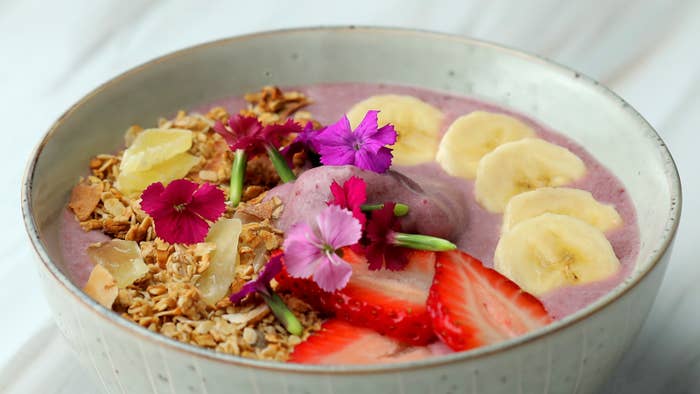 Ingredients
1 can coconut milk
1 ripe banana
1 cup frozen berries
1 bottle Pure Leaf Mango Hibiscus Iced Tea, divided
1 cup oatmeal
1 tablespoon coconut oil, melted
1⁄4 cup chopped dried pineapple
2 tablespoons dried coconut
1⁄4 cup raw cashews
Fresh fruit
Preparation
1. Preheat oven to 350°F.
2. Combine oatmeal with 3 tablespoons of Pure Leaf Hibiscus Iced Tea, coconut oil, coconut, and cashews.
3. Bake for 25–30 minutes or until oatmeal is completely dry, checking every 10 minutes to stir and break up large clumps. Set aside to cool completely, then add pineapple.
4. In a blender, combine coconut milk, banana, 1 cup of Pure Leaf Hibiscus Iced Tea, and frozen berries. Pulse until smooth.
5. Pour smoothie into ice cube trays and freeze until solid (at least 6 hours).
6. Place frozen smoothie cubes into blender and add remaining tea. Pulse until thick and creamy.
7. Pour into bowls and serve with granola. Garnish with fresh fruit if desired.
8. Serve immediately.
9. Enjoy!