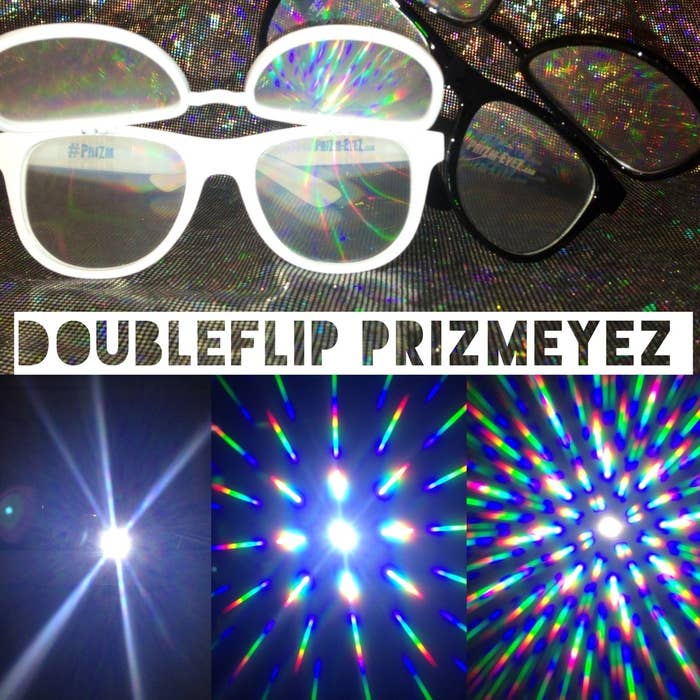 Prepare for your brain to DoubleFlip!
PrizmEyez is proud to announce a brand-new version of their iconic rainbow-scopic glasses: The DoubleFlip!
PrizmEyez LLC is the very first company in the galaxy to offer hard-lens glasses that enhance lightshows by transforming lasers into psychedelic rainbows. You can read the unusual history of Mz. Prizm's diffraction glasses invention on the "About Us" page here: www.Prizm-Eyez.com
The DoubleFlipz feature ultra-clear, ultra-strong plastic prizm lenses, and the ability to "flip" between regular rainbow effect and extreme mega rainbow effect. If you're familiar with the patent-pending traditional PrizmEyez glasses, you'll note that the new DoubleFlip model is different: it has flat, solid lenses that are fully waterproof.
Whether you're a total diffraction glasses noob or a rainbow connoisseur, you'll go bonkers for the Rolls Royce of rainbows: DoubleFlipz let you experience regular Prizm effect and DoubleStack Prizm effect in one pair of glasses! If you like the fully insane DoubleStack effect, great! If you prefer single-layer-diffraction only, you can remove the lower set of lenses in the DoubleFlipz, enabling you to flip between your regular eyeball vision and Prizm vision easily.
PrizmEyez prides itself on fabulous customer service, making people happy, and offering high-quality, unique products that make your life more rad.
Originally handmade, and now manufactured, PrizmEyez is a leading innovator in the EDM eyewear industry. Prizm fans have happily watched the company grow since 2009 while maintaining its quirky, grassroots vibe. Now, PrizmEyez glasses have been exclusively sold inside every Insomniac festival since EDC 2012, as well as at Coachella 2013. However, most people purchase PrizmEyez glasses from www.Prizm-Eyez.com.