50. Dostana (2008)


One of the first Bollywood movies to depict gay men in the lead, albeit them being weak and stereotypical characters, the movie is undeniably funny and sails along smoothly for most of its run. The movie begins with two men pretending to be gay and life partners for the sake of getting an apartment in Miami and then consequently falling for their third roommate, (surprise, surprise) a gorgeous woman.
The comic timing and chemistry between Abraham and Bachchan along with an impeccable performance by Kirron Kher as Bachchan's distressed mother makes the movie a laugh riot.
The plot isn't the strongest, but Chopra in a bikini almost makes up for it

Cast: Priyanka Chopra, Abhishek Bachcan, John Abraham, Kirron Kher
49. Rockstar (2011)


Ranbir Kapoor gave the performance of a lifetime in this one, but the movie's meandering plot and sub par performance by the the female lead makes it an uneven ride. It is very clear that the movie had a great ambition but it fails to capture anything perfectly other than Kapoor's angst and mental turmoil. The only other saviour of this movie is its soundtrack that soon became the anthem of a nation upon release.

Cast: Ranbir Kapoor, Nargis Fakhri, Shammi Kapoor
48. Jab Tak Hai Jaan (2012)


And so enters Shah Rukh Khan into this list with his weakest romantic movie of all time.
This one tried, it really did. With a story line that aimed to surpass the mundane and decent performances by the cast the movie showed promise. But somewhere along the line it turned into what it was trying so hard not to be: a cliche.
This is a good movie, but not one you are craving to watch again any time soon.

Cast: Shah Rukh Khan, Katrina Kaif, Anushka Sharma
47. Om Shanti Om (2007)


This movie gave both Padukone and Rampal career defining roles in Bollywood and added another feather to the Khan's already full cap. It hasn't got the strongest plot or performances but what it lacks in storytelling finesse it makes up for within its ode to the cinema of yesteryear and a beautifully composed soundtrack.
This movie is grand if nothing else, and it gets bonus points for displaying Khan's abs for the very first time.

Cast: Shah Rukh Khan, Deepika Padukone, Arjum Rampal
46. Yeh Jawaani Hai Deewani (2013)


The movie garnered much attention even before filming began due to the casting of real life exes Kapoor and Padukone. Whether they had moved on or just had very strong acting genes, the leads of the movie did not let their personal history interfere with the story and instead gave us heart warming performances. The supporting cast was strong as well and the music beyond energetic.
The only reason it is placed low on the list is due to an unnecessarily long second half and small twists (like Padukone's boyfriend's cameo) that added nothing to the story.
When all has been said and done, Padukone has never looked so good in any movie (even with those nerdy glasses on).

Cast: Ranbir Kapoor, Deepika Padukone, Aditya Roy Kapoor, Kalki Koechlin
45. Cocktail (2012)


This one belongs to Padukone. Every frame she was in, she conquered and finally gave critics a reason to stop calling her just a 'beautiful addition on screen'.
Both Khan and Penty did their part in making the movie entertaining but ultimately, once again, a weak plot derails this movie from going any higher on this list.

Cast: Deepika Padukone, Saif Ali Khan, Diana Penty
44. Highway (2014)


In her sophomore outing, Bhatt proved that she was much more than a pretty face and that she was here to stay. Hooda on the other hand once again showed why he was one of the most underused and under appreciated male leads of the country.
While Bhatt walked away with most of the praises for the movie, I personally feel the true star of the movie to be Hooda and the roads traveled together by them.

Cast: Alia Bhatt, Randeep Hooda
43. Jaane Tu... Ya Jaane Na (2008)


Can a boy and a girl just be friends? This question has been asked and answered way too many times in Bollywood and yet Jaane Tu manages to capture a certain kind of innocence and delicateness while trying to answer it in its own unique way.
The movie gave us Khan (and his eyebrows), shone the spotlight of D'Souza and taught us all that Pappu definitely cannot dance.

Cast: Imran Khan, Genelia D'Souza
42. Hasee Toh Phasee (2014)


If a slightly altered and quirky take on Bollywood romance interests you, this is the movie for you. The unlikely pairing of Malhotra and Chopra works magically on screen and you cannot help but fall in love with the madness that is their courtship.

Cast: Parineeti Chopra, Sidharth Malhotra, Adah Sharma
41. Goliyon Ki Raasleela Ram-Leela (2013)


Being directed by Sanjay Leela-Bhansali, the movie pretty much guarantees to be a visual stunner and it delivers on this promise. A retelling of Romeo and Juliet, set in India, the movie gave an opportunity to both its leads to shine which they competitively did and the overall product is quite overwhelming at times.
Even with the visually and audibly loud frames, the movie manages to capture the plight of the star crossed lovers and this becomes its saving grace.

Cast: Ranveer Singh, Deepika Padukone
40. Aashiqui 2 (2013)


'Tum Hi Ho' was arguably the song of 2013 and it perfectly encapsulates the love between the film's two leads. The movie puts on display the relationship between not just the leads but also between fame and love, money and angst and also the simple things in life and our dreams of grandeur.
It was the perfect outing for both the leads who had until then failed to garner much attention among the general public.
Cast: Aditya Roy Kapoor, Shraddha Kapoor
39. Pyaar Ka Punchnama (2011)


There is no slow motion running here where the guy and girl have been waiting for years to get to each other after having overcome certain disasters along the way.
It is a fresher and younger take on romance and its strongest point lies in the fact that it dares to be different and is also insanely funny.
If only it didn't paint such a harsh, pessimistic picture of love, it could have been much higher on this list.

Cast: Kartik Tiwari, Rayo Bakhirta, Divyendu Sharma
38. Kabhi Alvida Na Kehna (2006)


Movies depicting extra marital affairs are rare in India, much less a relationship outside marriage that is driven by love and not just lust. The movie, sprinkled with the traditional dance and music sequences of Bollywood, manages to depict this complex situation and how it affects the individuals embroiled within and also states that not all love is equal.

Cast: Shah Rukh Khan, Rani Mukherji, Abishek Bachchan, Preity Zinta, Amitabh Bachchan
37. Barfi (2012)


The non linear format of storytelling has worked in various movies and it does so here too, but only to a certain extent. Instead of enhancing the plot, the non linear format at times leads to utter confusion which is thankfully compensated by utterly brilliant performances by Kapoor and Chopra.
The movie shows that love does not always happen between the perennially beautiful woman and the inhumanely strong man but also that this does not matter.

Cast: Ranbir Kapoor, Priyanka Chopra, Illeana D'Cruz
36. Bunty Aur Babli (2005)


Bunty and Babli are the Indian Clyde and Bonnie minus the blood bath. The movie is about two people who come together to con others so as to make a living out of it while Bachchan Sr. plays a cop hot on their heels.
This is a fun watch and even carries a sexy cameo by Aishwarya Rai.

Cast: Rani Mukherji, Abhishek Bachchan, Amitabh Bachchan
35. Love Aaj Kal (2009)


A love story spanning two generations, the movie essentially tries to portray how the idea of love has changed within the country over the past decades.
While those in love waited for days just for a glance of each other in the past, today, people move on faster than you can say those words out loud - this is what the movie is about.

Cast: Saif Ali Khan, Deepika Padukone, Giselli Monteiro, Rishi Kapoor
34. Ishaqzaade (2012)


An explosive story of love, Ishaqzaade displays why Kapoor and Chopra are two of the best young actors in Bollywood right now. Both of them completely satisfy the requirements of their characters and even go on to add that little bit of extra oomph.
This could be considered another Romeo and Juliet adaptation but once you watch it, you realise that it is much more than that.

Cast: Arjun Kapoor, Parineeti Chopra, Gauhar Khan
33. Vivah (2005)


Vivah seeks to explore the institution of marriage within India and what it means to the common man. This movie is less about all the things money can buy that will better help display your love to the world and instead more about what you are willing to give up for it.
A sweet and comforting journey, you might finally give into your parents forcing you into an arranged marriage.

Cast: Shahid Kapoor, Amrita Rao, Alok Nath, Anupam Kher
32. Band Baaja Baaraat (2010)


Two wedding planners falling for each other? Who would have thought of that?
The movie takes a seemingly predictable premise and turns it into a lovable, relatable and honest portrayal of two people in love. Singh proves with his debut why he is the best young actor of Bollywood today, easily maneuvering through his character and scenes like he was born to do this.
The music only adds to the magic of the movie; this one is a serious competitor for becoming a cult movie over the next few years.

Cast: Ranveer Singh, Anushka Sharma
31. Kaho Naa... Pyaar Hai (2000)


Pretty much already a cult movie, this one brought us Roshan and Patel, of which Roshan is still standing strong today.
The plot is nowhere near the best one on this list but the actors and music make you completely forget about how flawed it is. Roshan shone seamlessly in his dual role and enticed a nation with his dance moves.
This one needs to seen by you today, irrespective of all the cliches it holds.

Cast: Hrithik Roshan, Ameesha Patel, Anupam Kher
30. Rab Ne Bana Di Jodi (2008)


The plot is downright absurd and yet it works beautifully. The fact that the movie makes sense when it absolutely shouldn't is quite simply a testament to the acting talents of Khan and Sharma in the movie. They both essay their roles and leave no room for complaint.
If only you can forget for a moment that the story is the hardest to digest on this list, you will utterly enjoy this one.
Also, look out for cameos by various gorgeous women of Bollywood during a song sequence.

Cast: Shah Rukh Khan, Anushka Sharma, Vinay Pathak
29. Jannat (2008)


Money or love?
Jannat sets out to answer this question and does so quite well. Adding cricket as an ingredient in Indian movies has often resulted in success and this movie displays once again why it is so.
Hashmi gives one of his best performances while Chauhan does a decent job.

Cast: Emraan Hashmi, Sonal Chauhan
28. Dev D (2009)


Watching this movie is an 'emotional atyaachar' for all the right reasons. A modern reinterpretation of the classic, Devdas, this movie does a fantastic job of retelling the age old story of drunk love by placing the characters in modern day Punjab and Delhi.
There are quite a few references to real life events as well, which oddly make sense when juxtaposed with the age old tale of love and honour.

Cast: Abhay Deol, Mahie Gill, Kalki Koechlin
27. Salaam Namaste (2005)


This one definitely helped put the 'sexy' in Indian Romantic movies. The leads play two individuals living in Australia, who decide to move in together before marriage (oh how the aunties were scandalised by this one!) and the subsequent discovery of Zinta's character's pregnancy.
It was something new, something different and definitely entertaining.

Cast: Saif Ali Khan, Preity Zinta, Arshad Warsi, Tania Zaetta
26. Jodha Akbar (2008)


The Rajput Princess, Jodha, is married to the Mughal Emperor, Akbar, as an act of political convenience. It doesn't seem like that big of a deal since such things were commonplace at the time and yet Akbar soon realises that Jodha is no ordinary princess.
He soon discovers that it is easier to conquer lands than hearts.

Cast: Hrithik Roshan, Aishwarya Rai, Sonu Sood
25. Tere Naam (2003)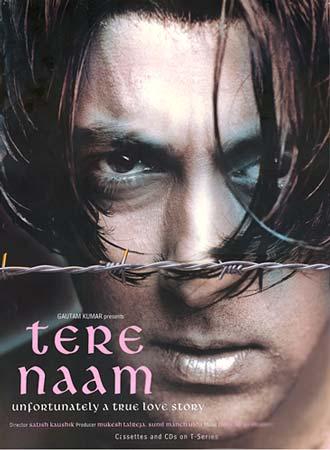 Let go of Khan's unfortunate hair and this one is one of his best.
Just let it go.
Love, the pain of loss and regret are major themes within the movie and both the leads do an excellent job of portraying their emotions to the fullest.
If only they had given Khan another hairstyle, if only.

Cast: Salman Khan, Bhumika Chawla
24. Ghajini (2008)


A remake of the Tamil Ghajini which in turn was based on Christopher Nolan's Memento, this movie put Khan's abs front and center along with his acting skills and introduced the charming Asin to Bollywood.
The story revolves around a man who develops a form of amnesia after a violent encounter which results in the death of his love interest and his subsequent need to avenge her.
The movie's title refers to the primary antagonist, a rarity in Bollywood and also has Jiah Khan in a minor but effective role.

Cast: Aamir Khan, Asin, Jiah Khan
23. Fanaa (2006)


Fanaa effortlessly picks at your heart while asking questions like what is 'right' and 'wrong' in love and life?
Who decides the good and bad in people?
Would you die for what you believed in, even when no one else does?
The overall experience of Fanaa is only elevated by the music and poetry dispersed throughout and one can only thank Kajol for returning to Bollywood after a long hiatus because there is truly no one like her.

Cast: Aamir Khan, Kajol, Tabu, Rishi Kapoor
22. Pardes (1997)


What do you do when the girl you love is engaged to your brother?
Pardes might seem like the above question is all that it is about but deals with the whole family dynamics of the situation and in turn presents a pair of very vulnerable leads.
The movie is a standout not because of its plot, but because of the way the story has been handled by the director and cast.

Cast: Shah Rukh Khan, Mahima Chaudhry, Amrish Puri, Alok Nath
21. Parineeta (2005)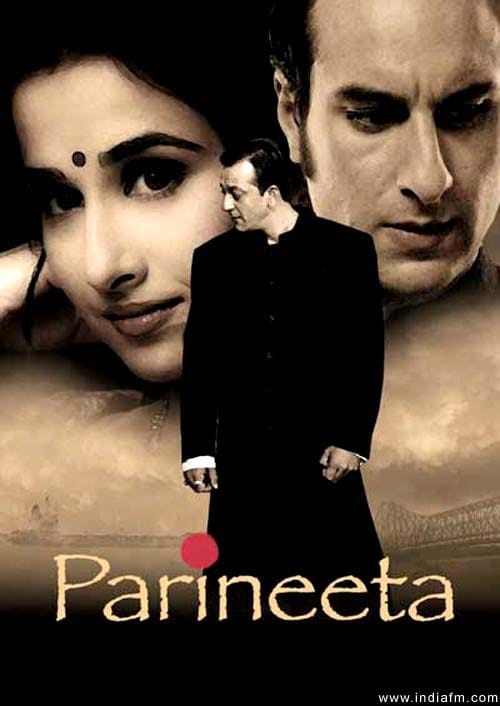 Parineeta has an old world charm to it that is rarely captured on screen today and can also boast to be the debut vehicle of Balan into Bollywood. While both Balan and Khan are good at their roles, the supporting actors like Dutt and Sen only add to the charm of the movie.
This movie is emotionally moving and a visual treat.

Cast: Vidya Balan, Saif Ali Khan, Sanjay Dutt, Raima Sen
20. Saathiya (2002)


Saathiya is unique in the fact that it deals with life and love after marriage - an uncommon theme at the time of its release. It is easily one of Oberoi's best performances and the chemistry that he shares with Mukherji is quite palpable.
On the whole, this one is a quite interesting watch.

Cast: Vivek Oberoi, Rani Mukherji
19. Lagaan (2001)


This is one of the finest movies to ever come out of Bollywood and the only reason it is placed so low on this list is that even though romance does form an integral part of the movie, it is at its core a sports movie.
Cricket and cinema have never had an union as good as the one depicted in Lagaan, before or after this movie. The ensemble cast that guide various aspects of the film have been perfectly cast and everything about this movie is a thrill.

Cast: Aamir Khan, Gracy Singh, Rachel Shelley
18. Raja Hindustani (1996)


Apart from featuring one of the most famous smooches of Bollywood, the movie also carries successfully the theme of 'poor guy, rich girl' and was probably one of the movies that helped establish the cliche.
There are plenty of ups and downs and enough drama to sustain this one but what makes it so ethereal are the performances by the leads and the ever green music of the movie.

Cast: Aamir Khan, Karishma Kapoor, Johnny Lever
17. Gadar: Ek Prem Katha (2001)


Being one of the highest grossing romantic movies of Bollywood, Gadar, tells the story of a Hindu man falling for a Muslim woman and the ordeals they have to overcome. The story is epic in scope and consists of Deol's trademark son-of-the-soil antics.
The only negative is that at times the movie seems to be trying a little too hard to shine a negative light on Pakistan.

Cast: Sunny Deol, Amisha Patel, Amrish Puri
16. Dil To Pagal Hai (1997)


And so enters Dixit-Nene, with a bang into this list. The movie is considered a cult classic already and showcases why she is one of the all time most loved leading ladies of Bollywood.
The movie involves quite a bit of pre-marital dating, a concept quite foreign to the average Indian at the time, and also includes Kumar in a minor but interesting role.
On the whole, the movie is pure entertainment and almost every music and dance number has gained notoriety in itself.

Cast: Shah Rukh Khan, Madhuri Dixit-Nene, Karishma Kapoor
15. Hum Tum (2004)


Very much in the vein of When Harry Met Sally, Hum Tum showcases the relationship between two people who interact and gradually fall in love with each other over a couple of years.
The cartoon format that interjected the movie periodically gave a fresh point of view to viewers and helped propel the story in a much better way.
Both the leads completely inhabit their characters and make the movie worth watching.

Cast: Saif Ali Khan, Rani Mukherji, Kirron Kher
14. Kal Ho Naa Ho (2003)


A love triangle at its core, the movie tries to paint a bigger picture and tell a larger story to inspire us to live our lives to the fullest. It also tells us that just because you aren't destined to be with your love it does not mean that you can never find solace.
The music is beautifully haunting, especially the title track and the performances are on par.
Get ready to shed a few tears.

Cast: Shah Rukh Khan, Preity Zinta, Saif Ali Khan
13. Dhadkan (2000)


A quite intense love triangle, Dhadkan, is easily a highlight of Shetty's Bollywood career. Trapped between the love for her husband and the love she once had for another man, the movie takes you on a roller coaster ride of emotions with Shetty's character and you often lose track of who you are rooting for.
Coupled with a generous amount of good music, this movie is easily a must watch.

Cast: Shilpa Shetty, Akshay Kumar, Sunil Shetty, Mahima Chaudhry
12. Taal (1999)


The music is the star of Taal, above and beyond anything else but it also helped establish Rai as one of the most sought out leading women of the country. Every Bollywood movie is essentially a musical but this one embodies that word in every form possible.
This movie is a treat to your ears above all.

Cast: Aishwarya Rai, Anil Kapoor, Akshay Khanna
11. Jab We Met (2007)


Kapoor probably made the best decision of her life when she decided to take on her part in the movie. Not only did she prove how good of an actor she was but also how versatile she could be. The character she played has become iconic in the short period that it has been around and the movie also turns out to be one of the highlights of Shahid's career.

Cast: Kareena Kapoor, Shahid Kapoor, Dara Singh
10. Baazigar (1993)


Shetty's debut vehicle and Khan's breakthrough performance easily makes Baazigar one of the best romantic movie around. The sense of danger and a leading man seeking revenge by plotting to kill the leading women of the movie is what sets this one apart from all the other movies on this list.
To catch a glimpse of a different shade of Khan, watch this one.

Cast: Shah Rukh Khan, Kajol, Shilpa Shetty
9. Dil Se (1998)


Not the most commercially successful of the movies on this list, Dil Se did something better than earn cash at the box office - it tug at the heartstrings of those willing to give it a chance.
Including the insanely popular track 'Chaiyya Chaiyya' the movie also introduced Zinta to the general public. While not the most comfortable watch, the movie is definitely worth exploring.

Cast: Shah Rukh Khan, Manisha Koirala, Preity Zinta
8. 1942: A Love Story (1994)


Having one of the best soundtracks of all the movies on the list, 1942 is as delicate as it is intense. Consisting one of the most controversial kisses of all time, 1942 finds strength in the fact that it truly is a love story above anything else, irrespective of all the background noise that at times may disturb you.
Also, the movie helped thrust Koirala to the forefornt of Indian cinema.

Cast: Manisha Koirala, Anil Kapoor, Jackie Shroff
7. Darr (1993)


K...K...Kiran!
If you have never heard Khan utter the above words then you haven't yet witnessed one of his landmark performances. Though his character leans towards being the antagonist of the movie, Khan walked away with all the praises for this one.
The madness in his eyes is as believable as his love for Chawla's character and this is the only reason you need to watch this movie.

Cast: Sunny Deol, Juhi Chawla, Shah Rukh Khan
6. Hum Dil De Chuke Sanam (1999)


A highlight of each of the three leads' careers, the movie asks which love is greater - the love you have for someone or the love someone has for you?
Is first love superior to all else?
Can you learn to love someone when you thought your heart always belonged to someone else?
Go watch this one right now and enjoy Rai's beautiful dance moves along with everything else.

Cast: Aishwarya Rai, Salman Khan, Ajay Devgan
5. Veer Zaara (2004)


This love story is nothing short of epic and the fact that it is based on true events only adds to the magic of the movie. Never before or after has love between two individuals from India and Pakistan been portrayed so beautifully on screen.
Every frame of every scene and every note of every track is haunting and mesmerizing.
It would be a crime to miss this one.

Cast: Shah Rukh Khan, Preity Zinta, Rani Mukherji, Manoj Bajpai
4. Devdas (2002)


Devdas is tragedy at its best in the form of a drunk lover, lost love and unrequited passion. Nobody walks out of this one happy, including the viewer who is guaranteed to be balling their eyes out by the end of the movie.
If you are willing to sit through heart ache, this one is the movie for you. Don't fret though, there are plenty of beautiful things to occasionally take your mind off of the fact that this one is a tearjerker.

Cast: Shah Rukh Khan, Madhuri Dixit-Nene, Aishwarya Rai
3. Kuch Kuch Hota Hai (1998)


This one is filled with potholes and often lacks a logical stream of thought but it simply does not matter. The final product is so soothing and comforting to the viewer that you don't care about all the faults that correspond to the plot.
The love triangle is one for the ages and who can deny rooting for an 8 year old who just wants to see her father happy.

Cast: Shah Rukh Khan, Kajol, Rani Mukherji, Salman Khan
2. Hum Aapke Hain Koun..! (1994)


Made in the vein of family based dramas, this love story is one of the most popular ones to ever be produced by Bollywood. Relying heavily on family themes and less on the unabashed, violent leading man that was common at the time, this movie started a new trend of love stories and its music tracks have since become very much a part of every Indian wedding.

Cast: Salman Khan, Madhuri Dixit-Nene
1. Dilwale Dulhania Le Jayenge (1995)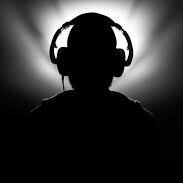 To summarize the epicness that is this movie is pretty much impossible. It is simply put, the best romantic movie that Bollywood has ever produced. It does not get simpler than having two people in love who ultimately just want to be together irrespective of the things and people that stand in between them. There is something very 'Indian' about the movie even though a healthy portion of the story takes place outside the country.
Its two leads share one of the best on screen chemistry of all time and that's what makes it a landmark in Indian cinema.
If you haven't seen this one, you haven't seen Bollywood yet.

Cast: Shah Rukh Khan, Kajol, Amrish Puri, Anupam Kher
This post was created by a member of BuzzFeed Community, where anyone can post awesome lists and creations.
Learn more
or
post your buzz!