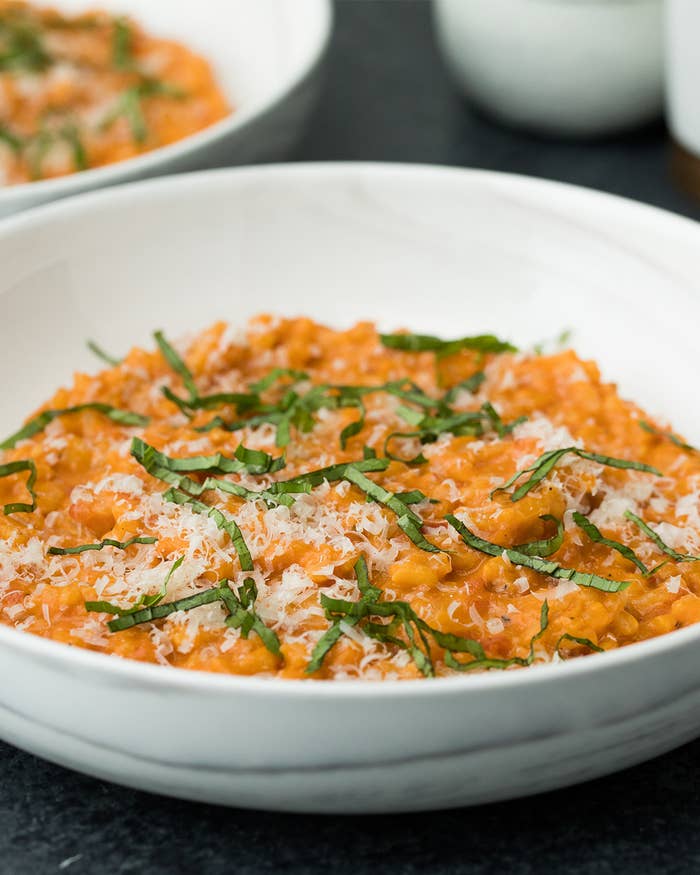 Servings: 6
Ingredients:

1 jar Farmers' Market Roasted Garlic sauce
5 cups chicken broth
2 tablespoons unsalted butter
3 garlic cloves, minced
Half a yellow onion, small diced
2 teaspoons kosher salt
1½ cups arborio rice
6 tablespoons heavy cream
Freshly grated Parmesan
Thinly sliced basil
Preparation
1. Combine Farmers' Market Roasted Garlic sauce and chicken broth in a pot over high heat. Bring to a simmer, then turn off the heat.
2. In a large saucepan, melt butter over medium-low heat. Add garlic, onion, and kosher salt. Cook, stirring occasionally, until softened and translucent, about 5-7 minutes. Stir in arborio rice until rice is completely coated.
3. Gradually ladle broth into the rice. Allow each ladle of broth to completely absorb into the rice, stirring occasionally, before adding more broth. Continue adding broth and stirring until the rice is tender. This whole process will take 30-40 minutes.
4. Once rice is tender, turn off heat, then stir in heavy cream and remove from heat.
5. Serve risotto, garnished with freshly grated Parmesan and thinly sliced basil.