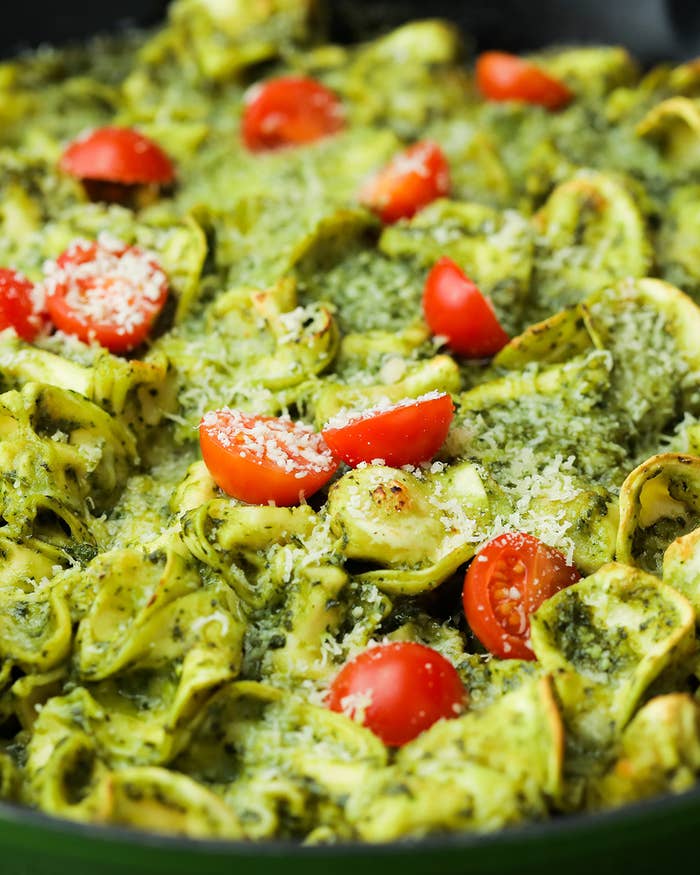 INGREDIENTS:

4 ounces basil, leaves pulled off stems
½ cup freshly grated Parmesan, plus more for garnish
¼ cup pine nuts
1 garlic clove, peeled
1 teaspoon kosher salt
¾ cup olive oil
1 cup Prego® Roasted Garlic Parmesan Alfredo Sauce
1¼ pounds cheese tortellini, cooked according to package instructions
1 cup shredded mozzarella cheese
Handful halved cherry tomatoes
PREPARATION:
1. Preheat oven to 350 degrees Fahrenheit (325 degrees Fahrenheit for convection ovens).
2. Place basil, Parmesan, pine nuts, garlic, and kosher salt in a food processor. Pulse a couple times to combine. Add in olive oil and process until pesto becomes a smooth sauce.
3. Transfer pesto to a large bowl. Stir in Prego® Roasted Garlic Parmesan Alfredo Sauce. Fold in tortellini and mozzarella cheese.
4. Transfer tortellini to a 10-inch cast-iron skillet. Bake for 10 minutes, just until cheese is melted and edges of tortellini are turning golden brown.
5. Remove from oven. Garnish with halved cherry tomatoes and more freshly grated Parmesan.