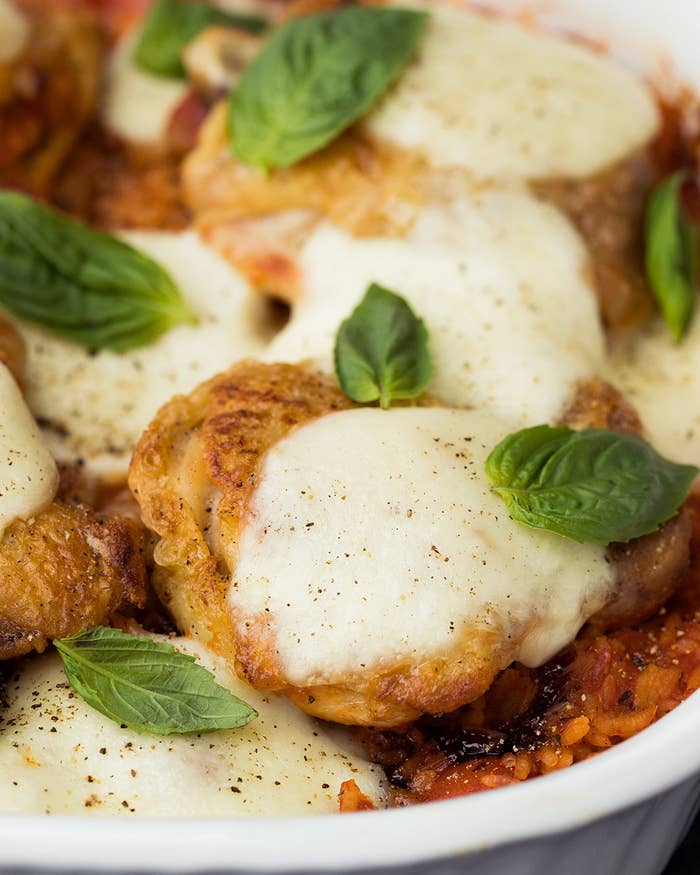 INGREDIENTS:

6 bone-in skin-on chicken thighs
Kosher salt
Olive oil
1 jar Prego® Roasted Garlic and Herb Italian Sauce
1½ cups cherry tomatoes, halved
4 cups cooked rice
Balsamic glaze
1 pound fresh mozzarella, sliced
Freshly ground pepper
Basil leaves, for garnish
PREPARATION:
1. Preheat oven to 350 degrees Fahrenheit (325 degrees Fahrenheit for convection ovens).
2. Season chicken thighs generously with kosher salt on both sides.
3. Heat a drizzle of olive oil in a cast-iron skillet over medium-high heat. Add chicken, skin side down, and sear until skin is golden brown. Flip chicken and sear the other side. Remove from pan and set aside (chicken will not be cooked through at this point).
4. Spread Prego® Roasted Garlic and Herb Italian Sauce in a 9x13" baking dish. Nestle chicken (skin side up) in the sauce. Bake 18-25 minutes or until chicken is almost cooked through.
5. Remove chicken from baking dish and set aside for a moment on a plate. Stir cherry tomatoes and rice into the sauce. Drizzle rice with a little balsamic glaze. Nestle chicken back into the rice. Top everything with slices of fresh mozzarella.
6. Bake for another 7-10 minutes to heat everything through and melt cheese.
7. Remove from oven. Grind black pepper on top and garnish with basil leaves.