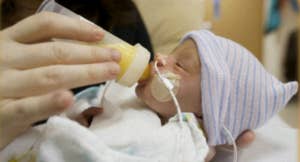 Raquel S. Hunter, founder of Pasadena-based Precious Preemie Project, said that she initiated the project to help frail and premature babies after giving birth to a healthy baby girl in Huntington Memorial Hospital.
When she visited the hospital's nursery, she saw premature babies fighting with everything they had to stay alive.
That was when she made a decision to help those tiny warriors with their fight.
"I did a little research and decided I would knit hats to keep their little heads warm," Hunter said and added, "I watched some YouTube videos, taught myself how to knit, and gathered a few volunteers to help. We also make monthly donations to Children's Hospital of Los Angeles, Pomona Valley Hospital Medical Center, Kaiser Permanente Panorama City, Henry Mayo Newhall Memorial Hospital, Children's Hospital at Dartmouth, and The Tiny Miracles Foundation in Darien, Connecticut."
But why hats?
Hunter explained, "Hats are important pieces of clothing for premature babies. Hats help maintain body temperature by reducing the amount of warmth that escapes from the baby's head."
Precious Preemie and its volunteers have been giving monthly hats donations to the Huntington Memorial Hospital's Neonatal Intensive Care Unit. "The donation of hats is our way of sharing hope and love to make premature babies' lives and their families' lives better," Hunter said.
The efforts of Preemie have been appreciated by their recipients.
In July, Mary Holzer, parent coordinator at Huntington Hospital, wrote Precious Preemie to thank the project and its volunteer for the hat donations. Holzer wrote, "I would like to thank your group for the beautiful, hand-knitted, baby caps that you have made and donated to our NICU babies. The caps show so much love and care in the way that they were made and I know that our parents will be appreciating."