Bravo's Below Deck is hitting the high seas with its biggest ratings ever, and this week's episode was one of the most entertaining of the Caribbean season as viewers saw new clashes between stews, deckhands AND even some very controlling guests.
In St. Maarten, the wind was rough, making massive waves, and causing Captain Lee to do something he's never had to do… Dock the boat for the entire charter. In this episode Nico Scholly was also hurt, causing him to be out of commission for the entire charter, although no one seems to notice.
Kate Chastain butts heads with both stew Jen Howell for taking too long of lunch breaks, and also deckhand Bruno Duarte for trying to control a part of the ship that she feels is not his place.
Captain Lee Rosbach makes his best appearance ever as a costumed Hawaiian God "Come-On-I-Wanna-Laya," and the budding romance between Baker Manning and EJ Jansen may be coming to a close as he reveals their days together are numbered.
This season has also featured some wild guest charter passengers, and this week was no exception. Bravo fans may have recognized a couple familiar faces in new passenger manifest. In the Charter Guest Rundown, Captain Lee informs the crew that Eden Alpert, the daughter of legendary Jazz musician Herb Alpert, will be on board.
Eden is the owner of Los Angeles' Vibrato Jazz Grill, so The Valor crew is naturally paranoid about her reaction to their quality and service, specifically Chef Matt who takes a consistent beating from the Restaurant owner. In a particularly memorable moment of the episode, Eden slams the chef to Kate Chastain for creating 3 courses of fish in one day, which basically sends the whole crew into a tizzy.
Another guest Charley Cullen Walters is a familiar face to the network as he starred on the "Friends to Lovers" show in 2015, has appeared on Andy Cohen's Watch What Happens Live and covered the last Olympics as a journalist for the network. Upon arrival Charley seems to take a liking to deckhand Bruno who is so far playing along with his advances and seems to come out of his usual shell.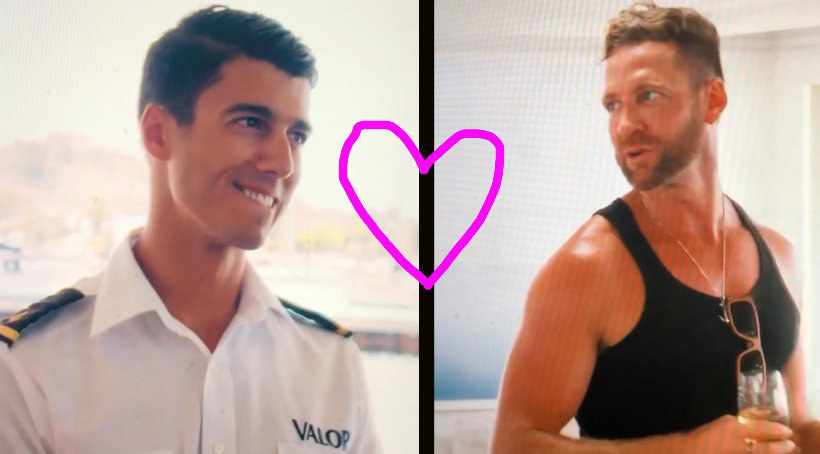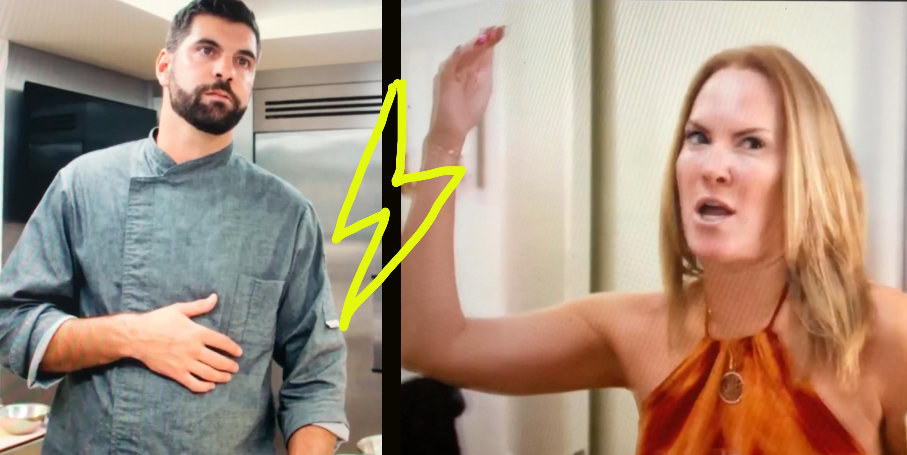 Although Bruno has since been very active on social media about being engaged to his fiance back in his home country, there is also evidence that Walters and Duarte have traveled together since the show. However in this episode, Charley mostly complains incessantly about the status of the docked boat to nauseum, and only perks up when Bruno is around.
The preview for next week's episode suggests a Below Deck first, with some of the guests leaving the ship without even saying goodbye to the crew. Eden is again seen complaining about food and mentions that It's likely the crew might receive one of their lowest tips in history.
Wondering how you can join one of the coveted Bravo charters? Guests are apparently hand picked and invited by the network but still have to undergo a fairly rigorous audition process. Below Deck is currently filming 2 different seasons, for the Caribbean and Meditteranean iterations. The Caribbean version will likely be moved due to the devastating wake of the Hurricane Irma.
For more on Below Deck: http://www.bravotv.com/below-deck
This post was created by a member of BuzzFeed Community, where anyone can post awesome lists and creations.
Learn more
or
post your buzz!