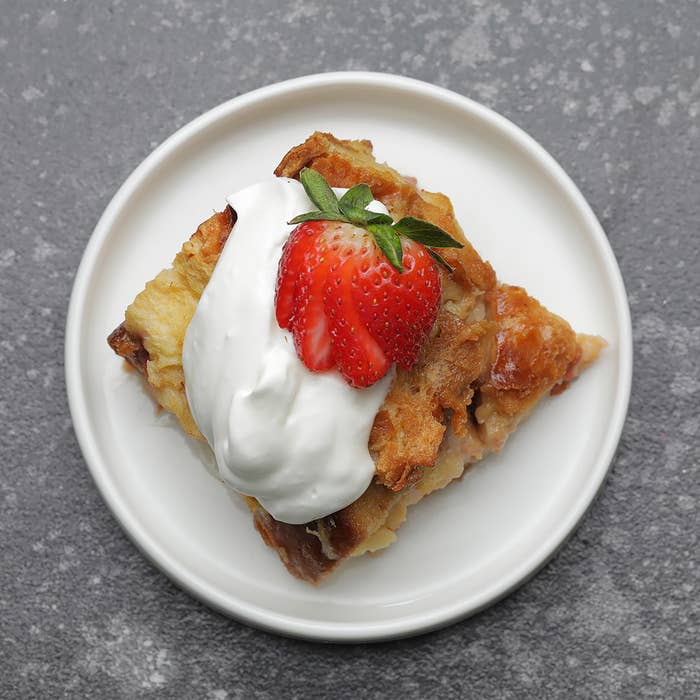 INGREDIENTS:
9 ounces challah or brioche bread, cut into large rough cubes (approximately 8 cups)
2 cups quartered strawberries (if berries are large, cut into more pieces), plus more for garnish
2 cups Planet Oat Classic
3 eggs
2 tablespoons melted butter
⅓ cup sugar
1 teaspoon vanilla extract
½ teaspoon kosher salt
Whipped cream or your favorite whipped topping, for garnish
PREPARATION:
1. Preheat oven to 350ºF. Grease a 9x9" baking dish.
2. Spread out bread cubes on a sheet tray in a single layer. Bake for 10 minutes or until crispy and dry. Remove from oven and let cool.
3. Combine bread and strawberries in a large bowl. Set aside.
4. In a medium bowl, whisk together Planet Oat Classic, eggs, melted butter, sugar, vanilla extract, and kosher salt.
5. Pour liquid mixture over bread and strawberries and fold to fully coat. Let mixture sit for 10 minutes. Stir halfway through the resting period to reincorporate more of the liquid.
6. Pour into prepared baking dish. Bake for 40–50 minutes, or until the liquid is fully cooked into the pudding. Remove from oven and let cool for 20 minutes.
7. Slice into 9 squares and garnish each with a dollop of whipped cream or your favorite whipped topping and a couple of fresh strawberries.