Fruit Crumble With Oatmilk Ice Cream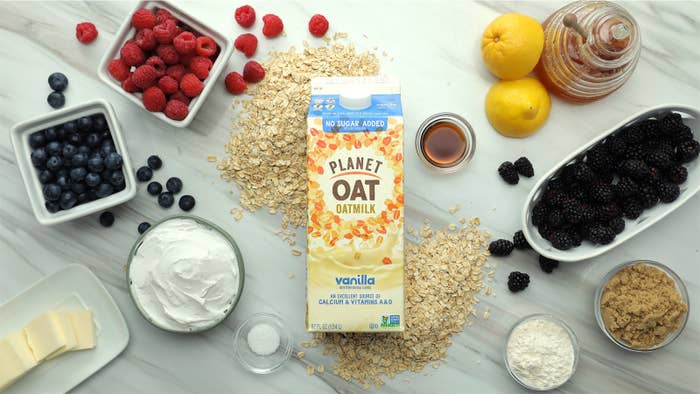 Ice Cream
- 2 cans coconut cream, liquid drained
- 1⁄2 cup Planet Oat Vanilla Oatmilk
- 1⁄3 cup honey
- 2 teaspoons vanilla extract
- 1⁄2 teaspoon salt
Fruit Crumble
- 1 1/2 cups raspberries
- 1 cup blueberries
- 1 cup blackberries
- 2 tablespoons sugar
- 2 tablespoons plus 1⁄4 cup flour, divided Juice of half a lemon
- 1⁄2 cup oats
- 1⁄2 cup brown sugar
- 3⁄4 teaspoon kosher salt
- 1⁄4 cup cold butter, cut into small pieces
PREPARATION:
1. Ice cream: Place coconut cream in a mixing bowl. Whip with a hand mixer until soft peaks appear, about 30 seconds. Pour in the oat milk, honey, vanilla extract, and salt, then whip again. Pour mixture into a loaf pan and freeze overnight.
2. Fruit crumble: Preheat oven to 375oF. Butter four ramekins and place on a sheet tray. Set aside.
3. In a bowl, fold together raspberries, blueberries, blackberries, sugar, 2 tablespoons flour, and lemon juice. Set aside.
4. In another bowl, mix together oats, 1⁄4 cup flour, brown sugar, and kosher salt. Add in the butter and use clean hands to break up the butter and work it into the dry ingredients.
5. Divide the berries evenly between the ramekins. Top each one with the crumble topping. (These can be piled up high. The berries will sink as they bake).
6. Bake crumbles for 20 minutes or until berries are bubbling and topping is golden brown. Remove from oven and let cool for at least 10 minutes.
7. Take ice cream out of the freezer at least 30 minutes before scooping. Scoop ice cream onto crumbles and serve immediately.