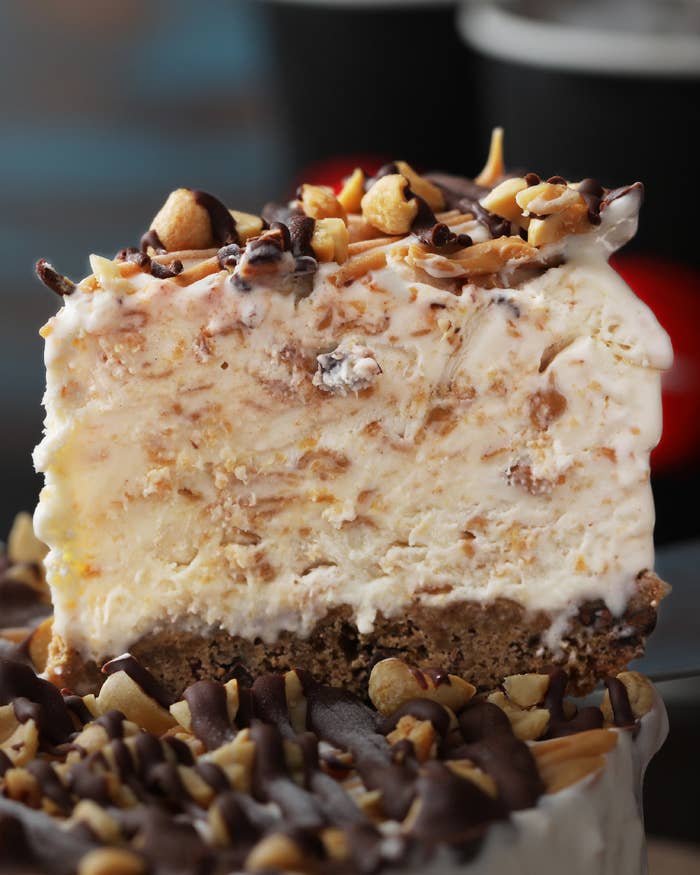 Servings: 8

INGREDIENTS
Ice cream base

1 14 ounce can sweetened condensed milk

2 cups heavy whipping cream

1 teaspoon vanilla extract

Peanut Butter Ripple

1 cup REESE'S Peanut Butter Chips

½ cup peanut butter

¼ teaspoon salt

½ tablespoon coconut oil

Assembly

1 Hershey's® Ultimate Chocolate Chip Cookie delivered from Pizza Hut®

½ cup melted chocolate

¼ cup chopped roasted peanuts

PREPARATION
Order a hot, fresh Hershey's® Ultimate Chocolate Chip Cookie from PizzaHut.com.

In a medium saucepan, add peanut butter chips, peanut butter, salt, and coconut oil and melt on medium low, stirring until mixture is smooth. Set aside to cool.

In a medium bowl, add the whipping cream and using a hand mixer, whip until stiff peaks form.

In a large bowl, combine sweetened condensed milk and vanilla extract, stir until incorporated.

Add whipped cream to the condensed milk mixture and gently fold until mixed together.

Drizzle all but ¼ cup of the peanut butter ripple sauce over the ice cream mixture and fold only a few times until ripple is distributed throughout ice cream.

Trim a Pizza Hut Chocolate Chip Cookie into a 6-inch circle, eating the extra the trim. Place cookie in a 6-inch springform cake pan.

Pour the ice cream mixture on top of the cookie until full, use the remaining ice cream mixture for another pie or some extra ice cream.

Drizzle with the reserved peanut ripple sauce, sprinkle with chopped roasted peanuts, and drizzle over the peanuts with the melted chocolate

Freeze for 4-5 hours until firm.

Remove from cake pan, slice and serve.

Enjoy!