This Grilled Peach Salad Is The Epitome Of Summer
It's August- get your peach on!
Grilled Peach Summer Salad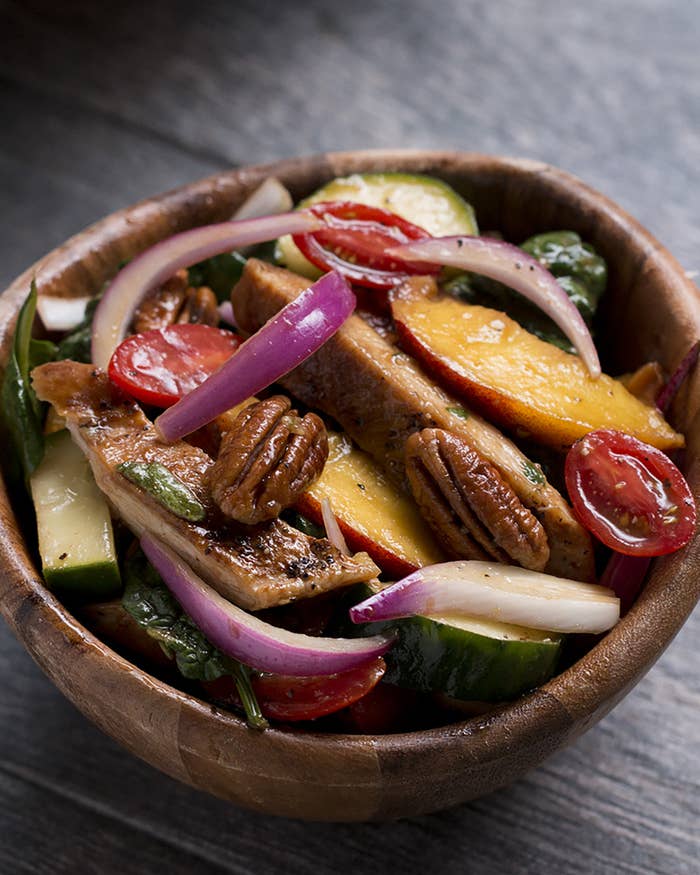 INGREDIENTS
¼ cup balsamic vinegar
2 tablespoons olive oil
¼ cup honey
2 teaspoons salt
1 teaspoon pepper
4 peaches
2 boneless, skinless chicken breasts
Oil, to taste
Salt, to taste
Pepper, to taste
5 ounces mixed greens
1 cup grape tomatoes, halved
½ cucumber, chopped
½ red onion, sliced
½ cup pecans
PREPARATION
1. Add the balsamic vinegar, olive oil, honey, salt, and pepper to a bowl and mix until well combined.
2. Halve the peaches and remove the pit. Lightly brush the cut side with balsamic vinaigrette and grill for 5 minutes over medium high heat, or until browned.
3. On a cutting board, sprinkle the chicken with oil, salt, and pepper.
4. Grill the chicken until browned on one side and flip. Brush with vinaigrette on cooked side and repeat once other side is browned.
5. Prepare the peaches and chicken for the salad by slicing both.
6. Add the grilled peaches and chicken to a bowl with the mixed greens, grape tomatoes, cucumber, red onion, and pecans, and drizzle with the remaining balsamic vinaigrette. Mix thoroughly.
7. Enjoy!