Fried Pickle Sliders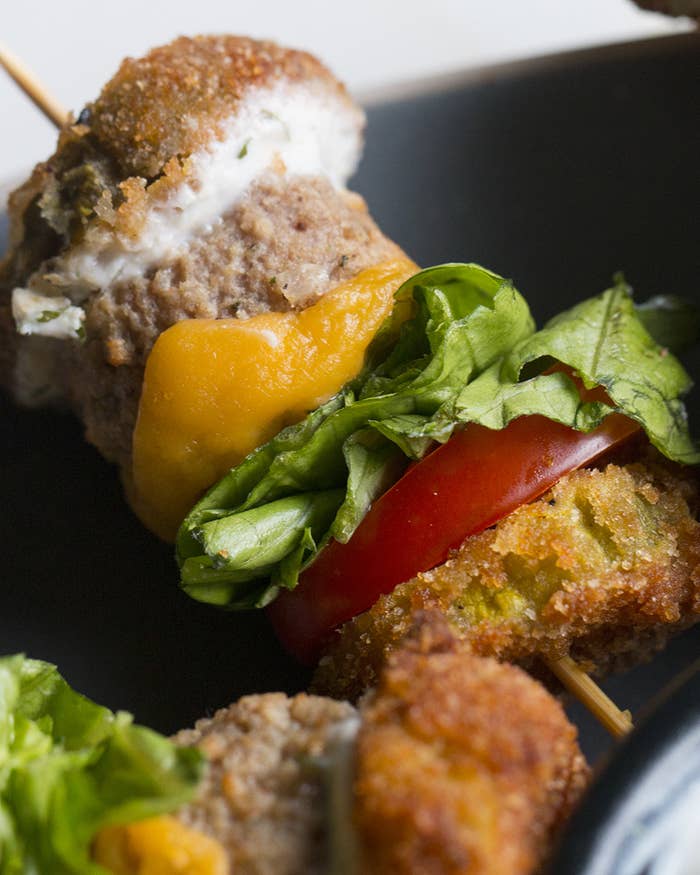 INGREDIENTS
1 cup flour
1 teaspoon garlic powder
1 teaspoon onion powder
1 teaspoon thyme
½ teaspoon cayenne pepper
1 teaspoon paprika
1 teaspoon salt
½ teaspoon pepper
24 pickle slices
2 eggs, beaten
1 cup bread crumbs
Oil, for frying
Ranch Dressing
½ cup buttermilk
½ cup mayonnaise
¼ cup sour cream
½ teaspoon garlic powder
½ teaspoon onion powder
1 teaspoon dried dill
1 teaspoon dried parsley
½ teaspoon salt
½ teaspoon pepper
12 frozen meatballs, prepared
Toppings
¼ cup shredded lettuce
6 grape tomatoes, halved
PREPARATION
1. In a small mixing bowl combine flour, garlic powder, onion powder, thyme, cayenne, paprika, salt, and pepper, and mix until evenly distributed.
2. Place the sliced pickles in the flour, then egg wash, and then bread crumbs.
3. Preheat oil to 350˚F(120˚C) in a pot.
4. Fry the pickles for 3-5 minutes, or until browned and crispy on the outside.
5. For the ranch dressing, combine buttermilk, mayonnaise, sour cream, onion powder, garlic powder, dill, parsley, salt, and pepper in a small mixing bowl and stir until well combined.
6. Use a toothpick to assemble the sliders with fried pickles, the ranch dressing, a meatball, lettuce, tomato, and one more pickle.
7. Enjoy!
Inspired by:
https://allshecooks.com/copycat-texas-roadhouse-fried-pickles-recipe/
http://www.spendwithpennies.com/crispy-fried-dill-pickles/
http://www.mamalovesfood.com/2011/08/easy-fried-pickles.html
Ranch:
https://www.thecountrycook.net/homemade-ranch-dressing/
http://togetherasfamily.com/2015/11/homemade-ranch-dressing
Inspired by the recipes here:
Fried Pickles:
https://allshecooks.com/copycat-texas-roadhouse-fried-pickles-recipe/
http://www.spendwithpennies.com/crispy-fried-dill-pickles/
http://www.mamalovesfood.com/2011/08/easy-fried-pickles.html
Ranch:
https://www.thecountrycook.net/homemade-ranch-dressing/
http://togetherasfamily.com/2015/11/homemade-ranch-dressing