Chocolate Raspberry Zebra Cake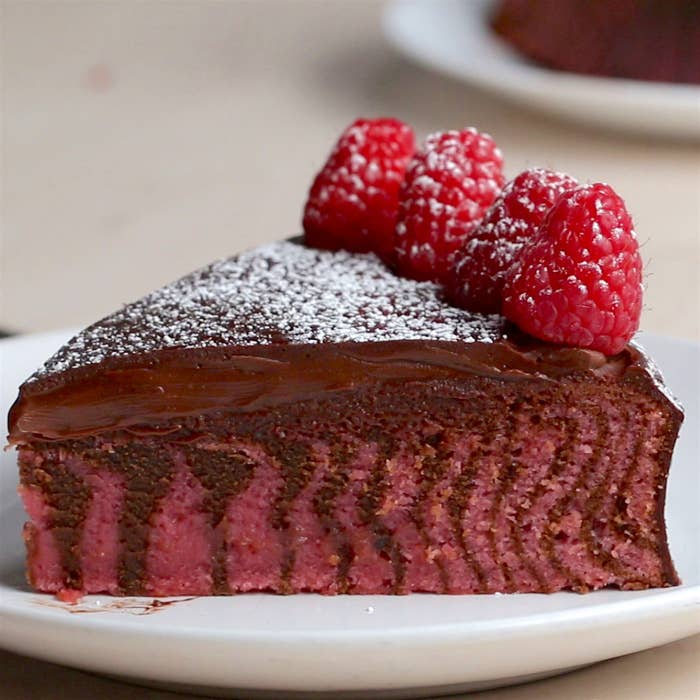 INGRIDIENTS
Servings: 8-10
Base Batter
2 cups flour
1 cup sugar
1 tablespoon baking powder
1 teaspoon salt
4 eggs
1 cup vegetable oil
1 teaspoon vanilla extract
1 cup milk
Chocolate Batter
½ base batter
¼ cup cocoa powder
Raspberry Batter
½ base batter
½ cup raspberry jam
1 teaspoon raspberry extract (optional)
1 teaspoon red food coloring (optional)
Chocolate Ganache
2 cups heavy cream
1½ cups chocolate chips
Garnish
Approximately 20 raspberries
Powdered sugar
PREPARATION
1. Preheat oven to 350˚F/175˚C.
2. In a large mixing bowl, combine dry ingredients for the base batter (flour, sugar, baking powder, salt).
3. In a second mixing bowl, combine the eggs, vegetable oil, and vanilla extract.
4. Add the wet mix to the dry mix, stirring constantly until smooth.
5. Add the milk, and stir until evenly mixed and the consistency is a thick liquid.
6. Evenly divide the batter into two separate bowls. Add the cocoa powder to one and the raspberry jam to other. Mix thoroughly.
7. In a greased 9-inch cake pan, alternate batters by placing roughly ¼ cup of batter in the center and letting it spread out slightly before adding the other batter (similar to making pancakes). Continue this process until the batter is used up and the pan is full of alternating rings.
8. Bake cake in a preheated oven for 25-35 minutes or until a wooden toothpick inserted into the center of the cake comes out clean.
9. Cool cake slightly, and then invert onto a wire rack to cool completely.
Ganache
1. In a medium pot set over low heat, mix together heavy cream and chocolate until chocolate has melted and mixture is smooth.
2. Let mix rest until consistency is thick and mix is cooled.
3. Pour ganache over the baked and cooled cake starting in the middle and circling towards the edges coating it all.
Garnish
1. Once ganache is cooled on cake, garnish with fresh raspberries and powdered sugar.
2. Enjoy!