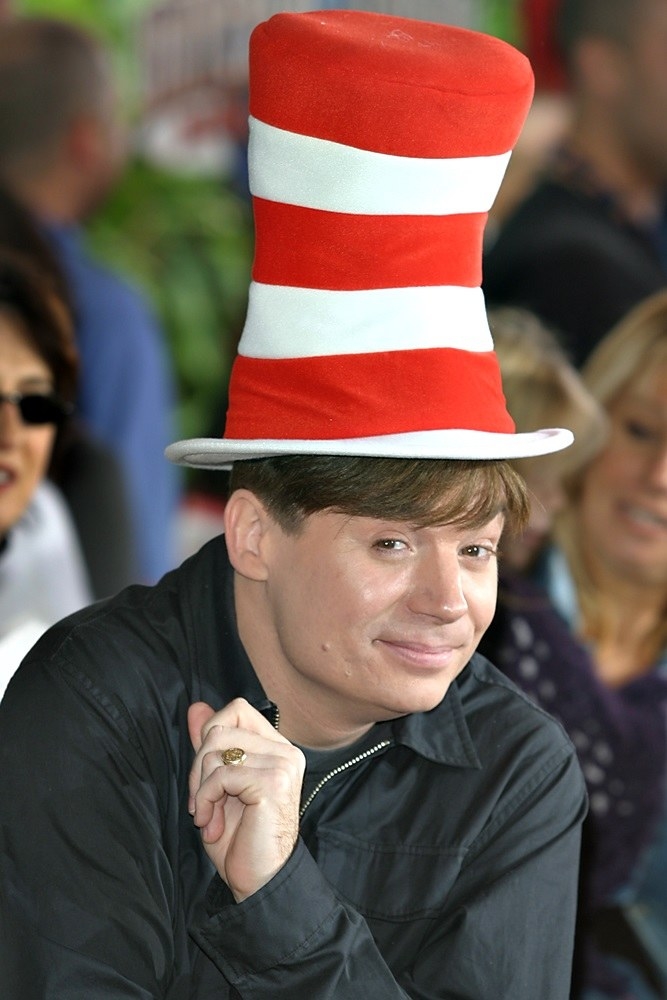 The 2004 comedy, directed by former costume designer Bo Welch, saw Mike Myers' giant miscreant cat cause loads of trouble for children Sally (Dakota Fanning) and Conrad (Spencer Breslin). And, it seems that "Dr. Seuss' The Cat in the Hat" (2004) was not all fun and games for co-star Amy Hill either. If you recall, Hill played Mrs. Kwan, an elderly woman who gets hired to watch the kids, though she sleeps through her job. Her weight and sleep serves as a running gag for Myer's Cat Character.
Recently, Hill, in a candid interview with The AV Club, was asked which projects she didn't like working on. Hill was quick to cite "The Cat in the Hat" describing her experience working with "Austin Powers" actor Myers as "nightmarish." In fact Hill states that "if I saw him today, I don't think he'd even remember who I was." But Amy remembers. She tells the AV Club,
"He is like a little hermit. He would come in and, I guess, be in hair and makeup. We would wait. I'd be there at the crack of dawn, waiting. We would all be waiting for Mike Myers to come.
"He had his handlers dress his trailer, and his area was all covered with tenting because he didn't want anybody seeing him. It was so weird. It was just the worst. It was like I was there forever, and my daughter was 2 and a half and I felt like I was missing her first everything. I was miserable. I just thought it was really rude for him to not take all of us into consideration." She goes on to say, "There was a guy who held his chocolates in a little Tupperware. Whenever he needed chocolate, he'd come running over and give him a chocolate. That's what divas are like, I guess. Or people who need therapy."
Hill, has been around in Hollywood for quite a while and other credits include Adam Sandler-Drew Barrymore comedy "50 First Dates," "Curb Your Enthusiasm" and "Crazy Ex-Girlfriend." She can soon be seen on the CBS show "The Great Indoors," as well as on the Amazon kids' show "Just Add Magic." Myers can next be seen in the ensemble thriller "Terminal," alongside Margot Robbie.
"The Cat in the Hat" also co-stars Kelly Preston and Alec Baldwin as well "Will & Grace" actor Sean Hayes. It was considered a flop by many critics upon release. Review aggregate website Rotten Tomatoes reports that 10% of critics gave the film a positive review out of 158 reviews. However, the film has since garnered something of a cult following.
This post was created by a member of BuzzFeed Community, where anyone can post awesome lists and creations.
Learn more
or
post your buzz!
Looks like there are no comments yet.
Be the first to comment!