SERVES: 4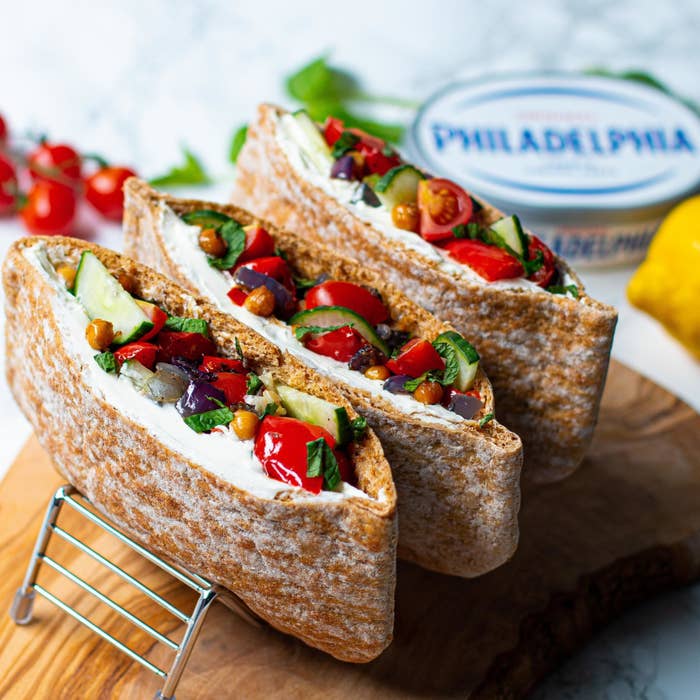 INGREDIENTS
180g Philadelphia Original
2 red onions, diced
2 red peppers, diced 
240g chickpeas 
Zest of 1 lemon 
2 garlic cloves, roughly chopped
Half red chilli, deseeded & finely chopped
2 tablespoons olive oil 
½ teaspoon salt 
½ teaspoon black pepper
1½ teaspoons mixed dried herbs 
4 pitas, warm

80g cucumber, chopped 
8 cherry tomatoes, quartered
10g fresh mint, roughly chopped
Wedges of lemon
PREPARATION
1. Preheat the oven to 200ºC.
2. Add the red onions, red peppers, chickpeas, lemon zest, garlic, chilli, olive oil, salt, black pepper, and mixed herbs into a large bowl, and mix until all the veggies are nicely coated in the oil and seasoning. 
3. Evenly spread on to a baking tray and roast for 30 minutes, or until the peppers and onions are soft and starting to char on the edges. 
4. Take your warm pitas and spread a generous tablespoon of Philadelphia Original inside the pitta. Fill with 3–4 tablespoons of your veggie filling, cucumber, tomatoes, and mint. 
5. Serve and enjoy!