Slow Cooker Teriyaki Pulled Pork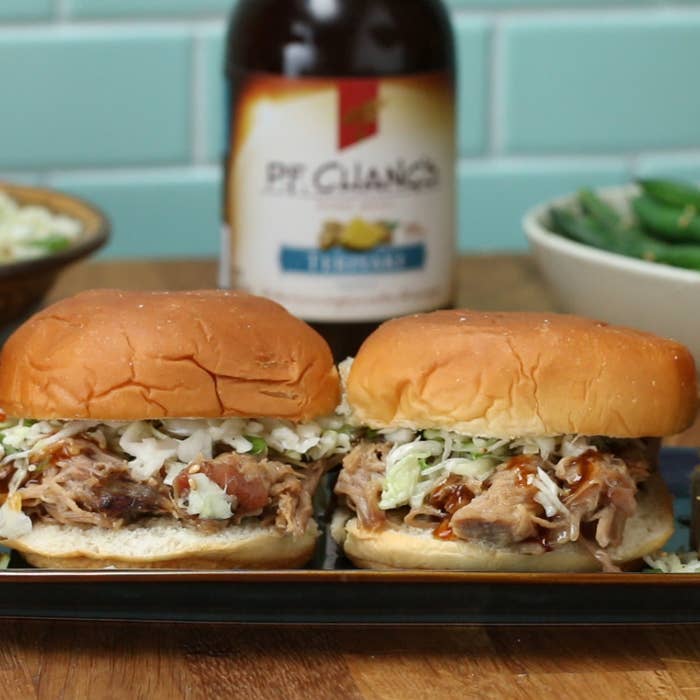 INGREDIENTS
Servings:  6–8
1 (4–5 pound) boneless pork shoulder
Salt & pepper
1 bottle P.F. Chang's Home Menu Teriyaki Sauce
Slaw
1 bag cabbage slaw mix
3 scallions, finely sliced
¼ cup rice vinegar
2½ teaspoons olive oil
2 teaspoon sesame oil
Salt & pepper, to taste
2 teaspoons toasted sesame seeds, optional
8–10 hamburger buns for serving
PREPARATION
1. Season the pork shoulder all over with salt and pepper.

2. Place in the base of a slow cooker. Cook on high heat for 4–6 hours until pork is pull-apart tender.

3. Remove pork from slow cooker and shred using forks. Add back into the slow cooker along with P.F. Chang's Home Menu Teriyaki Sauce and cook for 1 hour, stirring occasionally. 

4. To make the slaw, add the slaw mix and scallions to a mixing bowl.

5. Whisk together the rice vinegar, sesame oil and olive oil. Season with salt and pepper.

6. Pour the dressing over the slaw mix and toss to combine. Fold in optional sesame seeds if desired.
7. To serve: pile pork onto hamburger buns and top with slaw. Enjoy!