Welcome to the Buzzington Arms Hotel! This is your suite. You are to WRECK this place.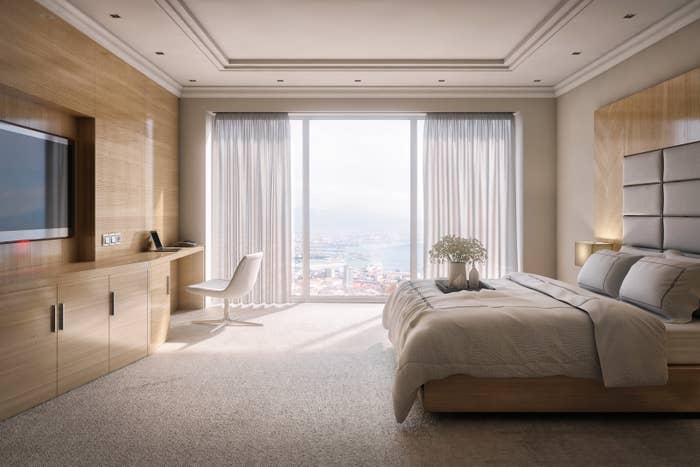 What will you wreck first?

I'm gonna mess up the sheets on the bed, maybe toss a pillow on the floor.

I'm smashing that big window with that chair!

The TV is getting thrown out the window, OBVIOUSLY.

Me and my rowdy friends are gonna get food and booze and just get real sloppy – spilling the booze all over, smearing pizza into the floor, you get the idea.

I'll light the bathroom towels on fire. I love fire.

I'm going to spray paint – yes, I brought spray paint – "WELCOME 2 THE NIGHTMARE HOLE, PIG FUCKERS" on the wall.

Gonna smear the walls with every smearable substance I can find and/or produce.

I'm gonna rip the toilet out of the bathroom and throw it out that big window.

Clearly it's time to light those curtains on fire! FIRE FIRE FIRE

I'll just put the chair in a weird corner, so it disrupts the feng shui of the room.

I'm eating and drinking everything in the mini-fridge, and then will light the mini-fridge on fire and hurl it out the window.

Me and my rowdy friends are gonna have a sex orgy that will involve all sorts of messy, gross stuff we can't discuss in detail here. Trust me, it's siiiiiiick.

Gonna spray paint "DOG SATAN 666" and a crude drawing of Garfield the cat doing a rude gesture on the wall.

I'll manually change the time on the clocks to be two hours ahead. Hahaha! That'll really mess people up.

Keep going. There's no turning back now.

I'm going to go around the suite unplugging everything that's plugged in. Haha!

Me and my rowdy friends brought sledgehammers and will now smash up all the walls and windows.

This might be tricky but I'm spray painting "GOD IS YOUR FUCK NOW, BITCHES" on the ceiling in huge letters. Maybe toss in a drawing of a penis?

I'm tearing up the carpet on the floor and throwing it all out the window.

And how will you finish this off?

It's time to finally just throw the bed out the window.

Me and my rowdy friends will take turns defecating, urinating, and vomiting all over the floor.

Hmmm. I'll put the Gideon Bible in the bathroom waste basket!

Gonna spray paint "TRUMP DID 9/11" on every remaining surface.

I'm smashing my way through the wall to the next room over and throwing a grenade in there. KA-BOOM!