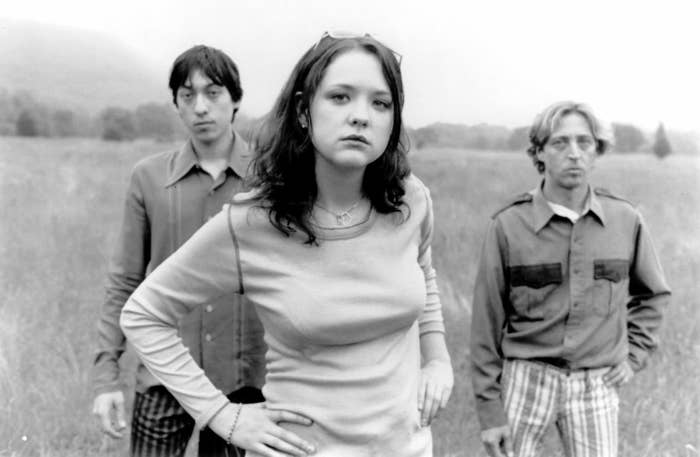 You may know Mary Timony as the leader of the indie rock band Ex Hex and for fronting Wild Flag with Carrie Brownstein, but back in the '90s she was famous — at least to 120 Minutes viewers and Spin readers — for being the singer and guitarist of Helium. Timony's skewed melodies and artfully distorted guitar parts were in line with other prominent '90s indie acts like Pavement and Sonic Youth, but her drowsy vocal style and lyrical fixation on vampires, prostitutes, medieval fairy tales, and apocalyptic imagery marked her as an artist with a distinct vision. Helium broke up with little fanfare in 1998, and Timony moved on to several other projects on her own and with other musicians.

Fans who came to Helium too late to ever get a chance to see them live will finally have their chance this summer as Timony hits the road to play songs from that band's catalog. It's not quite a reunion — bassist Ash Bowie and drummer Shawn Devlin won't be involved, and she'll be backed by members of the indie group Hospitality — but this is the first time Timony has played this music live in nearly 20 years. BuzzFeed recently caught up with Timony to discuss why she had not looked backwards in her career until just recently, how tricky it was to compile the rarities included on the new vinyl reissues of the Helium back catalog on Matador Records, and how she relearned some of her old tunes from watching YouTube videos.
I was surprised when I found out you were going to be playing these Helium shows because it seems like you've never really looked backwards in your career before. I was wondering if this was a philosophical thing for you, not playing old songs at shows.
Well, you're right. I never have been in a place where it made sense to do it before, and I also wasn't motivated to do it before, because I guess my priority's always on doing new material, just because it's fun to be creative and exciting, and playing old stuff isn't as fun in the same way. But this made sense because I talked to Matador a little bit about just making the Helium records available again on vinyl, because I had heard from some people that wanted to buy them on vinyl and, you know, couldn't find the records anymore.

It's true. I had to buy my vinyl copy of The Dirt of Luck on eBay.

You did? Oh my god!
This was maybe, like, seven or eight years ago, but yeah.

Whoa! Oh man, aww. Thanks for doing that. But yeah, I noticed they're getting to be rare, and I wanted to make them available. These shows were just a normal thing that happens when you have a record coming out. It helps to boost our record sales. But it was nice timing for me because I had just been feeling a little bit more like turning back a little bit and revisiting stuff, so it's been a fun time. Compiling the record with all the unreleased and rare stuff has been a project that's been ongoing – it took almost a year to find everything and get everything together. It's been a bit of a treasure hunt, basically.
What is it like going back to that stuff that's, like, 20 years old now when you're in a completely different place in your life?

Um, it's been weird! It's a little bit like reading your high school diary. The most challenging part of it was actually finding some of the stuff that I didn't have. There's a couple of the 7-inches that Helium put out before we were signed to Matador. I didn't even have those anymore, so I kind of had to hunt them down, which wasn't the easiest thing in the world, and there were songs that we had had on compilations that I also didn't have. I was never very good at archiving anything. I did save a lot of CDs and demo tapes, those all in my basement in Tupperware bins. I went through hours of cassette demos. I had to buy a 4-track because I didn't even have one anymore, so I had to go through all of these.
So have you started rehearsing for these shows?
I have rehearsed with the guys and it's pretty good. Weirdly, it wasn't as hard as I was thinking it would be to relearn some of the guitar parts. Helium always existed in this way where mostly we were a three-piece, so the live show never sounded exactly like the record. For the records, there were always a bunch of overdubs. I was able to remember what I was playing at live shows, but it definitely took a minute. I had to really think about it, and there was definitely a couple of songs that I had absolutely no idea what was going on.
Which ones?
"Superball" was one of them. It took me, like, probably half a day to figure it out. I was listening to the recording and trying all these different things, like my hands kind of remembered, you know? But then I found a video on YouTube of us playing a show in 1995, and I relearned it from the video. It's so weird, I know!
That's such a great resource, though! A perfect record of exactly what you were doing, exactly the guitar you were playing.

YouTube is amazing. One of my jobs is that I teach guitar, so I think part of it didn't feel that weird for me because I do learn covers a lot with the kids, so it almost was just like I was learning songs by another band. Some of the guitar parts are pretty weird, and they're not that easy to figure out if you just hear them. There's a couple of alternate tunings, but just kind of weird chord shapes and stuff.
Were you deliberately trying to write strange chord changes back then, or was that just what you gravitated to naturally?
It was something that felt natural. We were always kind of trying to push ourselves to not do things that sounded derivative, but we never tried to be just weird, you know? We did try to push the boundaries a little bit, I think.
At this point, you've had so many projects, and Ex Hex and Wild Flag are probably more famous than Helium were. Has your approach to making music changed since then?

Creativity has always been an important tool in my life, I think. It's kind of a therapeutic thing that I enjoy doing, and it's always been kind of a private thing. I never thought too much about how other people are seeing it, I guess, until maybe now, because I'm doing this thing where I'm looking back at it. I'm always in some phase of making a record, or have been since I've been 20, so it doesn't feel that different than it did when I was younger.
I think Helium sounds a little bit more artsy and idiosyncratic than I thought it did at the time, but I think all the '90s people were doing things where they were kind of making a new music. That doesn't happen now as much because of the internet. We weren't able to reference things as easily, and things were more in your head. You weren't able to just, like, find out everything you want to know about the Hollies, or the Zombies, or whatever band you were interested in. You had to kind of be like, "Oh yeah, remember that song I heard on the radio?" Everything was more in your imagination then, so I feel like that led people to make up their own thing. It didn't necessarily mean that music was good, because I feel like there was a lot of crap, but there always has been.

I feel like the good thing about having the internet is that good stuff rises to the top, and bands that are good, people will hear them. Musicians are able to hear anything they want and do all kinds of research, which makes people better musicians. I feel like there's not as much original stuff being made, although there still is, for sure. People are smart and creative, but I feel like people aren't forced to be original now.

So where are you at with your new music? Are you still doing Ex Hex, or are you doing something different now?

Ex Hex is going to start working on a record this summer, so yeah, there'll be another Ex Hex record. I don't know when it's going to come out, but we're going to start really getting our noses to the grindstone in July and August.