Mini Corn Bread Chicken Bake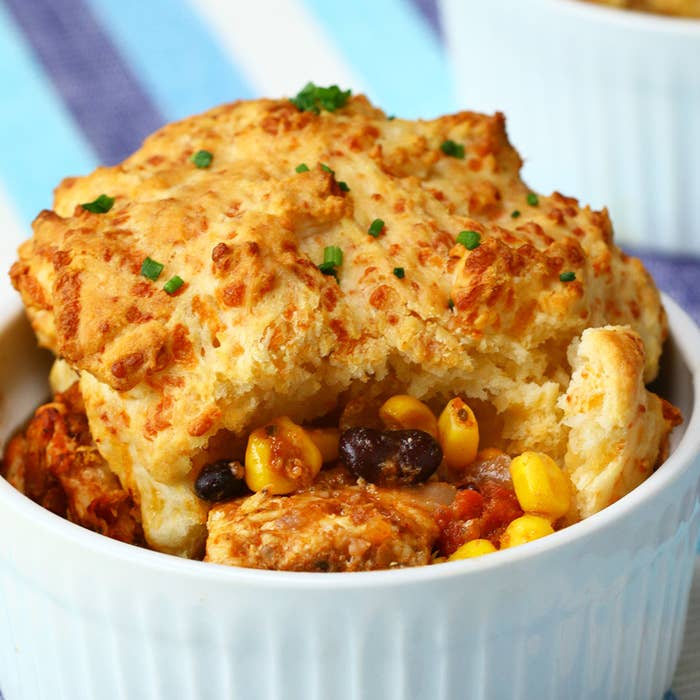 INGREDIENTS
Servings: 4
Filling
1 tablespoon vegetable oil
1 cup onion, diced
1 package PERDUE© Diced Chicken
2 tablespoons taco seasoning
15 ounces black beans, drained and rinsed
1 cup corn, canned or frozen
1 cup salsa
Biscuit Topping
1⅔ cup flour
3 tablespoons cold unsalted butter, cut into ¼-inch pieces
1 tablespoon baking powder
1 teaspoon garlic powder
1½ teaspoons salt
1 cup shredded cheddar cheese
1 cup whole milk or buttermilk
PREPARATION
1. Preheat oven to 400℉/200ºC.

2. Heat a large pot over medium-high heat; add the oil and onion. Sauté until tender, about 2-3 minutes. 

3. Add the Perdue Diced Chicken pieces and taco seasoning. Brown the meat on both sides.  

4. Add black beans, corn, and salsa; stir to combine. Pour the mixture into four large ramekins (or an 8x8-inch baking dish). Set aside.

5. Add flour to a large mixing bowl. Add the cold butter. Using a fork, crumble the butter into the flour. There should be small bits of butter distributed throughout. Add baking powder, salt, garlic powder, and cheddar; stir to combine. Pour in the milk and fold just until a soft dough forms. 

6. Top the ramekins with biscuit topping. Transfer to the oven. Bake 15-20 minutes, until the biscuit topping is cooked through and golden brown.  

7. Serve immediately.

8. Enjoy!