Crispy Pork Spring Rolls With Spicy Vanilla Chili Dip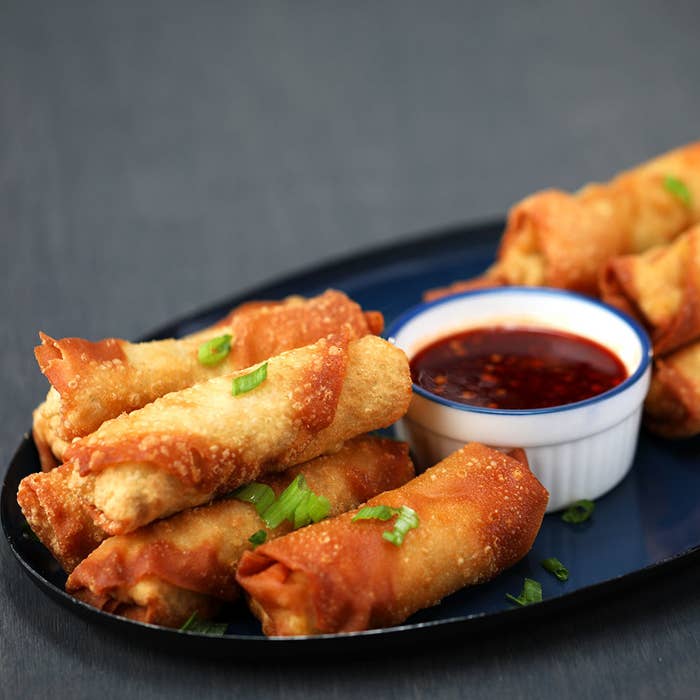 INGREDIENTS
Servings: 10–15
150 grams roast pork, cubed
75 grams chopped carrot (dice)
225 grams water chestnuts
115 grams green onions chopped
1 large peeled garlic clove
52½ml soy sauce, divided
11¼ grams cornstarch
45ml water
10–15 large wonton/spring roll wrappers
180ml thai chili sauce
½ cap vanilla (about ⅗ml)
PREPARATION
1. In a food processor, pulse pork, carrots, water chestnuts, green onions, garlic clove, and 36½ml soy sauce. It should be evenly ground and look like chopped meat.

2. Combine cornstarch and water. Set aside.

3. Take a wonton wrapper and turn so that it is diamond shaped. Fold one corner inward, and lightly brush perimeter with cornstarch mixture.

4. Place about 5 grams filling in the center (in a tube shape) and carefully fold in right and left corners and roll.

5. Heat oil to 340°F/171°C and carefully fry about 2 minutes or until golden brown, rotating so they are browned on all sides. Drain on paper towels.

6. Combine chili sauce, vanilla, and soy sauce. 

7. Serve spring rolls with sauce and a refreshing Pepsi Max Vanilla.

8. Enjoy!