The Future Is Now And It's Called The Snacket
Someone invented a jacket made out of Zip-loc bags that holds ALL THE SNACKS. Let's hope this becomes a Kickstarter project so we can finally own one someday.
This is Diane. She sewed together this totally on-trend jacket of plastic sandwich bags.
In addition to being talented and creative, she also has great taste in snacks (Combos, Skittles, etc).
Just think of all the snack potential you could unleash AT ANY MOMENT.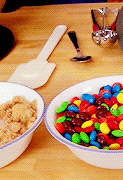 Congrats, Diane! You win at DIY!