1.
Busta Rhymes was the voice of Reptar on Rugrats.
2.
Lauryn Hill got booed while performing at The Apollo.
3.
Drake's favorite expression in high school was "bling bling." He went on to sign to the creator of the phrase.
4.
The cover of Enter The Wu-Tang (36 Chambers) didn't feature all the members of Wu-Tang.
5.
LL Cool J's mom used her tax refund money to help jump start his career.
6.
J. Cole was at the show for Dave Chappelle's Block Party.
7.
Jim Carrey wrote funny letters to Tupac when he was in jail.
8.
Nas was the first New York rapper to appear on a Dr. Dre song AND the the first member outside of Wu-Tang to appear on an album.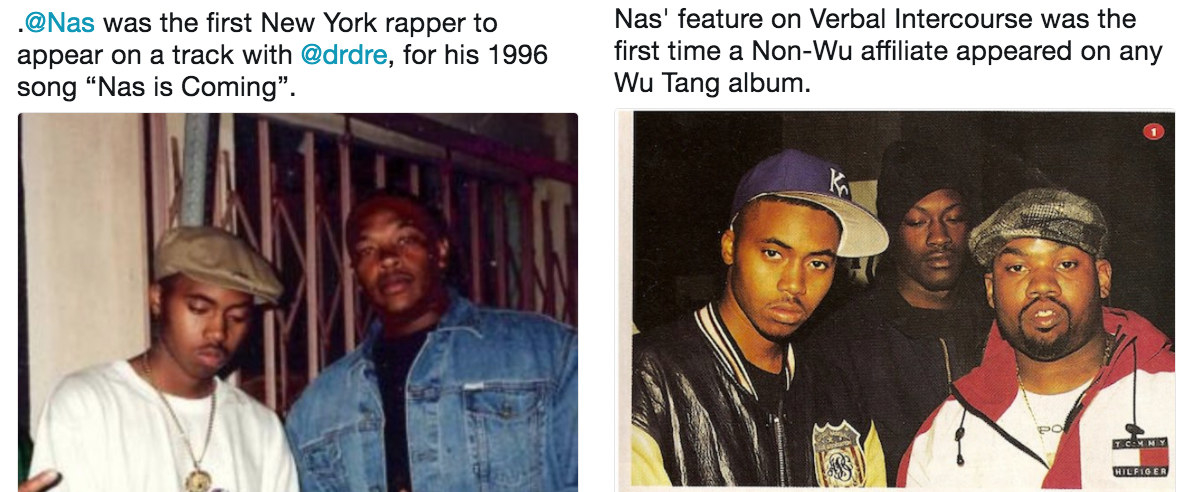 9.
Danny Brown does a voiceover for one for one of the lifeguards in Grand Theft Auto V.
10.
It took Kanye West about 15 minutes to make the beat for "Otis" on Watch The Throne.
11.
Diddy directed the video for "Player's Ball" by Outkast.
12.
2 Chainz was being recruited by the University of Memphis to play basketball and replace Penny Hardaway. He ended up playing at Alabama State.
13.
Dr. Dre has stayed in the studio for 79 hours without sleeping.
14.
Pharrell gave Pusha T 15 minutes to get to the studio to get the "Grindin'" beat.
15.
Eminem wore a bulletproof vest to the studio when he worked with Jay-Z on "Moment of Clarity."
16.
Barack Obama thinks Kendrick Lamar would beat Drake in a rap battle.