17 Tweets That Will Make Broke College Students Laugh Then Cry
"Can't gain weight in college if you're too broke to eat."
1.
When being broke in college inspires your creativity:
2.
When you realize college is basically a four year diet plan:
3.
When you realize the grass isn't necessarily greener afterwards:
4.
When you resort to extreme measures for basic necessities:
5.
When you can't resist the urge to have anything that's free:
6.
When most of the transactions in your account are under a dollar:
7.
And so, the not-so-big bills can make a huge difference in your bank acount:
8.
When you learn that sleep can take the place of a meal:
9.
When you see how crazy these kids are getting with their promposals:
10.
When you discover how petty FAFSA is:
11.
When your definition of broke is completely different than some of your friends:
12.
Because, for you saying you don't have any money means exactly just that: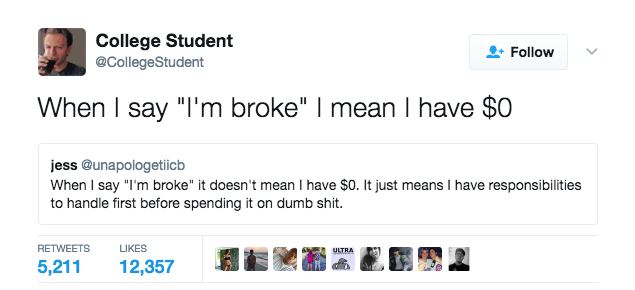 13.
When you heard that Nicki Minaj was paying some people's tuition and student loans:
14.
When you figure out a full proof plan to keep raking in the free food:
15.
When you're always prepared to eat wherever you go:
16.
When you can't really afford to throw things away like you usually would:
17.
Finally, when you have a profound understanding of everyone being in this together: