A recent story in The Walrus about the slow death of Postmedia, Canada's largest newspaper chain, contains a damning anecdote about how the chain edits stories.
Margo Goodhand, who was recently let go as editor of the Postmedia-owned Edmonton Journal during a merging of newsrooms, writes about taking a "distinctly depressing" tour of the company's main copy editing centre in Hamilton, Ontario, in 2007.
Postmedia, then known as Canwest, would go on to shut down local copy desks in newspapers across the country and centralize the work in Hamilton.

I leaned over one twenty-year-old's shoulder and asked how he was able to edit an op-­ed about Granville Street. "Have you ever seen Vancouver?" I asked.

"I've never been outside of Hamilton,' he said. 'But I'd like to."
The implication is clear: Postmedia/Canwest was laying off experienced, local copy editors and replacing them with kids who knew nothing about the stories they were editing.
But it turns out the elements that make that interaction damning were not true.
The person Goodhand spoke to was not barely out of high school, nor was he an editor. Multiple people who work or used to work at the Hamilton office say a 20-year-old would never have been editing an op-ed as Goodhand described it.

Several current and former Hamilton Postmedia employees were angered by Goodhand's piece. Some called it inaccurate and a cheap shot.

BuzzFeed Canada has learned that the person Goodhand spoke to was not doing copy editing but pagination. And he was 28 years old, not 20.
Paginators are in charge of the visual side of placing stories and ads on a page. The person Goodhand spoke to would not have been allowed to change the content of the op-ed.
Goodhand told BuzzFeed Canada she knew the man was a paginator, but "they call them copy editors too." This does not appear to be true. Several people who worked at the Hamilton office independently said that paginators were not referred to as editors, but rather as "operators."
Goodhand stands by the piece. She defended the passage by writing that she finished the office tour believing it was better to have "the last eye/line of defence being somebody who knew the place. Could improve the cutline. Improve the head(line)."
But the man she spoke to would not have been able to change either of those things.
"The duties were always strictly divided at that point. Operators were confined to layout duties only," said former Postmedia operator Maggie Makar.
The local last line of defence that Goodhand preferred did exist at the time. Makar said that in 2007 op-eds would have been edited at the local paper, sent to Hamilton for pagination (and edits by a separate copy editor), then sent back to the paper for a final review. Other people who have worked in Hamilton confirmed this but did not want to be quoted for this story.
Neither Goodhand nor Walrus editor Jonathan Kay seem to dispute that Goodhand never talked to a 20-year-old editing a Vancouver op-ed. But the anecdote remains in the story unchanged.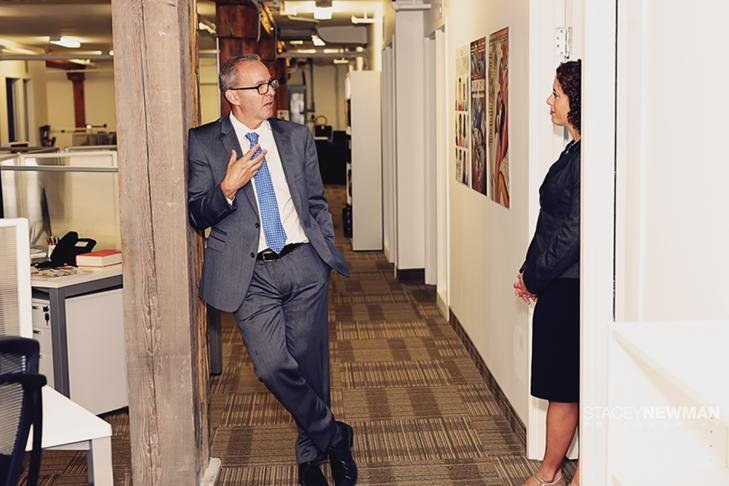 We first raised concerns about the passage with Goodhand five days ago and with Kay yesterday. Both argued that the the broader point about centralization was valid.
"Outsourcing the copy editing to centralized cubicle farms had all sorts of bad effects on quality. I saw this firsthand. And the cubicle farms themselves seemed like places where journalistic dreams went to die," said Kay, who is also a former Postmedia editor.
(Kay insisted he saw cubicles at the Hamilton office firsthand. We checked, and four people who worked there independently said there were never cubicles. Kay called it a "semantic disagreement.")
The impression that Postmedia's copy editors were primarily young and inexperienced would be false. The Hamilton office was largely made up of experienced editors, many of whom formerly worked at the papers.
But it is undoubtedly true that the centralizing of copy editing was wildly unpopular across Postmedia papers. And while people who worked in Hamilton say they had a talented team and are proud of their work, they don't deny the tension.
"Morale was in the shitter, there was constant antagonism between our office and the papers... it was a fucking grind, day after day, and utterly thankless," said former Postmedia copy editor Robert Hiltz.

Hiltz left Hamilton a year ago and says now, "I left hating that place."