Maxime Bernier Just Sealed His Re-Election With This Weird, Catchy Campaign Jingle
"He's a guy who's like us. He's a guy who knows us."
How's your Monday going? Do you miss summer already? Wish you'd spent more vacation time with your kids? Is Janice one desk over doing that annoying thing with her nails? Well forget all that. Maxime Bernier is here to PUMP YOU UP.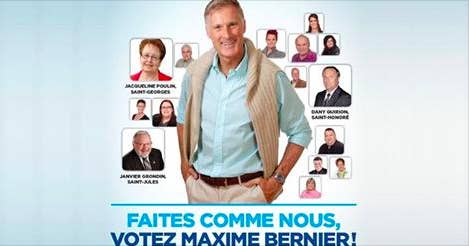 Bernier is continuing a proud tradition of Quebec campaign hit songs like the Bloc Quebecois' 2006 ad Heureusement.
Bernier has given us one of the catchiest jingles since — stay with us for a second — the "no" side of the 1988 Chilean national referendum put out an ad that helped bring down Augusto Pinochet. See for yourself.
And of course no discussion of game-changing jingles would be complete without Marineland.