Former Prime Minister Jean Chretien made a rare public appearance Thursday in the town of Chelsea, Quebec to stump for a local politician.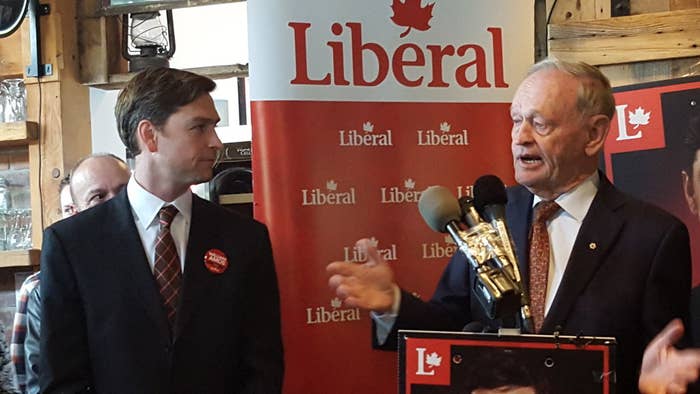 At the local favourite Chelsea Pub (try the lobster gnocchi!) Chretien told the packed house "we need to shake things up!" and urged them to turf Stephen Harper.
Then he threw to environmental lawyer Will Amos, the Liberal candidate in the riding of Pontiac, who told the crowd, "we can feel the wind in our sails. Everyone can feel it right now."
With Chretien's help, Amos has become a star candidate. He won a heated nomination race in Pontiac and now appears to have a strong shot of becoming an MP.
But since the race began, three different people have come forward with stories of Amos trying to negotiate their support. Two say he offered future favours once he was elected.
Amos has strenuously denied all three stories. He also denied allegations just this week from the NDP that he was spreading a rumour that NDP candidate Nycole Turmel was terminally ill.
In looking into these stories, BuzzFeed Canada has learned there was talk of other false rumours being spread by by various candidates about their opponents during the Liberal nomination race in Pontiac. Both the Liberal party and Elections Canada looked into the allegations, but ultimately no action was taken.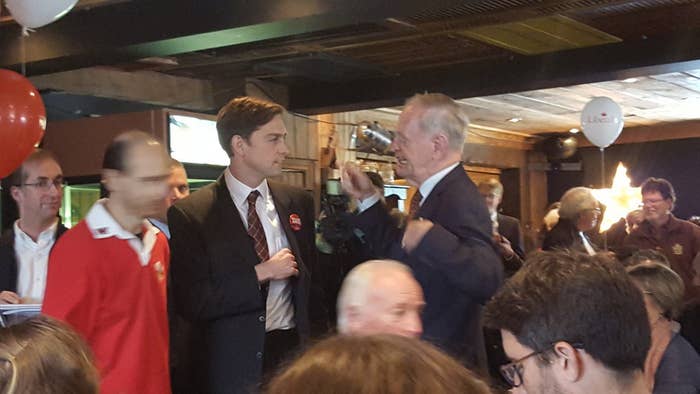 The first allegation about Amos came in September of 2014. A letter to the Liberal Party of Canada by Pontiac riding association member Rhiannon Banner was leaked to Metro News.
The letter, which has been confirmed by BuzzFeed Canada, said that Amos told her that her career with the Liberal party would be in jeopardy unless she supported him as the candidate.
According to the letter, Amos said he would "stack a room full of his supporters" at the next annual general meeting and could make her president of the riding association as a favour. Banner said she told Amos she had to remain neutral, and Amos responded that she could not expect any "favours" from him if he won the nomination.
The letter prompted another former Liberal riding association member, Jae Truesdell, to come forward with his own allegations.
Amos said "that we could work it out as an appointment or something else in the future if I could support him and find him more support," said Truesdell in an interview with BuzzFeed Canada this week.
"He's not a bad person, I think he's just going about this in a misinformed way. And with the rejuvenation of the party and everything the party's been trying to do over the last number of years it's just really sad to see those old tricks still going."
Truesdell complained to Elections Canada and met with two of the agency's officers. He said they ultimately told him that because Amos was not an elected politician, or then even yet a candidate, there was nothing they could do.
In a February 26, 2014 email to Truesdell, forwarded to BuzzFeed Canada, Elections Canada investigator John Dickson wrote, "I have reviewed the Canada Elections Act as it relates to nomination contests, and see no prohibition that would be applicable to the alleged conduct of Mr. Amos. As a result, the Commissioner of Canada Elections has closed his file."
He's not a bad person, I think he's just going about this in a misinformed way. And with the rejuvenation of the party and everything the party's been trying to do over the last number of years it's just really sad to see those old tricks still going.
In October of 2014 local paper The Low Down (actual motto: "To Hull and back") reported on another interaction with Amos. Riding association member and Gatineau Park activist Jean-Paul Murray said he was asked for support.
In a letter to the Low Down, Murray wrote "Mr. Amos [asked] for my support . . . I told him I'd gladly back him as long as he endorsed and promoted the Federal Liberal Party's policies on Gatineau Park. Point blank, Mr. Amos said he absolutely couldn't do that, since he needed support from the Meech Lake Association to secure his hold on the Liberal nomination."
The Liberal party's official position opposes a residential development in Gatineau Park near Meech Lake, but this has not been endorsed by Amos.
Murray's letter essentially alleges that Amos, for political reasons, will not support the party line to halt the subdivision.
Asked about all three alleged discussions, Amos said "there's no truth to any of those accusations."
"Nomination processes are competitive and my fellow competitors wanted to win as much as I did... we ran a clean, honest campaign," he said.
Asked why people might make up such stories about him, Amos said: "I have no idea. But the allegations have never been substantiated. That's all there is to say."
Truesdell, who has since moved to Toronto, said he is a life-long Liberal who has no skin in the game in Pontiac. He said he just wanted to go public about a conversation that rubbed him the wrong way.
Despite the controversies, Amos won the Liberal nomination in Pontiac. He was helped by the support of Chretien.
When Amos was battling against six other Liberals for the nomination, Chretien showed up to host a fundraiser at Amos's parents' home.
The Low Down reported in March of 2014 that Amos charged $500-per-plate to attend, though Amos denied this and said he didn't know how much money was raised.
Amos's father, Bruce Amos, was Chretien's chief of staff in the early 1970s when Chretien was still a cabinet minister. While in university, Amos-the-younger got a job as a researcher in Chretien's office.
Nomination processes are competitive and my fellow competitors wanted to win as much as I did... we ran a clean, honest campaign.
Now Chretien is helping Amos battle NDP incumbent Mathieu Ravignat.
At his appearance Thursday, Chretien mocked Harper for bringing in Crocodile Dundee for help (Australian conservative strategist Lynton Crosby has lent a hand in the government campaign). He nodded politely as one supporter talked about stealing an NDP cap and planning to burn it on election day.
Asked about the allegations of Amos demanding support in exchange for favours, Chretien spoke instead about civic duty.
"When you're a member of Parliament people come to see you. They say, can you help me, and you do your best. If you're successful, so much the better. Everything has to be done within the rules," said Chretien.
"That's always been my motto for 40 years, within the rules but you're there to help. That's why you have an MP."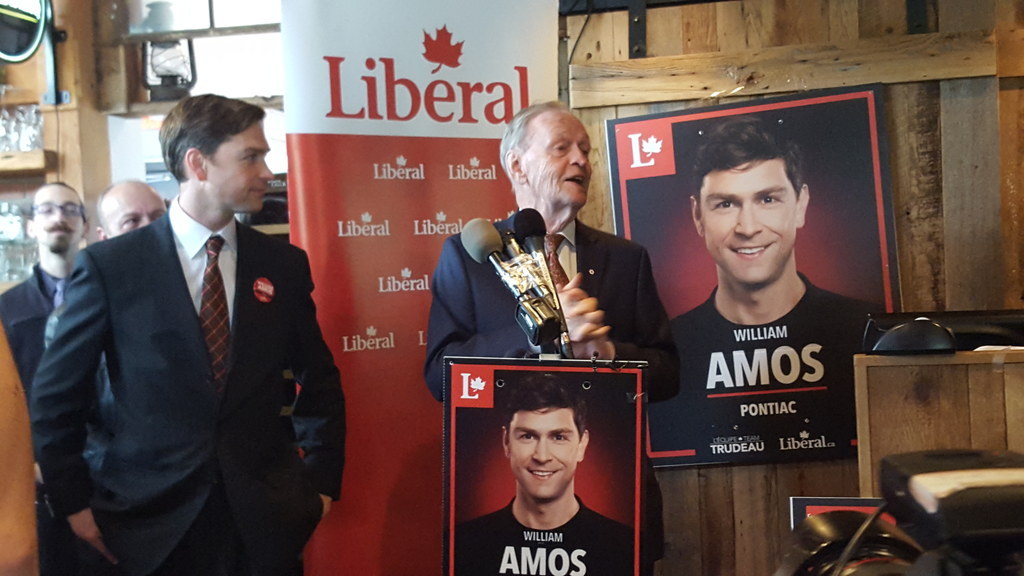 Amos's name was recently in the news again when the NDP alleged he was spreading a false rumour that Nycole Turmel, an NDP candidate in a nearby riding, was seriously ill. That allegation came from an NDP staffer and Amos said the story is categorically false.
"It's ridiculous. The accusations are made six days before the election when the event occurred allegedly over a month ago," he said.
BuzzFeed Canada spoke to several local Liberals, but most did not want to go on the record. One said there were stories during the Liberal nomination race of smears being spread about candidates, similar to the stories about Turmel.
Former riding association president Scott McDougall confirmed hearing of such rumours — not just about Amos but from multiple candidates — and said he looked into them during the race. But he said they ultimately came down to a he-said, she-said and he took no action.
He said he can't recall exactly how the party responded to allegations Amos demanding favours, but that they would have been investigated. Ultimately, he said, nothing rose to the level where any candidate was banned from the race.
"I did some investigating but none of those things ever bore out," said McDougall.
"For me, this was a heated but not irregular nomination."