Incumbent Conservative MP Rick Dykstra was photographed drinking with multiple high school-aged girls at a nightclub last month. One girl, who was 16 at the time, now says she was offered VIP service if she claimed it never happened.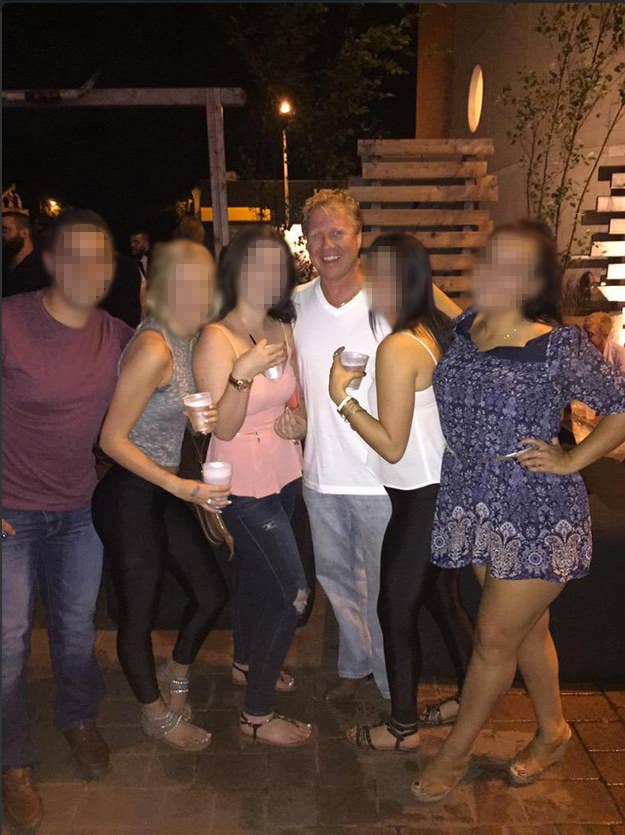 Dykstra was photographed posing with several underage girls holding beverages in their hands at the Mansion House bar in his riding of St. Catharines, Ontario on September 2.
Two separate underage girls also tweeted about him buying them alcohol that night.
One girl, who is now 17 but was 16 at the time, tweeted: "Lol Rick Dykstra just paid for our bottle service"
Another girl, aged 18, tweeted the next day "Thanks for the bottle service last night @RickDykstra #voteDykstra #Mansion"
When the 18-year-old was asked on Twitter how much Dykstra covered she answered "everything, there was at least 6 Ciroc [vodka] bottles."
Mansion House lists bottles of Ciroc vodka at $170 each.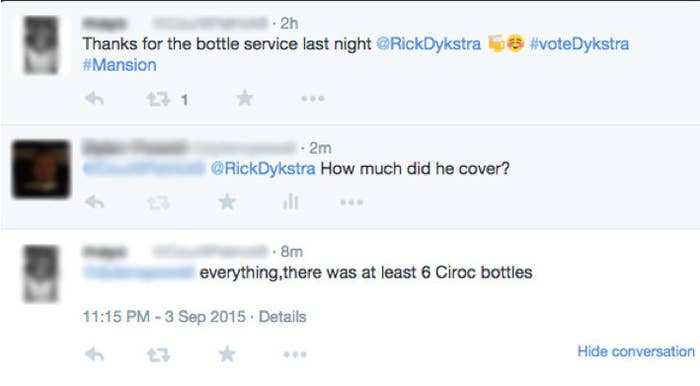 Two days later a Dykstra supporter named Brandon Currie contacted the 16-year-old. Currie was at the time the regional sales manager for Ciroc vodka distributor Diageo. He appears to be both a friend and campaign supporter of Dykstra.
Shortly afterward, she took down the tweets about Dykstra. Screenshots of the tweets were provided by a source to BuzzFeed Canada.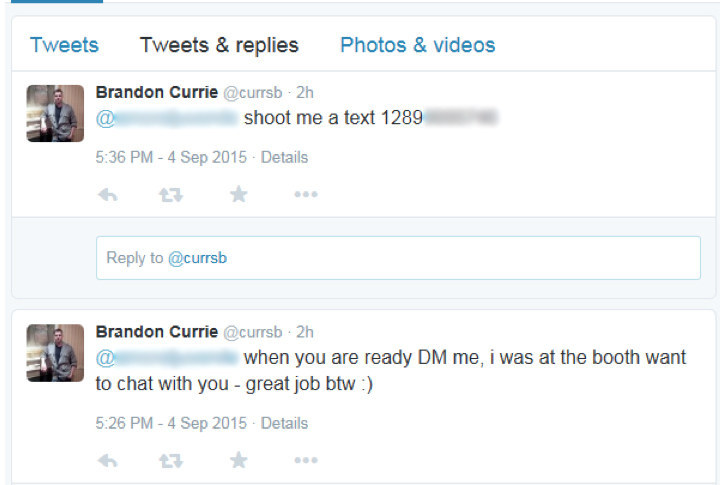 The 16-year-old told BuzzFeed Canada Thursday that Currie offered her indefinite VIP service at Mansion House if she stopped tweeting about that night and if she claimed Dykstra never bought her drinks. She provided the following screenshot of their exchange: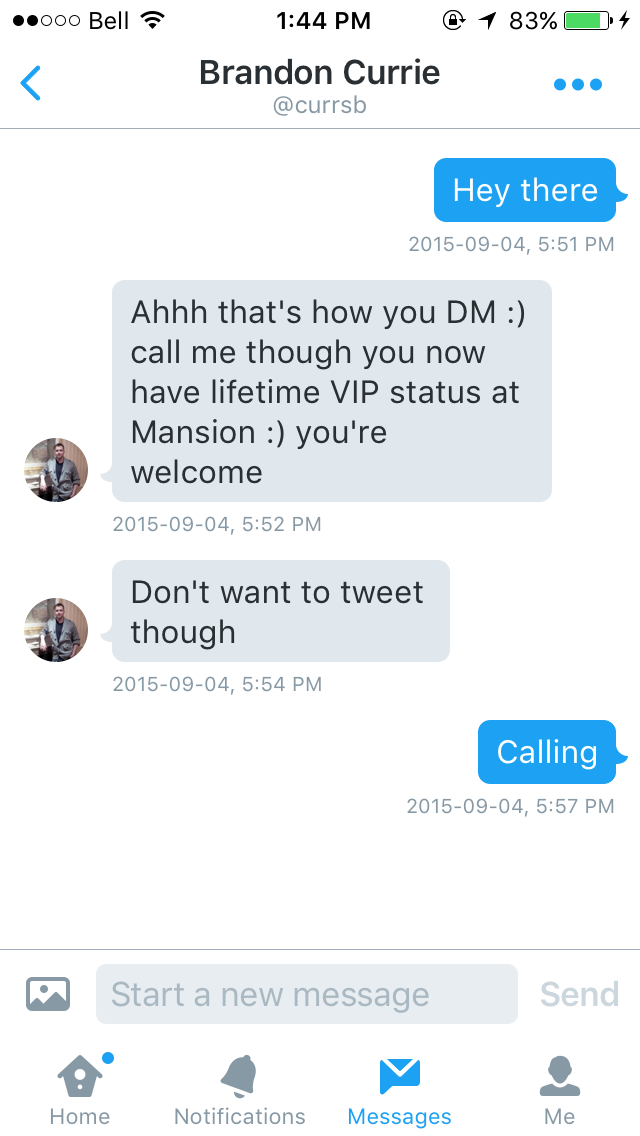 She said she called Currie and he offered to put her on a VIP list at Mansion House once she turned legal drinking age.
"I told him sure I'd be quiet about it, mainly because I didn't really care to talk about it at the time," she told BuzzFeed Canada in a text.
She later said that the "bribe," as she described it, wasn't good enough to lie about the night.
"[I turn 19] in 2 years and like I said, not much of a drinker so it had very little value to me at all."
Reached via phone, Currie denied offering VIP treatment or asking her to take down any tweets. He insisted he would not have had the authority to make such an offer (he no longer works at Diageo, having left the job two weeks ago).
Rather, Currie says he reached out to the girl after seeing her be harassed by other Twitter users following her Dykstra tweet. One user did hound the girl with questions about Dykstra.
When shown the screenshot of his private message to her, Currie said he was only joking about getting her VIP status.
"It was completely in jest. I was just making sure she was ok," he said.
Dykstra's campaign team sent a statement saying that Dykstra, who has represented St. Catharines since 2006, did not buy alcohol for anyone outside of his circle of friends.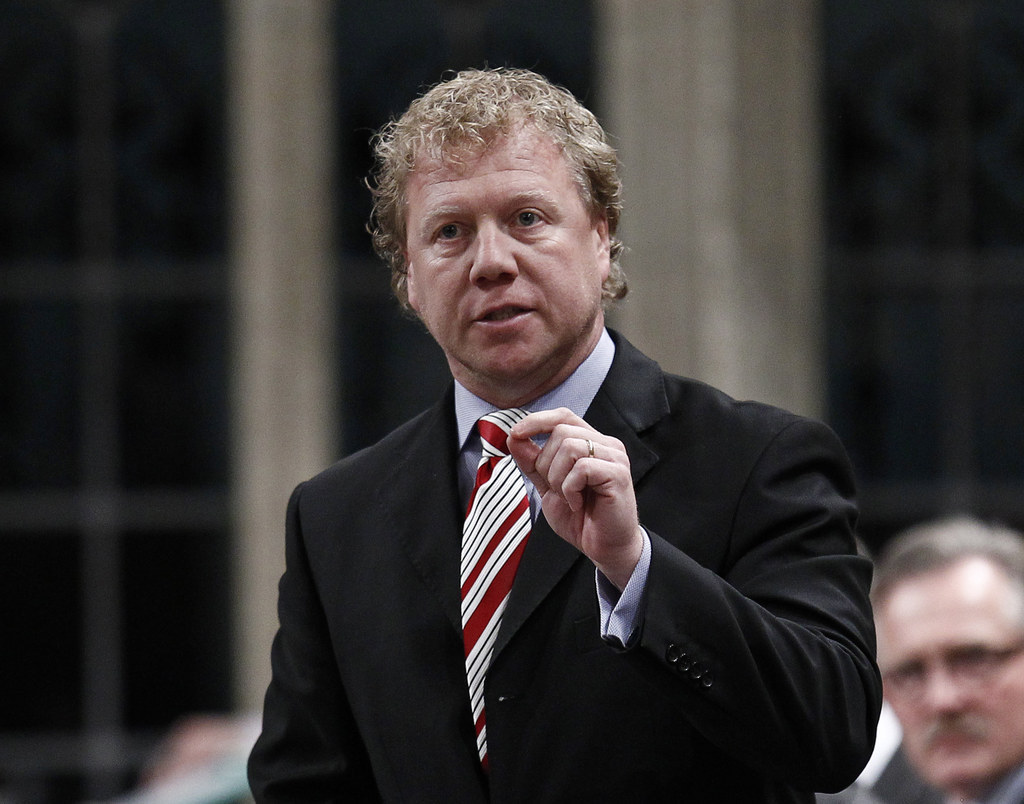 "On the night in question, Mr. Dykstra was with members of his campaign team and his family," said the statement.
"Nothing was purchased by Mr. Dykstra for anyone outside of his party. Those present who suggested otherwise have since retracted their comments and apologized. We consider the matter closed."
However, the girl who was 16 that night stands by her initial tweets. She said she was flat-out asked by Currie to deny them.
"Me and my pals drank with [Dykstra's] party and were told he was buying. My friend [the 18-year-old] even ran to tell security we needed more," she said.
Another girl, who is 19 years old and was in the bar legally, independently described a similar scene that night. She said Dykstra and his friends were standing around a table covered in bottles of Ciroc vodka, mix, cups, and ice. She said several people came, mingled, and drank their vodka, including herself.
The 16-year-old said Dykstra would not have known how old she was that night. She said her and her friend bribed the Mansion House bouncer $100 to skip the line and get in.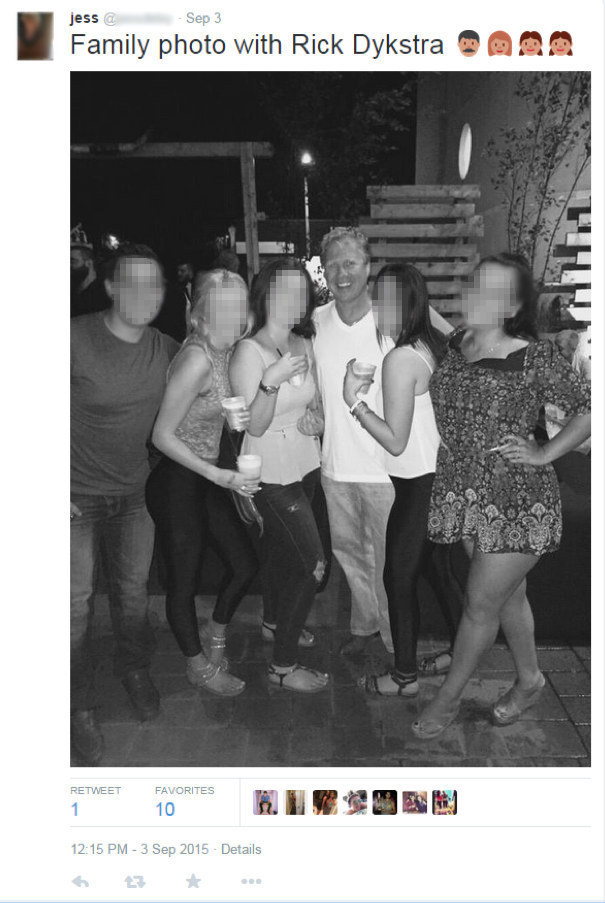 The photo above was tweeted by two other girls that night. Several of the people pictured appear to be under-age (the 16-year-old and 18-year-old previously mentioned are not pictured). BuzzFeed was able to ascertain the ages of the girls through a variety of publicly available sources.
The girl second from the left is a local high school student in grade 12.
The girl third from the left is either 16 or 17 years old, according to a reference in a separate media story.
The girl second to the right is 17 years old, according to her statements on twitter.
The girl on the far right is a local high school student who appears to be in grade 12.
The person on the far left is working on Dykstra's reelection campaign and lists himself on LinkedIn as a former constituency assistant to Conservative MP Dean Allison. He is a university student active in the Conservative movement. His age is not known.
The Mansion House is known as a bar frequented by college and university students. BuzzFeed Canada reached Mansion House co-owner Peter Tourountzas on his cell phone. He hung up before we could ask him any questions.