A whistleblower on Nauru has accused Australian Border Force officials of stopping pregnant refugees from travelling to Australia to have abortions, in a powerful letter sent to politicians today.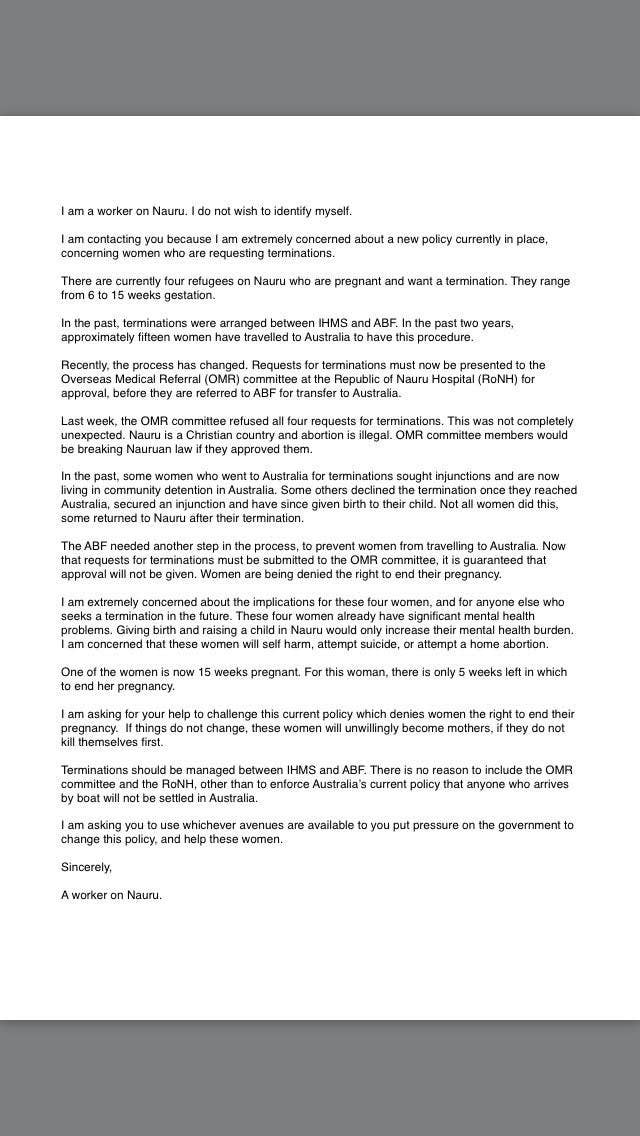 In a leaked letter obtained by BuzzFeed News, the "extremely concerned" detention centre worker claims pregnant asylum seekers and refugees who wanted abortions were not being transferred to the Australian mainland for treatment.
Previously asylum seekers and refugees who were pregnant had been transferred to the Australian mainland due to the low quality of medical services on Nauru.

Some had children while others chose to have abortions.

Some of these women had serious medical problems, and later sought injunctions to prevent their removal from Australia.
The process for approving abortions has been complicated by the Nauruan government's Overseas Medical Referral (OMR) at the Nauru hospital. The staff member wrote in their letter that they saw the process as a sham, and that "it is guaranteed that approval will not be given".
It has effectively created a de-facto ban on terminations for refugees in Australia's care, the worker said in the letter.
"The OMR committee refused all four requests for terminations. This was not completely unexpected. Nauru is a Christian country and abortion is illegal. OMR committee members would be breaking Nauruan law if they approved them.
"I am asking you to use whichever avenues are available to you to put pressure on the government to change this policy, and help these women.

"One of the women is now 15 weeks pregnant. For this woman, there is only five weeks left in which to end her pregnancy.
"I am asking for your help to challenge this current policy which denies women the right to end their pregnancy. If things do not change, these women will unwillingly become mothers, if they do not kill themselves first."
Pregnant refugees on Nauru have faced significant hurdles in getting access to medical treatment.
In February, a heavily pregnant Kuwaiti refugee held in detention on Nauru was diagnosed with the potentially life-threatening condition preeclampsia.
The 37-year-old waited for days to be evacuated after doctors said she was in a critical condition and needed to be flown to Australia for an emergency C-section.
Her baby was also in a breech, or feet first, position and she had a large fibroid, or benign tumour, on the wall of her uterus.
Obstetricians in Australia, including the president of the Australian Medical Association, Dr Michael Gannon, lobbied for her to be immediately moved to a hospital with appropriate neonatal facilities.
The woman was eventually airlifted to Australia.
In May last year, an Australian Federal Court ruled that it would not be safe or legal for a pregnant African refugee — who was raped on Nauru while unconscious and suffering a seizure — to have an abortion.
She was flown to Papua New Guinea — where abortion is also illegal, and only lawful if the termination would save the mother's life — for the procedure.
The court heard immigration minister Peter Dutton denied having a duty of care to the woman refugee, but in May 2016 the Federal Court of Australia held that Dutton had failed to fulfill his duty of care, and the woman was ultimately brought to Australia for treatment.
The same month a Somali refugee and her newborn were medically evacuated from Nauru in a critical condition.
The woman's pregnancy was at 32 weeks when she underwent a caesarean operation on Nauru, and refugee advocates criticised the government for not allowing women on the island to give birth in Australia.
Late last year the Nauruan government withdrew a bill that would have legalised abortion for refugee and asylum seeker women.
The nation's border protection minister David Adeang introduced the bill, which was opposed by both government and opposition MPs.
Living conditions on Nauru have faced heavy criticism from the United Nations and human rights groups. Save the Children had previously conducted a risk assessment warning that infant babies should not be transferred back to Nauru.
If you need to talk to someone, you can call Lifeline Australia on 13 11 14 or Beyond Blue Australia on 1300 22 4636. Anxiety UK on 08444 775 774, or Hopeline America on 1-800-784-2433.