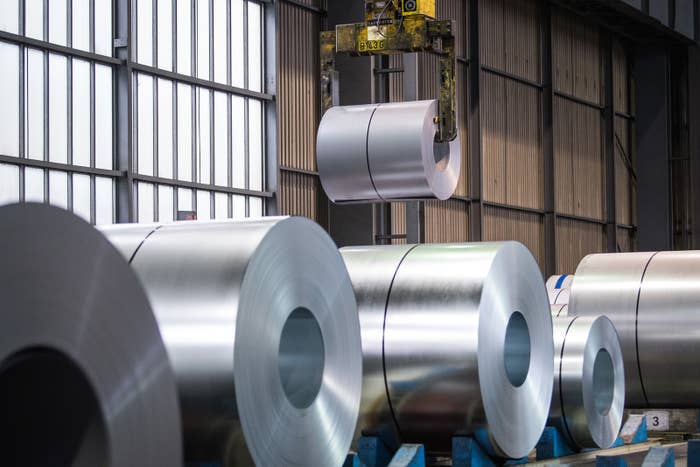 Chinese steel importers have won a major court victory against the Australian government that could embolden more steel importers in the country to take legal action against Australia.
Australia's anti-dumping commission regulates the practice of "dumping", where countries export cheap goods and products to undercut local markets.
The work of the commission has attracted renewed attention following the global uncertainty caused by US president Donald Trump's announcement of tariffs on steel imports.

A key focus for the agency is regulating cheap imports from China, which is a major importer of goods into Australia.
The commission compiled a report in 2012 that made findings against an Australian importer of Chinese steel, Steelforce Trading Pty Ltd, that imported products by the Chinese company Dalian.
The government then imposed limitations on certain steel imports based on the report findings. The commission made this finding based on a series of calculations about the price of steel in Australia and how this compared to China's own steel market.
The companies appealed the decision to the Federal Court, succeeding in part in 2015. The case was then appealed to the full bench of the Federal Court, which ruled in February this year that the report and the government's decision should be found invalid.
Justice Robert Bromwich found that the anti-dumping commission's process for making its findings were "infected by legal error".
The decision may impact other Chinese importers that are attempting to import cheap products into the country, and is the first substantial victory against the anti-dumping commission in the Federal Court in several years.
It could embolden more Chinese companies to lodge applications for judicial review against the commission's findings, posing serious challenges for the resources of the commission and the effectiveness of the agency in ensuring Australian prices aren't undercut.
Another Chinese company, Changshu Longte Grinding Ball Co, is currently litigating against the Australian government to attempt to overturn findings based on reports by the anti-dumping commission. That case was delayed pending the outcome of Steelforce's case, and will now continue to go to hearing.
The anti-dumping commission is facing a substantial increase in investigations into companies importing goods cheaply. Commissioner Dale Seymour told a parliamentary hearing last month that "the main issue remains the oversupply of certain steel products from China".
Labor has committed to increasing funding to the anti-dumping commission, and enhancing the powers of the agency.
"Dumping is a particular problem for Australia's steel industry, where over 60 per cent of current anti-dumping measures are in force," Labor leader Bill Shorten said last week.
"The announcement by the United States of a 25 per cent tariff on imported steel will increase the threat of more steel being dumped in Australia, putting further pressure on an industry already feeling the impact of a glut of Chinese steel production."

The anti-dumping commission declined to respond to questions about the case from BuzzFeed News.
Contact Paul Farrell securely using the Signal messaging app on +61 457 262 172