The Public Servant Sacked For Making A False Statement To Peter Dutton Is Still Under Investigation
Roman Quaedvlieg received over $500,000 while on paid leave during the investigation.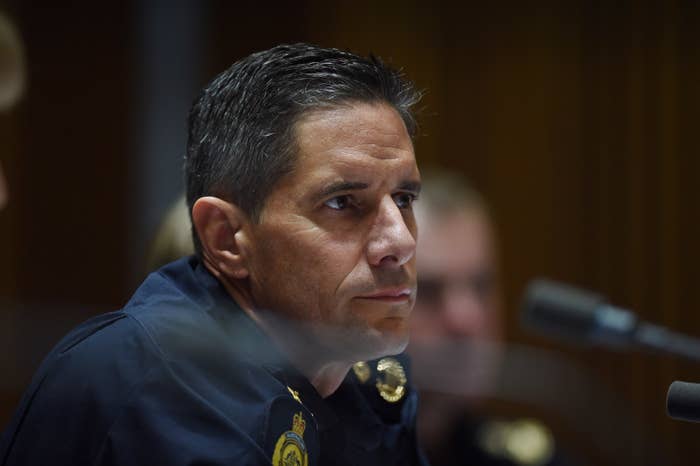 Australia's Department of Home Affairs claims that sacked Australian Border Force (ABF) commissioner Roman Quaedvlieg is still under investigation by Australia's law enforcement watchdog.

The second most senior public servant in Australia's new super agency was sacked by the Australian government in March after a lengthy investigation into his conduct by the Australian Commission for Law Enforcement Integrity (ACLEI). An administrative investigation was also undertaken by Australia's Department of Prime Minister and Cabinet to examine the allegations.
The basis for Quaedvlieg's termination revolves around his alleged relationship with a woman who subsequently gained a job as a passport scanner within the ABF.
The statement of reasons for terminating Quaedvlieg said that he "engaged in acts, and made omissions, which materially advantaged that candidate over other comparable candidates for ABF employment".
It also said that Quaedvlieg made a "willfully or recklessly false statement to the minister for immigration and border protection in relation to the status of his personal relationships".
But while the inquiry by the prime minister's department is completed, it appears that ACLEI still has an active investigation.
Australia's freedom of information overseer, the Office of the Australian Information Commissioner, had previously ordered the Department of Home Affairs to disclose documents under freedom of information law to BuzzFeed News that would reveal what Quaedvlieg told home affairs minister Peter Dutton about his personal and financial interests.
But the department issued another decision arguing that it was unable to disclose the material because the ACLEI investigation remained ongoing.
"I have been advised by Australian Commission for Law Enforcement Integrity (ACLEI) that the disclosure of the documents relevant to this request at this time would prejudice ongoing investigations," home affairs officer Steven McGlynn wrote.
He stated that an investigation remains ongoing "until a final report is prepared to the minister and the head of the relevant enforcement agency".
A spokesman from ACLEI told BuzzFeed News: "It is ACLEI's practice not to comment on matters relating to our operations."
"The integrity commissioner makes public statements when it is appropriate to do so. ACLEI publishes completed investigation reports or case summaries to its website when findings or recommendations are made, following conclusion of a procedural fairness process."
The secretary of the department, Michael Pezzullo, told Senate Estimates in February this year that ACLEI "sent me a report in the latter part of last year". He refused to confirm the status of the report during repeated questioning from Labor senator Kim Carr.

Based on the decision from home affairs, it appears this report is likely to have been an "interim" update from the agency, pending the delivery of the final report to Dutton and Pezzullo.
The unresolved law enforcement investigation may also complicate any potential legal action that Quaedvlieg may seek to bring in relation to his sacking. In a statement following his termination Quaedvlieg said he had consistently maintained his denial of the grounds of his termination, and raised "a number of observations" about how the inquiry had unfolded.

"I intend to pursue these more formally in the relevant forums," he said at the time. "I will now take some time to fully consider my options."