The Former Australian Border Force Commissioner Could Become A Media Commentator
Roman Quaedvlieg describes himself as a 'geopolitical dilettante'.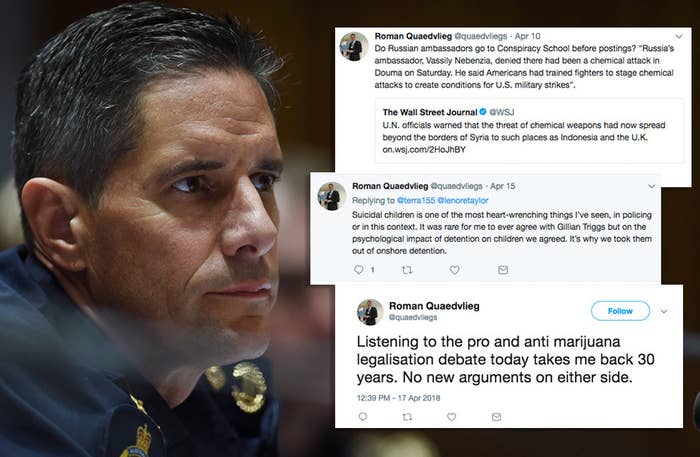 The former Australian Border Force (ABF) commissioner Roman Quaedvlieg – who reported directly to home affairs minister Peter Dutton – has surfaced on Twitter and indicated he intends to become a public commentator.

The second most senior public servant in Australia's immigration and national security super agency was sacked by the Australian government in March after an administrative investigation was undertaken by Australia's Department of Prime Minister and Cabinet to examine allegations that had surfaced.
The basis for Quaedvlieg's termination revolves around his alleged relationship with a woman who subsequently gained a job as a passport scanner within the ABF.
The statement of reasons for terminating Quaedvlieg said that he "engaged in acts, and made omissions, which materially advantaged that candidate over other comparable candidates for ABF employment". Quaedvlieg has denied any wrongdoing in relation to the allegations.
But just days after the government sacked him, Quaedvlieg opened a Twitter account - describing himself as a "geopolitical dilettante" on his profile - and began tweeting about domestic and international politics. The account has caused confusion because it is unverified, with many initially believing it was a fake or parody account.
BuzzFeed News has verified the account is operated by Quaedvlieg, because it is linked to his current mobile and personal email address. Quaedvlieg also later confirmed the Twitter account belonged to him in a statement to BuzzFeed News, and said he also planned "to contribute to public policy discussions in more mainstream and long form media".
His tweets are an unusually frank account of policy issues, particularly related to areas of immigration he would have been involved with during his time as ABF commissioner.
In a recent tweet commenting on the decision to remove a child from Nauru to Australia for medical treatment he said it was the "right outcome for this girl".

"Medical issues for refugees on Nauru are so vexed," he posted. "A lot of $ has been invested in upgrading medical services there but some cases are so acute they need specialists; but we also need to stop exploitation of this path."

He wrote that it was "rare for him to ever agree with [former head of the Human Rights Commission] Gillian Triggs but on the psychological impact of detention on children we agreed. It's why we took them out of onshore detention". Triggs is the former president of the Australian Human Rights Commission, and faced heavy and sustained criticism from the government during her tenure largely due to the commission's investigations into the immigration detention system.

In a further tweet he said that "while the refugee convention is sound in concept, it's redundant in practice in 2018".

He has also commented extensively on world leaders and international affairs. He described Donald Trump's announcement about import tariffs as "7 mins of incoherent ranting".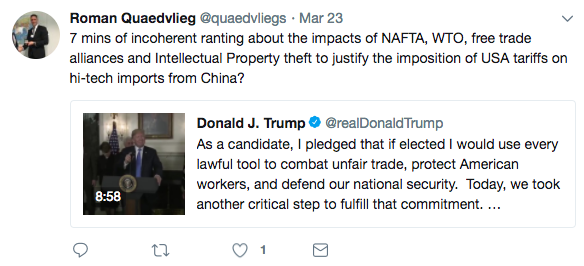 In one of his more strident criticisms he described the United States as a "perennial" apologist for Israel.

"It's a Jewish enclave in an Arabic region and purports a parliamentary democracy, but that doesn't excuse its pugnacious encroaches on the basic humanities of its Palestinian neighbors."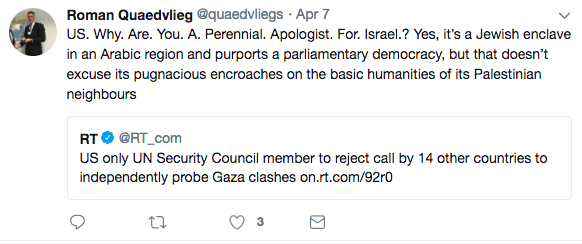 He also said that the potential re-emergence of Mahinda Rajapaksa in Sri Lanka "would be a retrograde step for a country which has almost cast off the shackles of an inter-ethnic war". Rajapaksa's regime has faced heavy criticism over allegations of war crimes during the civil war with the Tamil Tigers.


He also questioned whether Russian ambassadors "go to conspiracy school before postings".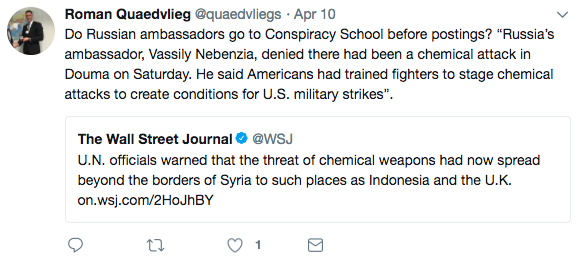 And he expressed his disdain for hate-filled movements on Twitter such as the #punishamuslimday hashtag.

The statement provided by Quaedvlieg to BuzzFeed News said that "as a public servant there are protocols which limit ones commentary to matters within a lane and even then it's not common practice to comment on evolving public policy".

"However, now that those public service shackles are off, I do feel that I can bring value and an experience perspective on issues which fall within my realm of expertise."
He said that Twitter can be a "haven for craven and anonymous trolling" but was also "a real time platform which can harness legitimate and informed views within a very short space of time".
While the investigation by the prime minister's department that led to Quaedvlieg's termination has been completed, the law enforcement watchdog - the Australian Commission for Law Enforcement Integrity (ACLEI) still appears to have an active investigation.
In response to a freedom of information request from BuzzFeed News the agency declined to release documents relating to Quaedvlieg, arguing that it was unable to disclose the material because the ACLEI investigation remained ongoing.
"I have been advised by Australian Commission for Law Enforcement Integrity (ACLEI) that the disclosure of the documents relevant to this request at this time would prejudice ongoing investigations," home affairs officer Steven McGlynn wrote.
He stated that an investigation remains ongoing "until a final report is prepared to the minister and the head of the relevant enforcement agency".
Contact Paul Farrell securely using the Signal messaging app on +61 457 262 172