Peter Dutton's Department of Home Affairs unlawfully detained 39 people in immigration detention during an 18-month period, including an 11-year-old boy who was removed from his home in Australia by Australian Border Force (ABF) officers.
Documents obtained by BuzzFeed News under freedom of information law reveal serious shortcomings in how the department handles visa decisions and takes people into immigration detention.
The issues flagged in the reports illustrate a range of problems and concerns with Australia's onshore immigration detention system not previously known. They include one case where department officers failed to remove a person who was unlawfully held in immigration detention because it was a public holiday in the ACT and nobody received correspondence from the person's lawyers.
The documents are a series of bi-annual reports from January 2016, July 2016 and January 2017 that are provided to the Commonwealth Ombudsman, and set out a brief summary of each case and what action was taken to resolve it.
They are not limited to refugees, and could affect a broad range of non-citizens currently living in Australia including students and working holiday visa holders. Many of the reports are also dated after a scathing report by the Ombudsman in 2016. The reports highlight that some of the problems identified by the watchdog remain ongoing.
A spokeswoman for the Department of Home Affairs told BuzzFeed News in a statement that the agency had reviewed and improved staff training in relation to a range of matters in the cases.
The documents show one case where ABF officers attended the home of a boy aged 11 in March 2016 and detained him in an immigration facility. The officers were acting under the belief that the boy, who was a non-citizen, had received a visa cancellation decision in November 2010.
But once the boy was in detention it was discovered by an immigration officer that the notice the boy was sent by immigration officials advising him that they intended to cancel his visa was "defective".
It was returned to the department in March 2011 without being opened, and listed a different address to what was listed for his parents. Because he wasn't given adequate notice of the visa cancellation, it was considered to be invalid, and that he was lawfully residing in Australia.
The review found that the "notification should have been sent to the address provided by...[the boy's] parents."
"Departmental record keeping requirements in this case were not met," the review found. "The training advises delegates to be particularly vigilant in cases involving minors."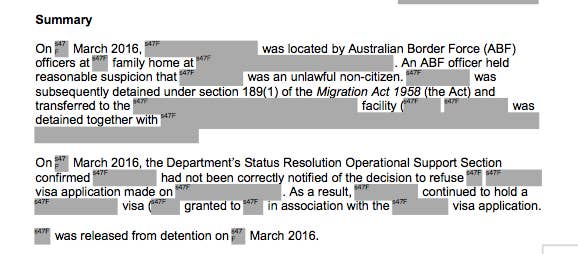 The boy's case is currently under review by the Administrative Appeals Tribunal (AAT). It is unclear whether he is a refugee or holds some other form of visa. The status of his parents is also unclear.

A large number of the cases involve failures to properly notify people about their visa cancellations, which means they are unaware of changes to their visa status. A repeated comment in the review documents states that "the department is improving existing procedures to ensure that clients are effectively notified when they lodge invalid applications".
Training failures are also a persistent theme. At times, ABF officials have wrongly withdrawn visas for individuals. In one case an individual was detained in June 2016 after their visa was erroneously revoked in March 2014. The review of this incident said that "the error made in this case will be highlighted in future training enhancements".
In another case, a person was told their visa had been cancelled by an interviewing officer and they were taken into detention. While being interviewed, the officer indicated to the person that commenting on the department's intention to refuse the visa was "a pointless exercise, as it appeared that the...[interviewing officer] had already made up [redacted] mind." The review said that "further training for, and counselling of, the ABF officer involved has been recommended".
In some cases people who lodged appeals of visa cancellations were wrongfully detained when legal proceedings overturned the department's decision. In one, a person was wrongfully detained in October 2015, and not released until March 2016. According to the review, this error was because the department did not previously link its systems, in order to remain abreast of decisions made by tribunals and courts.
In another case, department officials wrongfully detained a person for two months after a tribunal ruling in the person's favour, and even after their solicitor emailed the department informing them of the decision. The delay in releasing the individual occurred in part because the date of the lawyer's email was a public holiday and was not seen by department staff.
The review documents stated that one of the steps to be taken was ensuring that when department officers "receive requests from applicant's lawyers for the release of their clients from immigration detention, that the AAT and removals injunction section is immediately notified not only by email, but also by telephone (including out of hours contacts), to ensure the matter is immediately investigated and actioned."
In another example, a person was unlawfully taken into immigration detention because of the actions of their fraudulent migration agent. The individual was not properly notified because their migration agent fraudulently provided an incorrect address. The department is currently monitoring a large number of other people who are potentially affected by the migration agent's actions.
Daniel Webb, director of legal advocacy at the Human Rights Law Centre, told BuzzFeed News: "Crucial decisions affecting people's basic rights must be made through fair, transparent and accountable processes. But instead, our immigration laws concentrate massive powers in the hands of one politician [Peter Dutton] and the checks and balances on how those powers are wielded have been systematically stripped away."

The wrongful detention cases also pose significant financial risks to the Department of Home Affairs, the agency that is now in charge of immigration and border protection. It is possible that each individual could launch civil action against the department for false imprisonment.
"People who have been illegally detained – whether for a day, a month or for years – should absolutely get legal advice about their rights," Webb said. "And the blunt and arbitrary system that wrongly locked them up in the first place must be fundamentally overhauled."

The findings in the internal documents are explored in even greater detail in an independent report into the unlawful detention of two Australian citizens flagged in the documents.
The department commissioned former inspector-general Margaret Stone, who was asked by the Department of Home Affairs to undertake a review of the agency after the discovery that two Australian citizens of New Zealand and Papua New Guinea descent were held in immigration detention in early 2017.
BuzzFeed News obtained the full review under freedom of information law. The findings of the report indicate that the two Australian citizens unlawfully detained in immigration detention centres were detained in part due to the increase in visa cancellations driven by Dutton's policies.
The review warns that a lack of training and oversight within the ABF and the detention system more broadly could see more Australian citizens unlawfully detained. It points to the high profile 2005 case of Cornelia Rau, who was also an Australia citizen unlawfully held in immigration detention, and echoes the findings of previous reviews that followed Rau's incarceration.
Stone found that staff involved "did not have the fundamental level of knowledge required to perform their duties" and "did not assume personal responsibility for their decisions".
Both men were detained after being incarcerated in New South Wales prisons. They both made it known on multiple occasions that they were Australian citizens, but they were largely ignored by officers examining their cases: "No consistent attempts were made to resolve the inconsistencies or escalate the matter."
Stone wrote: "There is no reason to believe that these knowledge gaps are limited to the staff that handled these cases, or that these deficiencies are limited to the handling of 501 visa cancellation cases. The knowledge gap was observed across a number of business areas in three states and points to a systemic issue."
Professor Louise Newman, who is a former chair of the Australian government's immigration health advisory group, praised Stone's report and said it showed that many of the findings made after Rau's unlawful detention had not been addressed.

"Once again, this makes the point of the need for independent review of detention processes and risk of repetition of these situations," she said. "The system remains oriented around a priority to detain and makes premature and biased decisions."

Some individuals have already succeeded in launching civil cases against the department for false imprisonment. In a recent case in the Federal Court, a Chinese national was unlawfully detained for 1,033 days.
The Chinese man was found by the court to have engaged in "patterns of anti-social and criminal conduct", and was targeted by immigration officials. However, it was clear that at certain points immigration officials were aware they had unlawfully detained the man, but failed to release him.
The judge wrote that they delayed releasing him for at least 21 hours after receiving three notifications advising that he should be released.
Federal Court Justice Jayne Jagot said in her judgement that she was "satisfied that this constituted a knowing, deliberate and flagrant disregard" for his rights.
It said that immigration officials "knowingly and in conscious disregard of [the man's] rights, chose expediency for the department above the rule of law and the right of the individual to be imprisoned only with lawful justification. That choice was reprehensible."
Although the Federal Court found that the man garnered "little personal sympathy given his choices in life", it found the department had abused its power in detaining the man. He was awarded $35,000 in damages.
A spokeswoman for the Department of Home Affairs said in a statement: "In the vast majority of cases reported to the Commonwealth Ombudsman, the decision to detain was lawful and reasonable based on the information available to the detaining officer at the time".
"The majority of these cases were quickly identified and resolved, with the individual released from immigration detention as soon as the department assessed they were a legal non-citizen. This was often within a matter of hours or days," she said.
Following the independent report by Thom, the spokeswoman said the department had introduced a number of other measures, including better staff training and reviewing how visa decisions were made.
"The department has reviewed and enhanced training to ensure staff are alert to matters identified in the review of these cases, including training relating to citizenship, immigration status and notification issues," she said.
Contact Paul Farrell securely using the Signal messaging app on +61 457 262 172