Shadow immigration minister Shayne Neumann has called on the immigration minister Peter Dutton to "get his house in order" and explain why the chief medical officer of the Australian Border Force (ABF) has resigned.

BuzzFeed News reported on Thursday that Dr John Brayley, the surgeon-general of the ABF since 2015, resigned last week. But neither the immigration department nor Dutton have issued any comment or statement on his departure.
The role of surgeon-general was created to oversee asylum seeker healthcare in Australia's onshore and offshore detention centres.
Brayley's departure effectively leaves asylum seekers and refugees without a medical advocate in the immigration department. It comes at a difficult time for the department, after a series of revelations about concerns over asylum seeker healthcare, including delays for women on Nauru seeking abortions.
Neumann issued a statement on Friday and said: "Peter Dutton can no longer hide the dysfunction and distress within the Department of Immigration and Border Protection following reports of the resignation of the chief medical officer and surgeon-general who is responsible for overseeing healthcare and medical treatment of asylum seekers and refugees.
"This development is typical of Peter Dutton's ongoing incompetence in the management of his portfolio; especially the management of offshore processing arrangements."
Neumann wrote to Dutton in August following news reports about the delays in terminations for women on Nauru.
"I am particularly concerned by reports of an additional bureaucratic step in the approval of the medical transfer process that could deny asylum seeker and refugee women in Nauru from accessing reproductive health assistance including treatment for perinatal depression," he wrote.
"Labor strongly believes that medical transfers for asylum seekers and refugees living in Australian-funded offshore regional processing centres should be made available when a particular treatment is not available on island and where the treatment is recommended by appropriate medical practitioners."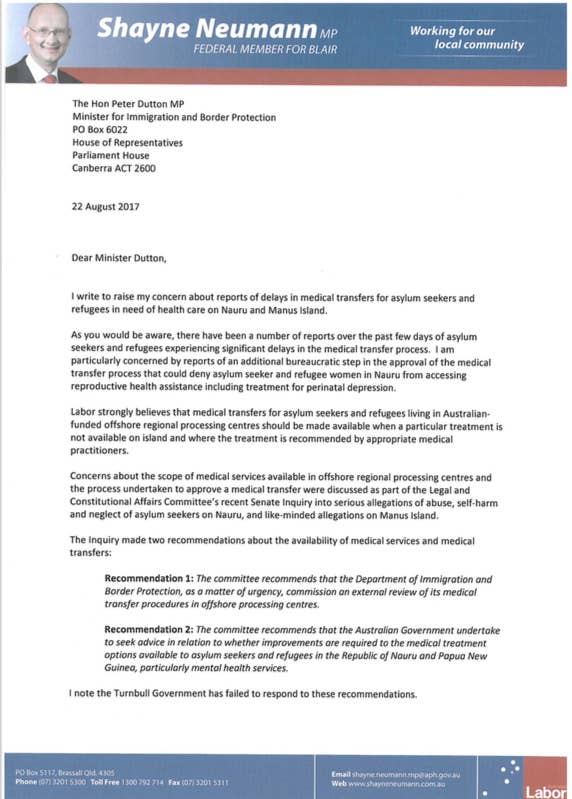 Dutton's office has been contacted for comment.