"It's An Absolute Miracle Nobody Was Shot That Night": Inside The Good Friday Rampage On Manus Island
"They wanted to hit someone with those bullets that night"
The gunshots that rang out on Manus Island were like an uneven, deadly drum beat. And with each staccato burst, Sophie L'Estrange thought her friends were dying.

"It sounded like the navy was killing the asylum seekers," she told BuzzFeed News. "I was sitting there and every gunshot that went, wondering 'am I just listening to people die?' It was really terrifying to think also that my colleagues and friends were potentially one of those people.
"The amount of bullets that I heard...it felt impossible to think that someone hadn't been shot."
Sophie L'Estrange is the first staff member at Australia's offshore immigration detention centre on Manus Island in Papua New Guinea to speak out publicly about what she saw during a near catastrophe in April 2017, known as the "Good Friday shooting".
The 27-year-old from Melbourne was the assistant supervisor of the claims assistance provider team on Manus Island from January to July this year. She helped the team provide legal assistance to the men on Manus Island for their protection claims as refugees in Papua New Guinea.

Her testimony comes as Australia yesterday closed the Manus Island detention centre, leaving more than 1,000 asylum seekers and refugees potentially in limbo and without support.
The closure had been looming since May 2017. The men of Manus now face a drastic reduction in medical and support services at the detention centre where 600 men have been stockpiling rainwater to shower and use the toilet.
Since 2013 the Australian government has sent more than 700 men, women and children to Nauru, and more than 1,300 men to Manus Island, as part of Australia's controversial immigration detention regime.

A host of staff, including claims assistance workers like L'Estrange, were made redundant in July this year.
On Manus Island, oppression has coalesced into anger, most notably in February 2014 during a series of riots that led to the death of Reza Barati, an Iranian asylum seeker.
Those tensions bubbled to the surface again during L'Estrange's time on the island. In April 2017 a group of PNG naval officers at a nearby base drove to the perimeter of the detention centre, where they allegedly assaulted staff and PNG police. They gathered at the steel gates of the detention compound, yelling and shouting.
PNG's regional police commander David Yapu blamed the incident on drunken members of the navy and accused them of "unethical and unacceptable behaviour".
Australian immigration minister Peter Dutton said the incident was sparked over safety concerns for a five-year-old local boy who had been led into the detention centre earlier.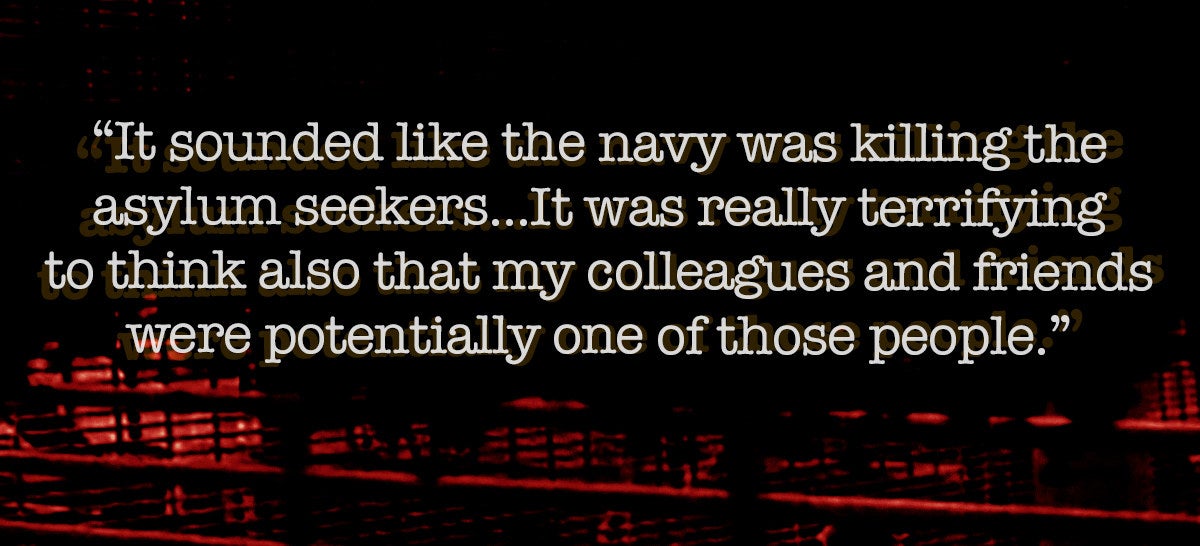 L'Estrange was at the gym when it started. She says a puffed looking Wilson Security guard with a worried look on his face ran into the gym in the early evening and told L'Estrange and the other staff a "major incident" was occurring. They were ordered to return to the accommodation blocks. L'Estrange began messaging her colleagues in the legal team, who were still somewhere in the compound outside of the accommodation blocks. One replied, but she heard nothing from three others.
"It was shortly after receiving that message from [the security guard] that I heard tirades of gunshot," she said. "It sounded like a machine gun, because they were very fast and in quick succession. They would shoot for maybe four or five seconds and then there would be yelling and yelling and yelling."
The shooting continued for close to 45 minutes. L'Estrange and others hid in the accommodation blocks, which were about 50 metres from the main gates. She frantically messaged her colleagues, but heard nothing.
"I was really concerned for my colleagues, as I didn't know where they were," she said. "I didn't know if they were walking around and could walk into the line of fire. I didn't know if they were going to be the targets of the bullets."
Back in Australia news of the shooting began to surface on Facebook and Twitter. Refugees on the island and advocates in Australia began posting snippets of what was happening.
The government's response was brief. An Australian immigration department spokesman said that "PNG military personnel discharged a weapon into the air during the incident". The government was accused of downplaying the seriousness of the event by Amnesty International and other groups. Amnesty presented what it said was photographic evidence that bullets had been fired into the compound.
L'Estrange said the navy officers attempted to break down the doors of a Wilson Security hut to steal keys and gain access to asylum seeker accommodation blocks. They also used a car to try and ram through the detention centre gates.
"Four of my colleagues that were down at the centre were lying flat on their bellies as the shooting was occurring, with bullets flying over their heads, asylum seekers calling out to them for help," she said. "And the navy personnel [were] just yelling in anger.
"They wanted to hit someone with those bullets that night … It's an absolute miracle that they weren't able to get those keys, that they weren't able to ram those gates down. It's an absolute miracle that nobody was shot that night."
Australia's immigration detention centres on Manus Island and Nauru are filled with young workers like L'Estrange. Some are driven by a curiosity about Australia's hidden detention islands. Some are enticed by the money. Others like L'Estrange, who is beginning a masters in law next year, believe in bigger things.
"I have a very strong conviction that I believe everyone should have access to legal assistance whenever they're confronted with the justice system," she said.
The men who have lived under Australia's care on Manus Island have steadily had their claims processed over the last four years. That doesn't just happen. Scores of workers like L'Estrange assist them with completing their claims.
When she first arrived on Manus Island she was struck by the oppressive mood, and the despondency of both the asylum seekers and staff.
"There was a pretty strong sense just within the first day of being there that it was a really controlled environment," she said. "There was a lot of fear just in general day to day movements."
The shooting shocked L'Estrange, but it is far from her only concern. She said that asylum seekers on Manus Island may have been wrongfully denied refugee status — and the chance to resettle in the United States — due to flawed refugee assessments.
As assistant supervisor of the legal team she had broad visibility of the assessment processes for the men on the island. But she was alarmed to discover what she described as serious flaws in refugee assessments made by Papua New Guinean immigration officials.
"We had several instances where we made requests for adjournments of interviews due to clients being on suicide watch or having severe mental health issues, experiencing trauma, and those requests were often denied," L'Estrange alleged.
"We had multiple ongoing instances where we were emailing the department with concerns over clients' health and their capacities to continue with interviews, emailing them concerns over the reasons for people's claims not being accepted. Routinely these emails were unanswered."
Papua New Guinea's refugee assistance process has come under scrutiny before, but L'Estrange is the first whistleblower from the claims assistance team to speak out publicly in over three years.
Her concerns include:
Papua New Guinea's immigration department being overwhelmed by the processing of asylum claims, and lacking the resources and skills to consider claims: "They didn't have the facilities, they didn't have the internal capacities, to process these people, and if you start off with a system under-prepared, it's inevitable they're not going to get the due fair process they deserve."
Asylum seekers being denied what is known as "complementary protection". Recognised under the UN convention and in countries like Australia, this provides protection for asylum seekers who are at risk of being deported to danger even when their primary claim for refugee status has been rejected.
Immigration officials relying on Australian migration law principles in making decisions, which should have "no bearing" on Papua New Guinean refugee assessments.
She said that Australian Border Force officials, who were supposed to be acting in a mentoring role on the island, appeared to go far beyond that role and "overstepped the mark and directed or influenced immigration officers during the course of interviews".
"There was one instance where one of my colleagues on behest of her client requested that an adjournment be made until the client's trauma counsellor was back on [the] island as he was worried about re-traumatising himself going through the interview process," she said.
"The immigration official sought counsel from back at their office on the camp at which point a member from the Australian Border Force entered the interview room, accused the asylum seeker of lying, accused my colleague of attempting to delay the process, and directed the PNG immigration official to stop the interview and to leave the interview which they did."
L'Estrange's testimony indicates that some genuine refugees may not have been recognised under PNG law, which prevents them from applying for resettlement in the United States under a deal struck by Australian prime minister Malcolm Turnbull.
The refugee assessment process on Manus Island has seen 71% positive refugee status determination, compared to 87% on Nauru, according to the latest government figures. Neither the Australian government nor the Papua New Guinean government has ever been able to explain the discrepancy.
The United Nations High Commissioner for Refugees (UNHCR) regional representative in Australia, Thomas Albrecht, has warned of a "looming humanitarian emergency" on Manus Island.

A spokesman from Australia's immigration department said: "The department does not have oversight of refugee status determination processes in Papua New Guinea. These are matters for the government of PNG."

The PNG immigration and citizenship authority acknowledged that it received questions from BuzzFeed News, but did not provide a response.
Australia's immigration minister Peter Dutton has issued a statement on the closure of the Manus Island facility. He said: The Illegal Maritime Arrivals who are refusing to leave the [Regional Processing Centre (RPC)] have been aware since May this year that the PNG authorities would close the RPC today.
"All have been informed for a considerable period of time that there is safe and secure alternate accommodation where health and other services will be maintained."