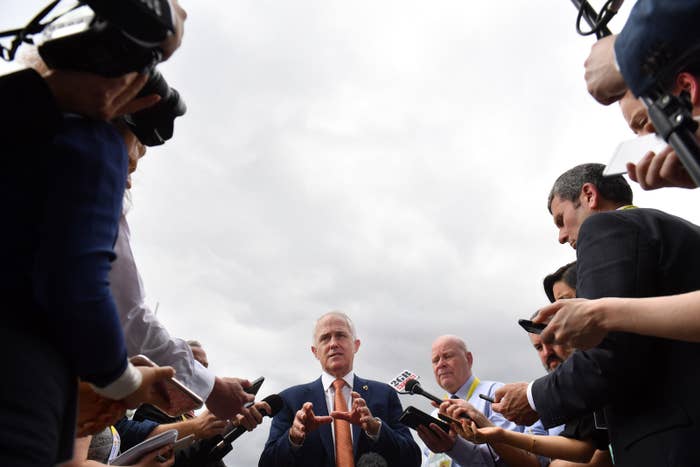 Some of the world's peak press freedom bodies have condemned proposed Australian laws that local media organisations warn could criminalise reporting and risk up to 20 years in jail for journalists and government whistleblowers.

The Australian prime minister Malcolm Turnbull has announced a broad package of reforms aimed at curbing foreign interference from countries including China and Russia.
But the proposal also includes major reforms to Australia's secrecy laws, that appear to be aimed at curbing whistleblowers like Edward Snowden, and organisations such as WikiLeaks.

Under the proposed new regime, two existing secrecy offences will be repealed entirely and replaced by several new offences inserted into the Commonwealth Criminal Code.
While a seven-year jail sentence is the maximum available under the existing laws, this will be increased to 20 years.
The new laws will apply to anyone, not just government officials. They could easily apply to journalists and organisations including WikiLeaks that "communicate" or "deal" with information. They will also close a longstanding gap around contractors working on behalf of government agencies, who will also be subject to the new offences.
Domestic news organisations have heavily criticised the bill, warning that it could criminalise all steps of news reporting.
But now global press foundation groups are raising concerns about the scope of the bill and the risks to journalists and whistleblowers.
The US based Freedom of the Press Foundation's executive director Trevor Timm told BuzzFeed News the broad language in the bill "is a clear and present danger to countless journalists in Australia".
"The text of the bill doesn't even seem to hide the fact that journalists who report on national security issues can easily be ensnared by it, and could face years in prison for merely doing their job and informing the public of their government's activities," Timm said.
"This bill sounds like it'd be more at home in an autocratic regime than an open democracy."

The Committee to Protect Journalists Asia program coordinator, Steven Butler, said that "putting journalists in jail for doing their job of bringing important information to the public puts a chill on press freedom".
He warned that the proposed laws would "create an atmosphere of uncertainty under which editors and reporters – following the advice of lawyers – adopt an excessively cautious approach".
"It's not just the journalists who suffer; it's the public at large and the very foundation of democracy, which depends on a vibrant system of free expression," Butler said.
"It's especially shameful for a developed, liberal democracy like Australia, with a rich tradition of a vibrant press, to be adopting this kind of measure, and sends a terrible signal to other more autocratic regimes that it's okay to jail journalists. It isn't."
David Banisar, senior legal counsel for freedom of expression group Article 19, told BuzzFeed News: "The legislation appears to be quite backwards looking, reminiscent of the old UK Official Secrets Act 1911, where everything, including the number of teas served in the MOD [Ministry of Defence] commissary was classified because the enemy, whoever that might be, could use it against us.
"It's particularly troubling that these crimes can be used aggressively against journalists and there is no public interest protections for whistleblowers, as well as it seemingly undermining the existing protections ... it's also somewhat ironic given that [prime minister Malcolm] Turnbull represented the publishers in the Spycatcher case."
Banisar is referring to the landmark series of legal cases where the British government attempted to restrain the publication of a book written by a former MI5 officer. Turnbull, who was previously a lawyer, represented the publishers in the New South Wales Court of Appeal case initiated by the British government.
Electronic Frontiers Foundation senior global policy analyst Jeremy Malcolm said laws that target freedom of expression had to be narrow and targeted, or risk being abused by future governments.
"It's not only important for Australia to craft these laws narrowly for its own sake, but we also don't want to see similar laws invoked by autocratic regimes to crack down on dissidents," he said.
The bill introduced by the government is currently before the powerful joint parliamentary intelligence committee. The committee is comprised primarily of government and Labor MPs and senators. Its deliberations are critical, and it generally produces bipartisan reports, signalling that both major parties will support the bill, thus guaranteeing its passage.
The Labor opposition appears to have indicated some early resistance to the bill already. On Wednesday shadow attorney-general Mark Dreyfus told the ABC that Labor needs to "have a serious look" at the proposals currently before the committee.
"We are not yet convinced, and the concerns expressed yesterday show the government hasn't properly achieved the intention these bills need," he said.
The international chorus adds to a growing number of voices in Australia who have expressed opposition to the proposed secrecy regime.
In a statement provided to BuzzFeed News, attorney-general Christian Porter said that the legislation before the parliament and the committee process would allow the government to consider "sensible ways to improve the clarity of the drafting" and ensure that the legislation enhances the security and safety of Australians and the integrity of Australian democracy.
"It should be noted that the bill establishes a very broad defence that would apply to all journalists and that neither bill changes or amends the very substantial protections and longstanding processes that allow for whistle-blowers to bring wrongdoing to attention and investigation, as they are set out in the Public Interest Disclosure Act," he said.
Contact Paul Farrell using the Signal secure messaging app on +61 457 262 172