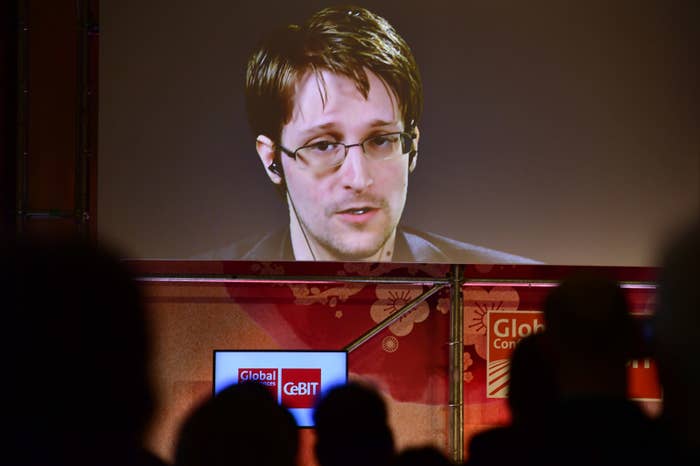 Australian news organisations and the country's union for journalists have joined forces to protest sweeping national security laws that could see journalists and whistleblowers jailed for up to 20 years.

The Australian prime minister Malcolm Turnbull has announced a broad package of reforms aimed at curbing foreign interference from countries including China and Russia.
But the proposal also includes major reforms to Australia's secrecy laws, that appear to be aimed at curbing whistleblowers like Edward Snowden, and organisations such as WikiLeaks.

Under the proposed new regime, two existing secrecy offences will be repealed entirely and replaced by several new offences inserted into the Commonwealth Criminal Code.
While a seven-year jail sentence is the maximum available under the existing laws, this will be increased to up to 20 years.
The new laws will apply to anyone, not just government officials. They could easily apply to journalists and organisations like WikiLeaks that "communicate" or "deal" with information. They will also close a longstanding gap around contractors working on behalf of government agencies, who will also be subject to the new offences.
The bill introduced by the government is currently before the powerful joint parliamentary intelligence committee. The committee is comprised primarily of government and Labor MPs and senators. Its deliberations are critical, and it generally produces bipartisan reports, signalling that both major parties will support the bill, thus guaranteeing its passage.
In an unusual show of unity, a joint submission to the committee was filed by Australian Associated Press (AAP); the Australian Broadcasting Corporation (ABC); Australian Subscription Television and Radio Association; Bauer Media Group; Commercial Radio Australia; Community Broadcasting Association of Australia; Fairfax Media; Free TV Australia; Here, There & Everywhere; Media Entertainment and Arts Alliance (MEAA); News Corp Australia; NewsMediaWorks; SBS; and The West Australian.
The submission sets out numerous ways the journalists and editors in newsrooms across the country will potentially risk jail time when reporting on public interest stories that involve government disclosures from whistleblowers.
"The proposed legislation criminalises all steps of news reporting, from gathering and researching of information to publication/communication, and applies criminal risk to journalists, other editorial staff and support staff that knows of the information that is now an offence to 'deal' with, hold and communicate," it reads.
"The Bill is a significant step beyond the existing legislation that applies to Commonwealth officers. This is particularly when it has not been demonstrated that there are 'problems' that need to be 'fixed'. The result is that fair scrutiny and public interest reporting is increasingly difficult and there is a real risk that journalists could go to jail for doing their jobs."

The joint submission is a challenge to Turnbull's proposed regime. It is rare for Australia's news organisations to release a joint submission that is set out in such a strong tone.
It particularly criticises the way that any individuals who "deal" with or "communicates" information could be in breach of the proposed offence, and the vague way that the bill prohibits disclosure of "inherently harmful information".
While there is a defence for public interest reporting, the news organisations argue it is far too narrow. "This defence is narrow and subjective, particularly the matters of 'public interest' and 'fair and accurate reporting' — independently and in aggregate," it reads.
The submission concludes that "without a robust public interest /news reporting defence we do not support the passage of the Bill."
Submissions to the inquiry closed on January 22, but a number of critical submissions of the proposal have already been published.
In another strident submission, the Inspector-General of Intelligence and Security (IGIS) Margaret Stone, which oversees the intelligence community, has also criticised the new gag laws. Stone warns that ambiguities in the bill risk a situation where immunities provided for intelligence officers disclosing wrongdoing to her office could potentially diminish disclosure of serious offences.
"As a general observation, it is possible that the prospect of exposure to criminal investigation and prosecution, and the need to satisfy a court of the evidential burden in relation to a defence, may deter some individuals from speaking up about real or perceived wrongdoing by an intelligence agency," Stone wrote.
"Exposure to criminal sanction, and the need to rely on a defence, may also cause staff within the agencies to hesitate when responding to requests for information by the IGIS. The design of the proposed defences, and the relationship of the new offences with existing 'secrecy override' provisions in other Acts may also create legal barriers to disclosures or complaints."

Stone notes that a defence available for "communicating" information wouldn't necessarily apply if an intelligence officer – intending to expose wrongdoing to her office – undertook preparatory actions such as printing a document for the purpose of providing it to the watchdog.
"The reduction of clear legal protections may reduce the willingness of people to provide information," she wrote.
Stone also pointed out that, bizarrely, the proposed laws would potentially criminalise the actions of her own staff due to the narrow scope of defences available for public servants exercising official functions.
"This will mean that the evidentiary onus lies with individual IGIS officials to adduce or point to evidence suggesting, in effect, a reasonable possibility that they have not committed an offence by doing their normal job," she wrote.
Conduct defined as "inherently harmful" is extremely expansive — it includes all security-classified information, information that would or could reasonably cause harm to Australia's interest, and certain information provided to government agencies.
This poses particular problems, which Stone also notes, because of the risk of over-classification of information within Australian government agencies.
"The lack of transparency about the basis for classifications and the absence of any requirement as to the purpose of classification leaves open the risk, or at least the perception, that documents may be classified or over-classified for purposes such as avoiding public disclosure of politically inconvenient information or information about illegal or improper activities of intelligence agencies," she wrote.

The attorney-general's department defended the proposed regime in a submission to the parliamentary inquiry. It states that "the bill contains protections for journalists, to ensure that the secrecy offences do not interfere with their ability to engage in fair and accurate reporting in the public interest, even if they have received information in breach of a secrecy offence".
It does not address the issues raised by the inspector-general, only stating that "the secrecy regime ensures that a person can deal with information in order to make a disclosure to the Inspector-General of Intelligence and Security, the Commonwealth Ombudsman or the Law Enforcement Integrity Commissioner".
The committee will undertake public hearings in late January, and will likely produce a report outlining its recommendations by February. It is currently considering a number of separate bills linked to the government's attempts to curb foreign influence.
Contact Paul Farrell using the Signal secure messaging app on +61 457 262 172