The Environment Agency Has An Amphibious Weed Cutting Boat And They Let Me Have A Go On It
Do you have an amphibious weed cutting boat? No you do not.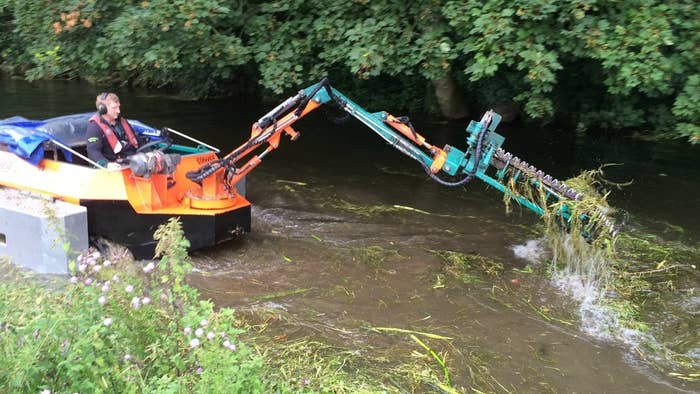 As a concerned citizen who lives somewhere which floods every now and then, I follow my local Environment Agency branch on Twitter, because they'll text me a warning if my house is going to float out to sea. That's useful. I didn't think much more of it.
Then one day, they tweeted this:
What a fantastic hashtag that people are definitely searching for. What a GLORIOUS machine!
An amphibious vehicle – capable of travel on land and sea! With a freakin' chainsaw-type thing on the front for cutting stuff! Who wouldn't want a #WeedCuttingAmphibianBoat?!
So naturally, I immediately replied:
And I thought nothing more of it.
A couple of hours later, my phone rings. It's the Environment Agency. Yes, they tell me. Yes, I can have a go on the weed cutting amphibious boat.
AMAZING.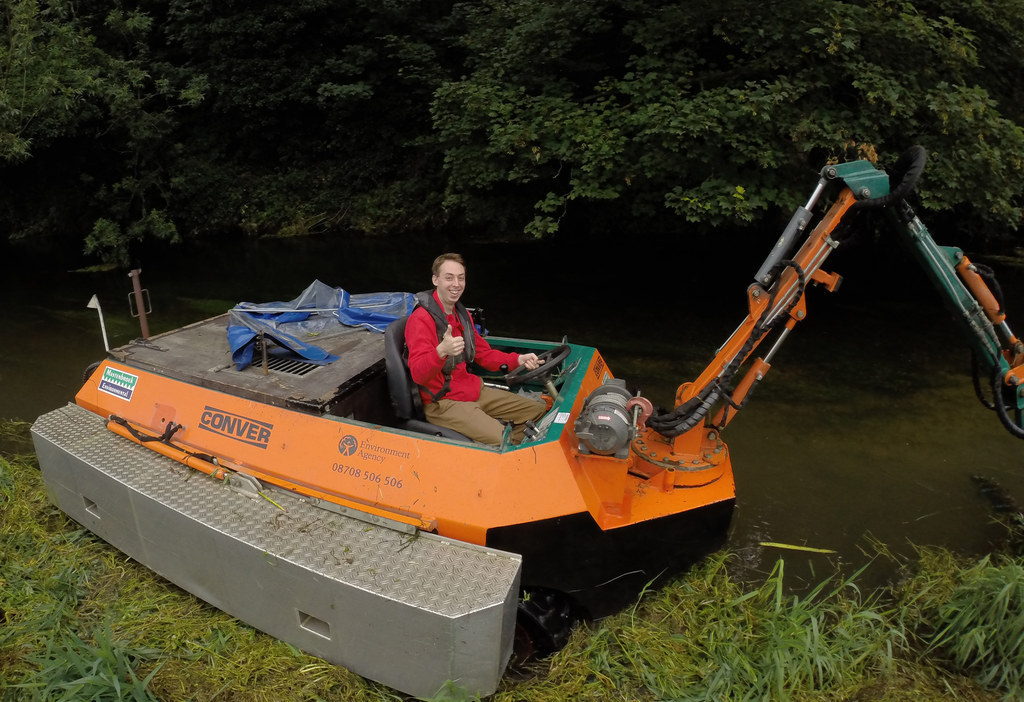 I went along to investigate with my friend Tom Scott, and it turns out this beast of a machine is very real, looks completely hilarious while operating, and is dead useful if you happen to be responsible for stopping towns like Canterbury from flooding too often.
Sadly, I could make neither head nor tail of the controls:

...and so I promptly got back out of the vehicle and let the Environment Agency get on with their work.
But we also took the opportunity to ask them a series of detailed questions about the weed cutting amphibious boat.
So – how do you operate a weed cutting amphibious boat?
First, you've got to find some weeds to cut. This is surprisingly difficult.
Fishermen and other people who operate in rivers get a bit irritable if you're disturbing them all the time, and meanwhile, people who live in towns don't like their homes getting flooded. And you can't remove all the weeds, because they're a habitat, and we don't want to make any river creatures homeless. So, some very clever people make some Excel spreadsheets saying what to cut, how much, and when – then your weed squad can roll out.
Which, incidentally, is no huge drama, because the weed cutting boat, being amphibious you see, can just drive to the site, roll into the water, and get going. Jeff, the operator, is a man who takes weed cutting in an amphibious boat in his stride.
YES! DECIMATE THOSE WEEDS!
Poetry in motion. You're the man, Jeff.
When Jeff is done cutting just the right amount of weeds, they float on down the river, where they're caught by a trap which they installed down the river a day earlier. Without the trap, the several tons of weed would gum up storm grills in the town, which wouldn't result in good things happening.
The freshly cut weeds float serenely down the river...
Only to be caught by this trap a short distance down stream.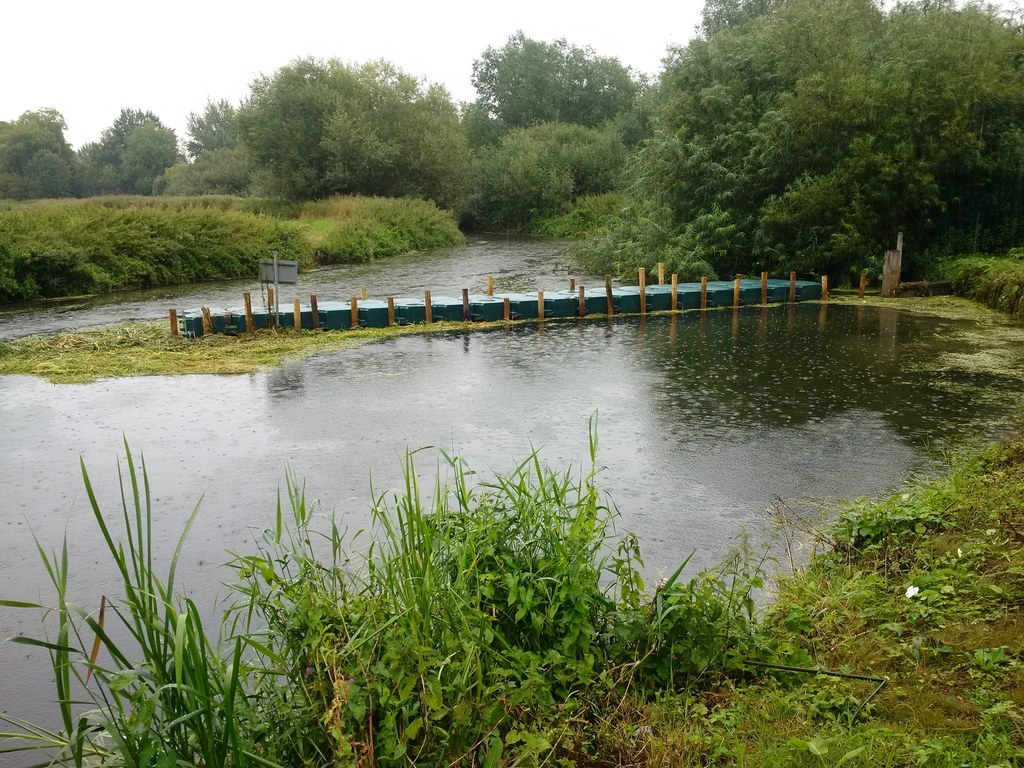 When the weed gets to the trap, Peter lifts it out with his fairly standard 13-ton, 30-metre reach excavator. Don't get me wrong here, this is still a pretty great machine, but the important distinction here is that it's not amphibious and it doesn't have a hashtag on social media yet.
Regardless, here it is in action, lifting weeds out of the river: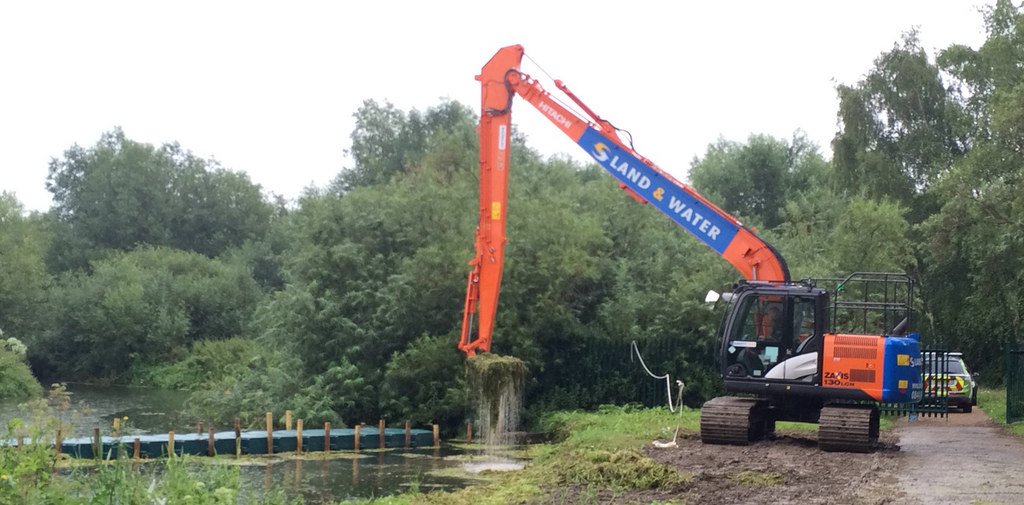 We attached a camera to the excavator, naturally.
You might think they're done clearing weeds at this stage. The river is running freely. The town isn't going to flood. All seems good, right?
No. We're not done quite yet.
One of the most important jobs is eel sifting.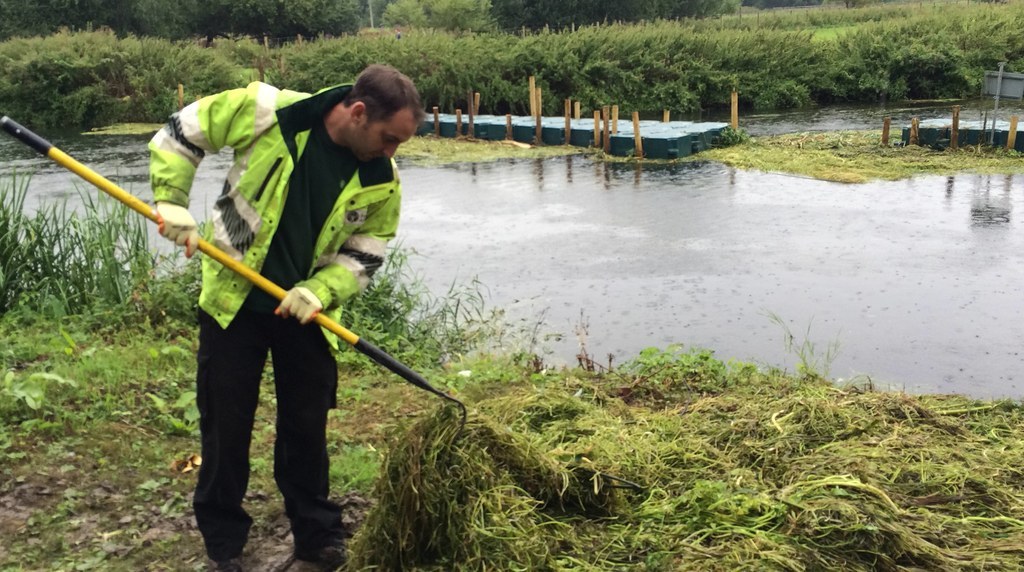 I asked Neil if he's ever actually found an eel.
He has not.
It's pretty much going to be the best day ever when he finally does, though.
Thanks to the Environment Agency, I learned more about weed cutting, eels and the people behind them than I ever thought possible.