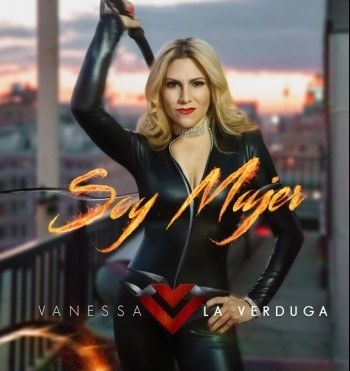 "Our current cultural and political climate leaves a lot to be desired for Latinos, women and equality, in general, which is why I strive to elevate a mi gente in everything I do. I am very proud of this album because it reflects my voice, my culture, my people while delivering a message of empowerment that gets you grooving to our sounds." -Vanessa Verduga
Soy Mujer is now available on iTunes, Amazon, Spotify, iHeart Radio, Google Play, Tidal, Sirius XM, Slacker, YouTube Red, United Media Agency, Vidzone, and many more digital platforms worldwide.
ABOUT Vanessa Verduga is a multi-faceted artist who brings a much needed feminine gravitas to the often male-dominated urban Latino genre. It would seem almost serendipitous for a woman whose last name means "executioner" to be the one cutting through.
Having originally been all about musical theatre, it was Vanessa's mother who got her hooked on Urban Latino music. Her own talent as a songwriter came to her as a surprise outpouring of lyrics in the form of spoken poetry and rap, which of course shouldn't have astonished any Bronx girl who grew up with hip-hop in her heart.
Destined for a multi-faceted life and career from her earliest days, La Verduga started acting, singing and dancing at the age four, encouraged by her mother, a trained dancer in Spanish dance whose own mother (Vanessa's grandmother) would take her every weekend to sing live at the local radio station in her native Ecuador. Coming from a family that valued the performing arts – but also stressed the importance of a strong education and practical career path – it's logical that Vanessa would eventually find her way back to performing after a lengthy college and law school hiatus.
These days she's all about finding a groove and making you dance, with a sound that's a fusion of Latin, reggaeton, moombahton and bachata – somewhere between J Balvin, Shakira, Enrique Iglesias, Selena, Nicky Jam, and Jennifer Lopez.
She is creating a space with her sound and sending a message of empowerment with her lyrics. Her debut album Soy Mujer (I Am Woman) dropped on May 14, 2017.
The album SOY MUJER is available at: http://itun.es/us/30YIjb
Music videos are on VEVO at: https://www.vevo.com/artist/Vanessa-Verduga
For more on La Verduga, visit http://LaVerduga.com and follow her on Instagram and Facebook @VanessaVerdugaOfficial and Twitter @VerdugaOfficial
This post was created by a member of BuzzFeed Community, where anyone can post awesome lists and creations.
Learn more
or
post your buzz!