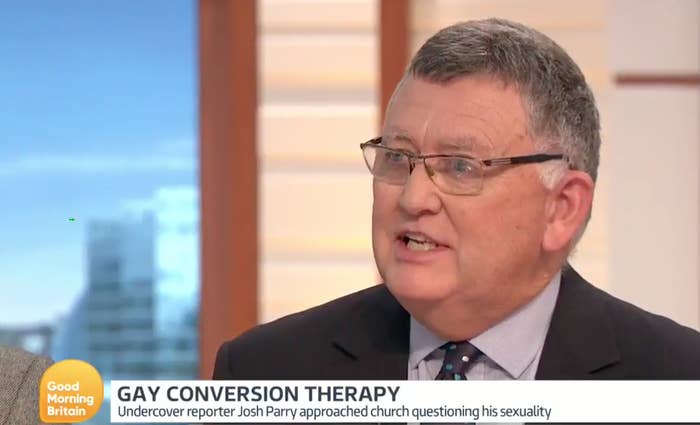 Twitter was the first to react. Fury and mockery roared within moments of Good Morning Britain – ITV's flagship breakfast show – announcing its forthcoming guest.
"On next we'll meet the man who claims he can 'cure' homosexuality in men. Any thoughts?" the show tweeted about Mike Davidson, head of the Core Issues Trust, a "gay cure" organisation.
Tech executive Sam Coates replied: "That putting them on TV may result in gay kids killing themselves or being harassed by their families. Can you imagine a TV show in which gay people discussed curing people of their sexuality?"
"Thoughts?" tweeted LGBT activist and writer Tom Knight, who sits on the board of Pride London. "Don't give him air time. Countless lives have been lost through suicide. Being gay isn't a choice, being ignorant is." Alex Lawless, a BBC radio producer, said it was "shameful producing".
"The fact that @GMB even thinks this is a subject worth debating is offensive to gay people everywhere," echoed Stonewall's Wayne Dhesi, chiming with most on the social media platform who were aghast that the notion of "curing" gay people, which has been condemned by every medical and mental health organisation in Britain, including the Department of Health, and which is illegal to practise in some countries, could be up for discussion in 2017.
Complaints to Ofcom – more than 100 so far – followed the social media protests. Ruth Hunt, CEO of Stonewall, Britain's biggest LGBT rights organisation, described Good Morning Britain's decision to invite Davidson on as "ITV-sanctioned hate".
Peter Ruddick, a producer of the BBC's early morning show Breakfast, tweeted that he would "resign" if Davidson was booked to appear on his show.
The question, then, is why did Good Morning Britain, a news and current affairs programme hosted by a former BBC journalist and a former newspaper editor, and ITV, a mainstream terrestrial TV channel, deem Mike Davidson – a discredited former trainee therapist ­– worthy of air time?
Davidson's belief that talking therapy can be used to lead an LGBT person down the path of heterosexuality – often referred to as "conversion therapy" – is rejected as dangerous and unsubstantiated by the entire medical profession.
Survivors of such "treatment" have disclosed the self-harm and suicide attempts that resulted in this intervention. Clinical psychologists studying its effects have shown that the majority (about two-thirds) suffer significantly worsened mental health, with heightened depression, anxiety, and suicidal tendencies. There is no debate about it among those who are qualified to care for the psychological wellbeing of British citizens.
There was, however, an obvious timely hook for Good Morning Britain's item. The journalist Josh Parry had recently exposed a "gay cure" church for a local newspaper, revealing its methods, which included the use of starvation. When asked by BuzzFeed News for an explanation for the show's decision to include Davidson in the segment, and offered the opportunity to respond to those who called the decision irresponsible, a spokeswoman for the show declined to do so and said, "Dr Michael Davidson was robustly challenged by the GMB presenters about his views on homosexuality on the programme."
But a clue to the reasoning behind the decision to include Davidson as well as Parry can be gleaned from a tweet from Piers Morgan, one of the show's hosts.
"Up next, the man who thinks you can be 'cured' of being gay. This could get rather lively." The slot enabled Morgan, along with his cohost Susanna Reid, to confront the controversial guest in his characteristically bombastic style while watching social media erupt. "Prove to me you're straight," Morgan goaded Davidson – a demand that was not enacted.
Good Morning Britain's ratings are a fraction of BBC Breakfast's – recently around a million, compared with the BBC's 6 million. But since hiring Morgan, who supports US president Donald Trump and attacks feminists as "rabid" and "men-hating", in 2015, its output has been fuelled by controversy and helped it close the ratings gap. This is a marked contrast to the show's predecessor Daybreak, which suffered the twin TV tragedy of plummeting ratings and scant media coverage. Following BBC producer Ruddick's tweet, Morgan replied to him: "No wonder we're catching you in the ratings you pompous a**e."
Confirmation of the show's motivation for inviting Davidson on came from its own editor, however.
Also in response to Ruddick's tweet about resigning if his own show gave Davidson air-time, Neil Thompson replied: "....so that you could then be free to apply for a role on GMB where box office bookings are a routine part of a journalist's job."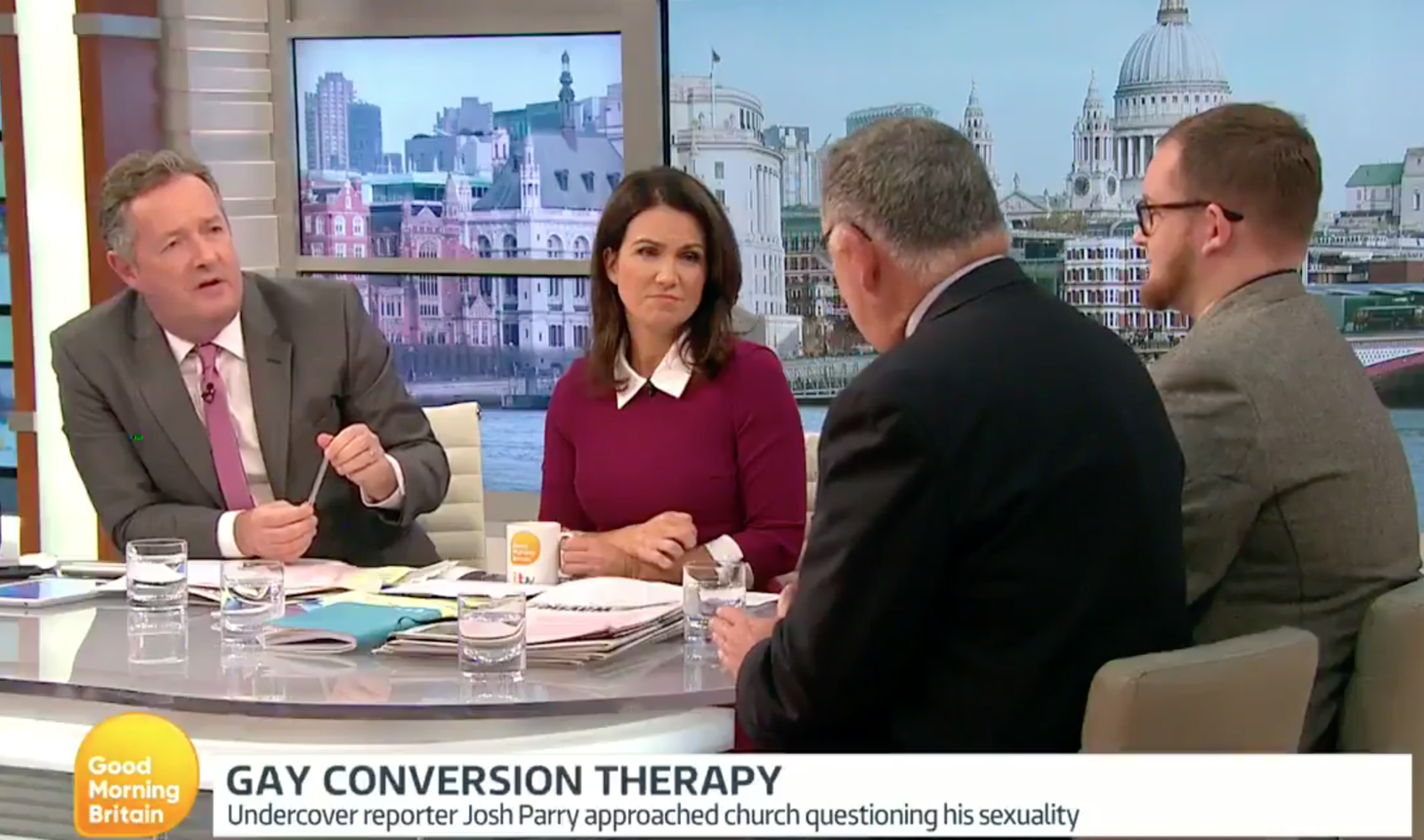 In such a ratings – or "box office" – war between rival broadcasters, however, the effects of their programmes lie unexamined.
Speaking to BuzzFeed News after his appearance alongside Davidson on the show, Josh Parry said: "In an ideal world I don't think we would give people like Mike Davidson any air time.
"I would hate somebody at home struggling with LGBT issues to watch this at home and think he [Davidson] is credible and seek his help."
Although Parry felt Good Morning Britain's decision to involve Davidson was perhaps "questionable", he said it did however trigger debate about the issue, enabling education about the discredited practice, which he welcomed.
"Sometimes what TV does, especially a show like GMB, does very well is they aim to shock people," he said. "There's now a huge discussion about conversion therapy and about how it doesn't work and it's just absolute quackery."
But the decision to invite two people with opposing views to discuss a subject whose evidence is not equally weighted remains fraught with questions for broadcasters about what constitutes "balance".
"I think programmes like GMB tread a very fine line," said Parry. "They have a very difficult job to do when it comes to the issue of balance."
Parry and Davidson debating on a sofa as two disagreeing individuals when only one is supported by the medical community – by evidence – and the other is condemned by it, only constitutes balance, many would argue, if evidence is not valued.
A truly balanced argument, therefore, might comprise one in which two individuals interpret evidence differently. Broadcasters do not, for example, invite those who believe the earth is flat or that skin-bleaching products are harmless to appear on their shows.
But Good Morning Britain is far from alone in inviting Davidson on. Indeed, so popular is he with the BBC that one might suggest that Ruddick, the BBC Breakfast producer, considers his position, given his tweet.
Davidson has appeared in the last three years alone on BBC2's Victoria Derbyshire show – the editor of which told BuzzFeed News this was necessary for the sake of balance – BBC News 24, BBC1, BBC London, BBC Radio Ulster, BBC Radio Manchester, BBC Radio Birmingham, and BBC Radio Humberside.
An array of other news outlets have also featured him, including Sky News, ITV News, LBC, and The Telegraph. When LBC's James O'Brien gave Davidson air time, no one who opposes conversion therapy was in the studio with him.
Even Boris Johnson, a vocal proponent of free speech, when he was mayor of London, denied Davidson and his organisation a platform, preventing their adverts appearing on the side of London buses – a decision that Davidson challenged and lost in the High Court.

Davidson was described by Parry to BuzzFeed News as a "quack". But who exactly is he? And should broadcasters consider his credentials more closely?
Dr Mike Davidson is not a doctor of medicine but of education. He was training as a "psychodrama" therapist when he was struck off from his professional organisation after appearing on the radio in 2012 in support of attempts to make gay people straight.
"Following his participation in the recent BBC Radio Ulster programme 'Sunday Sequence', the British Psychodrama Association (BPA) has revoked the membership and trainee status of Dr Mike Davidson, co-director of Core Issues Trust," the BPA said in a statement.
Its umbrella organisation, the United Kingdom Council for Psychotherapy (UKCP), which has strongly and publicly condemned conversion therapy, added: "Mike Davidson is not a member of UKCP. He has never been a student or trainee member of UKCP and has never appeared on our register."
Core Issues, which Davidson runs, is a small organisation in Northern Ireland that's supported by various Christian right organisations including Anglican Mainstream and the Evangelical Alliance.
It rejects the "gay cure" label given to it by mainstream observers and says instead it is a "non-profit Christian ministry supporting men and women with homosexual issues who voluntarily seek change in sexual preference and expression".

That Core Issues prefers not to use the term "gay cure" is not unusual in the field; it is in line with most organisations in the West that seek to change the sexual orientation of LGBT people. They prefer more oblique language, assured of the public's response to the two-word description.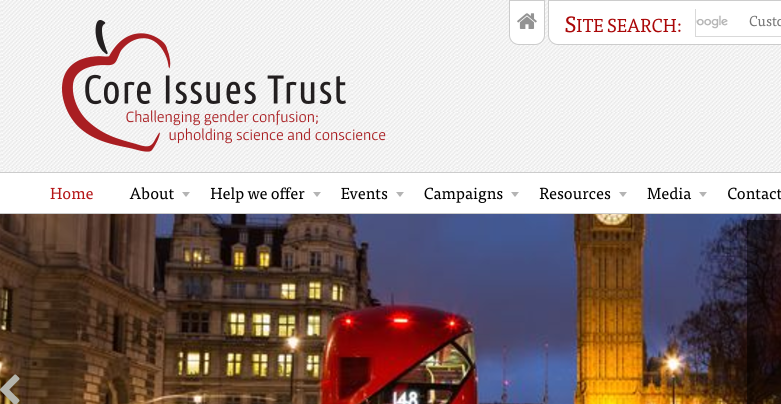 They, like other similar organisations, offer various justifications: that this "therapy" is voluntary (despite the testimonies of many individuals in the US who say they were forced by their parents), that they are merely "helping" their clients be who they want to (despite psychotherapists, psychologists and psychiatrists all condemning such "help" as collusion with a client's dangerous and unachievable goals), and that they are doing so in the name of God.
Married with children, Davidson claims that he is no longer attracted to men. This was not the impression I had when I first met him while undercover in 2009, exposing conversion therapy for The Independent and infiltrating the organisations and individuals who practice it. Davidson snorted when he told a private meeting of conversion therapists, which I attended posing as a supporter, that he no longer considered himself to be attracted to men.
Davidson not only runs Core Issues, but, with the exception of a tiny number of volunteers, is the organisation. As a one-man band he is the only person in Britain in recent years the media calls when they want someone to advocate turning gay people straight. For how much longer, then, will a lone voice shouting from the fringes be used to drive up ratings?