Virgin Active, one of the UK's largest chain of health clubs, emailed members of its branch in Barbican, London, informing them that following "inappropriate behaviour" in the men's locker room, there would be undercover police officers stationed in the changing area — but this was untrue, BuzzFeed News can reveal.
Dr Max Pemberton, a gay member of the gym who was concerned after receiving the email, forwarded it to BuzzFeed News. It stated that City of London Police — the jurisdiction in which the gym resides — were supplying the secret policemen.
But when approached by BuzzFeed News, a City of London Police spokesperson replied: "We have not put undercover officers into the changing rooms of this gym, or any other gym in the City. We became aware of this email sent out to members by Virgin and have asked them to issue a correction, which I believe they are going to do imminently."
At the time BuzzFeed News contacted Virgin Active, 10 days after the email was sent, this correction had not been issued.
Before being informed that the gym's email was untrue, Pemberton told BuzzFeed News that he was astonished that the gym or the police would plant officers in private facilities. "Despite escalating knife crime, the police are now going undercover to stop people cruising. It's like 1950s honey traps in men's toilets all over again, when they targeted gays in a homophobic clampdown," he said. "Can't believe police resources are being wasted on this."
When told that the contents of the email were untrue, Pemberton said, "It's disgraceful that they lied, and undermines any reassurance they have given as being supportive of the LGBT community."
A Virgin Active press officer refused to answer questions via telephone, including whether the chain of gyms was aware of the history of police entrapment of gay men, but denied that the company had lied to customers, instead citing a "miscommunication" between Virgin Active and the City of London Police.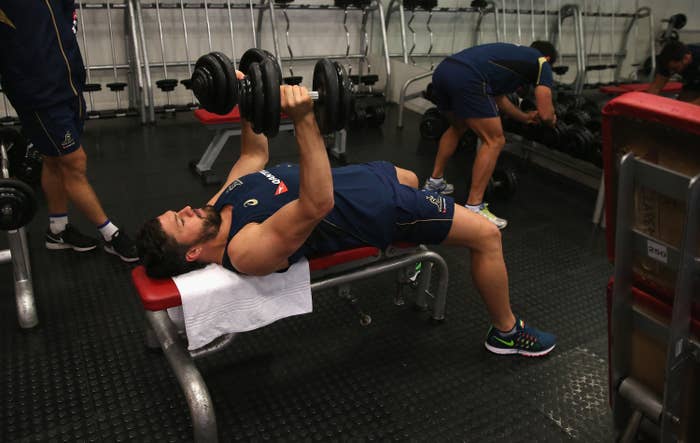 When asked by BuzzFeed News if the police said they would send in undercover officers, the Virgin Active spokesperson declined to say and instead suggested contacting the police — despite being made aware that BuzzFeed News had already done so.
The email, sent on Aug. 5 by Erica Livermore, the customer experience and intelligence director for Virgin Active UK, said:
Dear members, we are aware that there have been reports of incidents linked to individuals inappropriate behaviour, specific to the male lock room facilities. At Virgin Active we take these matters extremely seriously and are working diligently in collaboration with City of London Police, to address and investigate any criminal behaviour that may take place on our facilities. Going forward, please be advised that undercover police officers will be present in the male locker room and they will take any appropriate action should the need arise.
In 2011, staff at the Barbican branch of Virgin Active called the police after suspecting two male customers of having sex. The men were arrested and later released without charge.
BuzzFeed News contacted Virgin Active via email with a list of questions regarding the false information relayed to its customers, how it transpired, whether the company understood the inflammatory history of police entrapment, whether it wished to apologise, and whether those responsible would be reprimanded.
A spokesperson from Virgin Active replied: "There has been a miscommunication between Virgin Active and the City Of London Police which has now been clarified. We will carry on working closely with the City of London Police to ensure our members continue to be in a safe environment."