This Priest Had The Best Response To Anti-Gay Vandals Who Tore Down His Pride Flag
"You can cut our flags down, you can refuse to licence us as priests, but we're already in the church. Get over it. We're not going anywhere."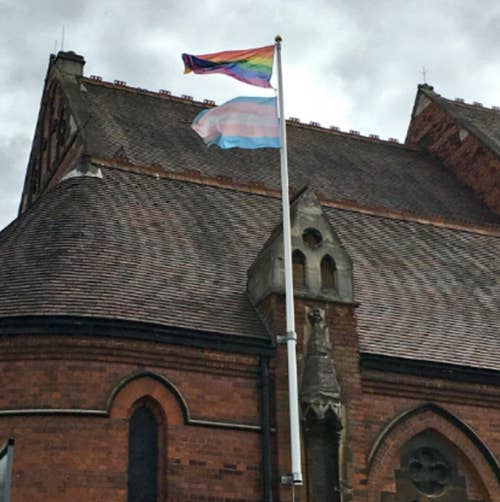 A Church of England priest has vowed to fight back after claiming anti-gay vandals tore down the pride and transgender flags flying from his church in north London.
Father Andrew Foreshew-Cain, vicar of the St. Mary With All Souls church in Kilburn, told BuzzFeed News that as well as planning to report the incident to police as a hate crime, he has already contacted a specialist flagpole company to restore the flags as quickly as possible – and will go ahead with the first meeting of a new LGBT congregation later this month.
"My personal motto is 'No surrender'," he said on Monday morning shortly after finding the flags had been cut down and removed. "Gay and lesbian people are not going away in the church. You can cut our flags down, you can refuse to licence us as priests, you can refuse to ordain us as clergy, but we're already in the church. Get over it. We're not going anywhere."
Foreshew-Cain said he has reviewed the CCTV footage of the incident that shows who he thinks was responsible. "We can see them walking down to the flagpole and walking back a few minutes later with the flags."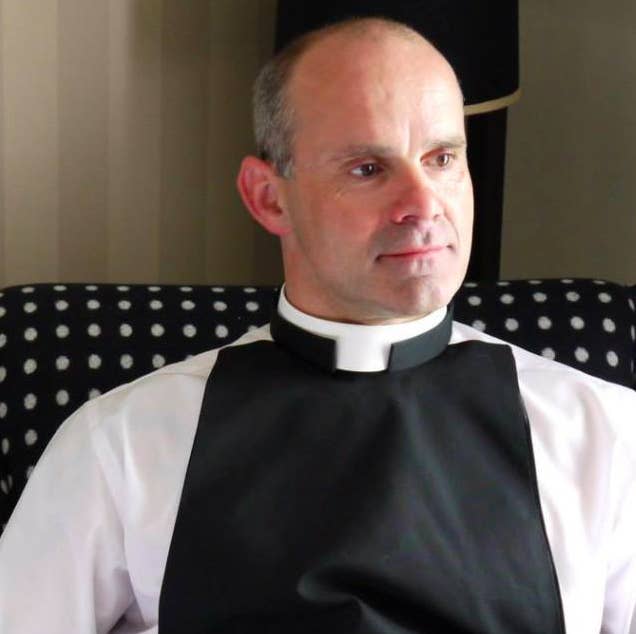 The vicar also tweeted: "To the fellow Christians who did this, we will put them back and you cannot silence us. No surrender."
Although he cannot prove it was Christians who took the flags down, he told BuzzFeed News he strongly suspected this was the case as so much effort would have been needed to remove them. The act was not in keeping, therefore, with the impulsive, opportunist act of a "common or garden homophobe", he said, but rather people who've "taken exception to a rainbow flag on a church".
Foreshew-Cain made the discovery as he was driving past the church early on Monday morning, having seen the LGBT and transgender flags flying from its post the day before.
"They must have brought a ladder because it's quite high," he said. "They'd have needed to get up there to cut the ropes and wheel it down. It's not an accident, they haven't blown away; it's been done deliberately."
His initial feeling, after spotting the flags were no longer there, he said, was shock, but this quickly changed. "I thought, That's not going to stop us. How dare they try and silence who we are and what we believe and think that's an acceptable response? Engage in debate all you like, tell me I'm wrong to my face all you like, but don't vandalise my church."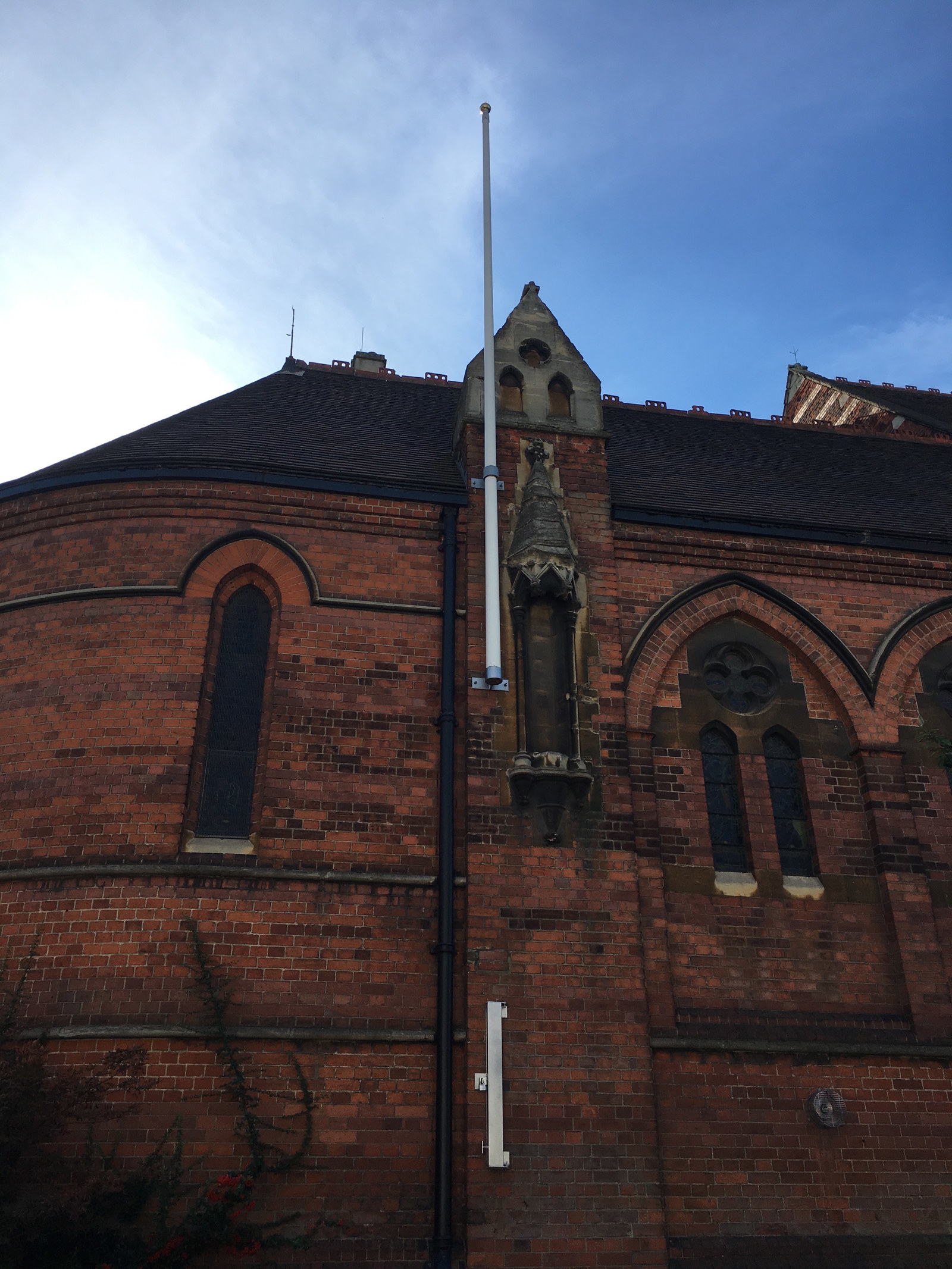 The liberal, inclusive Anglican church started flying the pink and blue transgender flag in March but has been flying the pro-LGBT pride flag since early last year, initially in response to country after country bringing in same-sex marriage.
"We put the country flag up and the rainbow flag with it," he said. "I remember putting the Irish flag up when the Irish [same-sex marriage] referendum results went through and I was standing outside my church at 6am and a local Irishman came bolding over to me shouting, and I thought I was going to get lamped [punched]. But he rushed up with a massive smile, saying, 'I'm so proud to see the flag on your church and I'm so proud of Ireland and I'm so proud of my people for standing up to the church.'"
Foreshew-Cain added: "Mostly the reaction has been enormously positive, and when we put the flags up photographs were taken and were retweeted a lot with a lot of very positive comments. I've not had much negative responses at all." The only concern that has been directly expressed to him, he said, was from a member of his congregation who was worried the flags might make them a target for attacks.

The vandalism, therefore, has come "completely out of the blue". And although Foreshew-Cain thinks the insurance company will cover it – it will cost around £1,000 to restore the flags – worse is the effect such a crime has.
"It's an attempt to bully and silence," he said. "It's unsettling; it makes you feel more unsafe." But, he added, it would only strengthen his resolve, not least because as a gay man and as a well-known gay priest who was the first practicing vicar to marry another man, he is used to such bullying.
"I've been attacked on the street," he said, "I've been spat at, I regularly get called names. Only a few weeks ago I was walking along the street in a dog collar with a friend and got homophobic abuse shouted at me. They used the word 'poofter'."
Regardless, Foreshew-Cain plans to go ahead with the first London meeting of Open Table, a new place of worship for LGBT people on 16 October. Open Table, which he described as a "safe space for queer Christians, led by queer Christians", began in Liverpool and spread across the north of England before now starting up in the south.
Foreshew-Cain called on Justin Welby, the archbishop of Canterbury, and all members of the Anglican hierarchy to do more to oppose the hatred of LGBT people.
"I wish even the supportive bishops would be more vocal," he said. Last week the bishop of Manchester, the Rt Rev David Walker, visited Canal Street, at the heart of Manchester's gay village. But this, said Foreshew-Cain, needs to be combined with anti-homophobia rhetoric if it is to have any real effect.
"Wandering around Canal Street is a lovely bit of gesture politics," said Foreshew-Cain. "It would be much more helpful if he would officially state that he will not implement the House of Bishops' restrictions on gay and lesbian clergy and that he would celebrate clergy who choose to marry.
"Standing with a load of gay people on Canal Street on a Saturday night is not the same thing as standing up to the archbishop of Canterbury and saying, 'Actually, you're wrong, and I'm going to work against the injustice and inequality of your policies.' That's what we need."