One of Britain's largest financial services companies has said it is unable to recognise same-sex marriages in its letters to customers, BuzzFeed News can reveal.
Scottish Widows, which is owned by Lloyds Banking Group, told customer Dougie Robertson – who has held a pension with the company for several years ­– that there is "not an available fix to correct" its annual pension statement sent out to its thousands of customers, which assumes that all spouses are of the opposite sex.
Lloyds was until last year part-owned by the government, which invested billions of taxpayers' money in the company following the financial crash in 2008.
Robertson, a 28-year-old software engineer from London, first complained to Scottish Widows a year ago ­while arranging his wedding. At the time, a representative from the company informed him that they would resolve the issue.
But earlier this week, the company sent out the same letter to him, despite the fact that he is married to a man, that it was a year since his complaint, and that it is five years since parliament approved same-sex marriage.
In its correspondence regarding projected pension value – seen by BuzzFeed News – under a heading about how the calculations were made, the letter referred three times to Robertson's "wife".
"We have made the following assumptions when calculating the above figure: … You are married at the time you start taking your pension and you chose to provide a pension for your wife after you die … your wife's pension will start to be paid one month after the final payment of your pension … Your wife is 3 years younger than you."
When Robertson received the original letter last February, he tweeted at Scottish Widows with his complaint. He pointed out that the sex of someone's spouse is not relevant.
A Scottish Widows representative called Gareth sent him a private message, promising: "We have already begin to make changes and identify further changes to our letters and outputs for our customers and the example you have highlighted to us is one of those further changes we are looking to make going forward, as you are probably correct that it is the impact of the spouse that matters and not the gender. Our changes going forward will reflect this."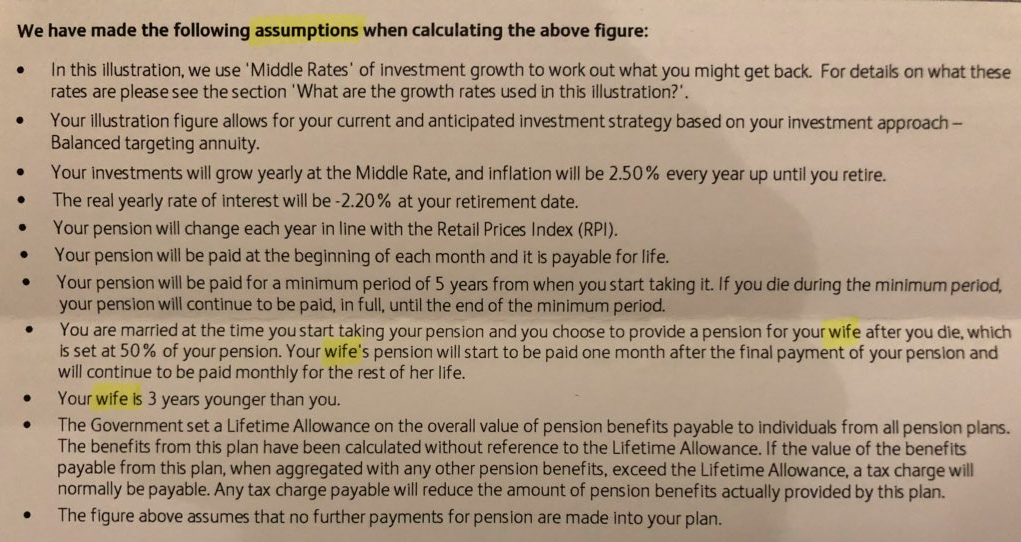 This apparent commitment to changing the system reassured Robertson. But when six months later he had heard nothing more, he messaged Scottish Widows again. The company did not respond, he said.
When he tweeted again after the second – identical – letter arrived earlier this week, another Scottish Widows representative, called Ian, contacted him to inform Robertson that "It has transpired that the way the information is generated is hardwired into the programme that populates the letter and there is not an available fix to correct the heteronormativity assumption made."
He further confirmed to Robertson that "the spouse's gender is not particularly relevant these days" due to changes in pension law and offered to provide Robertson with a manually produced letter with the appropriate sex of his spouse.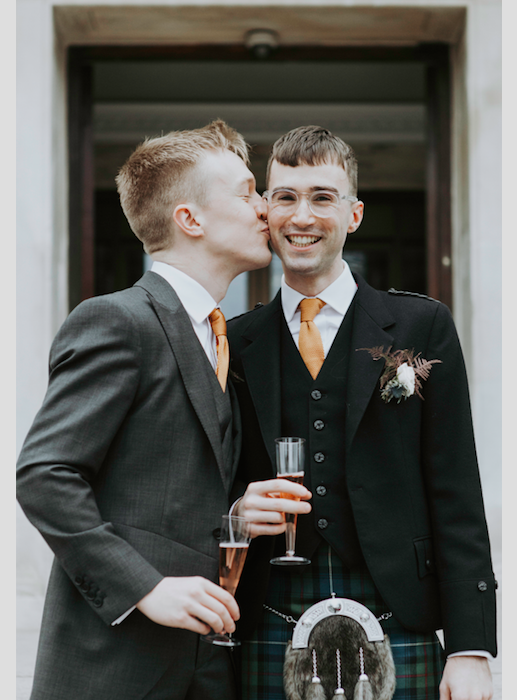 This misses the point, said Robertson, who told the representative it was not about him but about the "thousands and thousands of men and women like me who are similarly impacted by assumptive language".
According to Robertson, Scottish Widows also informed him that his was one of several complaints from customers about this issue.

The representative informed Robertson that there is an "ongoing investigation" to try to rectify the problem and "I would like to say that this will be completed soon… but it would be disingenuous for me to do so."
This delay and apparent lack of urgency was unacceptable, Robertson told BuzzFeed News.
"It is possible they have some legacy system that they can't build any more, but there's never something that is completely insolvable. If someone told them they would get £3 billion if they did this, they would do it tomorrow."
"It's the lack of action that bothers me," he said. "Forms about gender from 30 years ago we wouldn't use now – people change them, laws change, things get updated."
While recognising that an assumption of the gender of customers' spouses may not be anywhere near the scale of many crimes committed against LGBT people, Robertson said that it was not only the principle that prompted his complaint but also that it was just one example in a wider problem whereby society assumes everyone is heterosexual – and that that is damaging.
"I'm not going to go home and cry because Scottish Widows sent me a letter that used the word 'wife' but at the same time it feels as though they didn't understand why it meant so much to have that change made," he said.
There are, he said, multiple systems that gay people encounter every day that assume heterosexuality, but "you can only approach one at a time. It's an environment; a culture" and it needs to change, he said.
"It doesn't just affect me. You're hyperaware of language around gender, spouse and partners [when you're gay]. We're hyperaware because we come out every day and that forces us to be aware of it. It means it's an ongoing process, so stuff like this just jumps off the page."
The week after Robertson received the original letter he got married, but when he phoned his local register office to arrange the wedding – and give notice of his intention to marry – the official who answered, he said, replied: "I assume to a woman?"
A spokesperson for Scottish Widows said in a statement to BuzzFeed News: "We appreciate that heteronormative assumptions are outdated and are working to resolve this issue as quickly as possible."