The prospect of the Conservatives and the Democratic Unionist Party working together to form a government has sparked widespread fury among commentators, celebrities, and social media users who have accused the DUP of homophobia.
As Theresa May addressed journalists outside 10 Downing Street saying she "will continue to work with our friends and allies in the Democratic Unionist Party", bestselling author Juno Dawson, who came out as transgender in 2015, tweeted: "May cozying up with the DUP shows how little she cares for LGBTQ rights. Utterly disgusting."
Jonathan Bartley, the co-leader of the Green Party, told the BBC that "many in Westminster are appalled at a party like the DUP being at the heart of government". Humanists UK tweeted: "The DUP is a party of homophobia, creationism & oppression of women. If they prop up a Government, our work will be more important than ever."
And Stonewall, Britain's largest LGBT charity, said: "We share the concerns of countless LGBT people, and our friends, of all political persuasions who are deeply anxious about the potential Democratic Unionist Party involvement in the new government. The DUP have a poor record on LGBT rights."
With the DUP's 10 MPs, the Conservatives could just scrape a majority in the House of Commons, giving May the go-ahead to continue as prime minister. This would come just two years after former PM David Cameron said he would "never validate" the DUP's position on gay marriage.
While May, and Cameron before her, sought to overturn the Tories' previous anti-gay record by ushering in same-sex marriage and progress for transgender rights, the DUP has made no such attempts at modernisation.
Instead, Northern Ireland's largest political party has staunchly and consistently opposed legal rights for LGBT people and spoken out against homosexuality for decades. It has also remained silent over the oppression of LGBT people.
Most recently, the DUP's Arlene Foster was the only leader of a ruling British political party not to issue a statement in response to the mass shooting at an LGBT club in Orlando in 2016. When BuzzFeed News approached her to do so, following the largest single mass murder of LGBT people in US history, no response was given.
Last year, the DUP also prevented a public consultation taking place on same-sex marriage and published in its manifesto a commitment to continue opposing equal marriage. The year before, its MLAs blocked a vote on same-sex marriage in the Northern Ireland Assembly. It was the fifth time DUP politicians had opposed a vote that would have allowed gay people to get married.
To do this, the DUP invoked the so-called "petition of concern", which is a unique tool in Northern Ireland's parliament that can work like a veto; it means for a vote to pass it needs more than 60% support overall and at least 40% in favour among both nationalists and unionists.
More than 50% of MLAs supported the motion, prompting accusations that the DUP had "abused" the petition of concern in order to block equal marriage.
In the same year, the party opposed changes to the lifelong ban on gay men giving blood. This came shortly after it attempted to introduce a private member's bill that would enable religious people to discriminate against LGBT people through a "conscience clause" in equality legislation.
"We now are heading towards a community where it's not just about live and let live – people are now saying, 'You need to affirm my particular lifestyle and if that goes against your conscience, you have to do that'," said Paul Givan, the MLA who introduced the bill. "That's not equality; that's intolerance." The then-leader of the party, Peter Robinson, supported the bill.
Robinson also supported his wife Iris – then a DUP MLA – when she advised a gay man that he should seek therapy to treat his homosexuality. Her husband later responded: "It wasn't Iris Robinson who determined that homosexuality was an abomination, it was the Almighty."
A DUP councillor, Paul Maclean, went further in 2014, opining that homosexuality should be illegal: "The biblical perspective is against it and I take that view. It goes against the Bible's stance – so I don't believe it should be legal."
This followed another DUP councillor, Maurice Mills, being awarded an MBE despite having blamed Hurricane Katrina on a gay pride event and blaming gay people for Africa being "riddled with AIDS".
He said of the catastrophic hurricane that killed over a thousand people: "The media failed to report that the hurricane occurred just two days prior to the annual homosexual event called the Southern Decadence festival, which the previous year had attracted an estimated 125,000 people. Surely this is a warning to nations where such wickedness is increasingly promoted and practised."
In what proved to be a prolific year of anti-gay remarks from the DUP, one of its candidates, Sammy Wilson, reportedly told a woman he met while canvassing: "Sorry to hear you're gay." He later denied her claim that he had said this.
Also in 2015, the DUP's then-health minister, Jim Wells, said: "The facts show that certainly if you bring a child up in a homosexual relationship that a child is more likely to be abused and neglected." His comments, for which there is no supporting evidence, sparked widespread outrage and accusations of homophobia. Wells had previously described gay pride as "repugnant".
The gay pride event in question was the 2011 Belfast Pride, which the DUP refused to attend – in contrast to the other political parties, representatives of which joined the parade.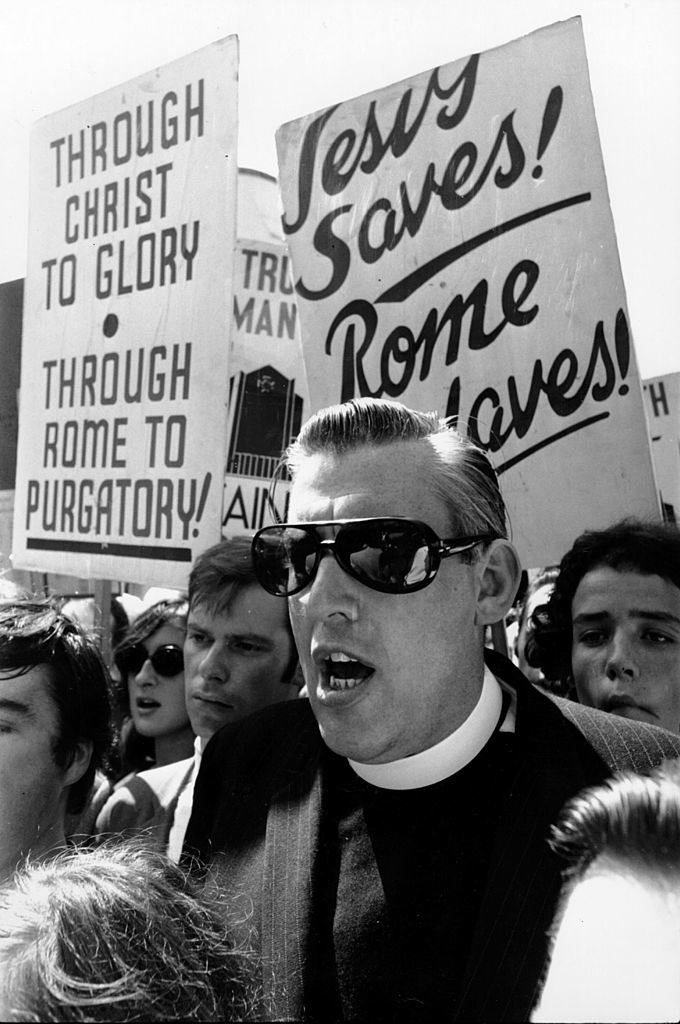 Responding to an invitation to attend the event, Wells wrote to the organisers: "I find the behaviour of those who take part in this march repugnant. I do not wish to be associated in any way with this event. My position on this will not change in the future and I would politely suggest that any further requests of this nature will be a total waste of your time."
In 2004, when the Labour Westminster government was planning to introduce civil partnerships – the legal union introduced for gay people before same-sex marriage – all six DUP MPs opposed the measure.
Further back, one of the former leaders of the DUP, Reverend Iain Paisley, led an infamous campaign in the late 1970s and early 1980s called "Save Ulster from Sodomy". Its principal aim was to block attempts to decriminalise homosexuality, after England, Wales, and Scotland revoked laws that made being gay illegal.
During the campaign the DUP placed adverts in newspapers asserting that decriminalising homosexuality "can only bring God's curse down upon our people". As a result, homosexuality remained illegal in Northern Ireland, and only became legal in 1982 when the European Court of Human Rights ruled that the law was a contravention of the European Convention on Human Rights.