For 18 years, Blind Date featured one man choosing between three female contestants, or one woman choosing between three male ones.
But when the iconic show – the most popular and well-known dating format in British television history – returns to our screens after a 13-year absence it will feature lesbian, gay, bisexual, and transgender contestants, BuzzFeed News can reveal.

When news of its return was reported last month, no mention was made of how the show might be updated for 2017, and no information had been revealed about who might feature on it. But a member of the production company developing the new version, which will air later this year, has confirmed to BuzzFeed News that there "absolutely" will be LGBT contestants.
The member of staff also revealed in an email to BuzzFeed News that they were currently casting for the show and "in need of people from all sorts of different backgrounds".
And a casting producer for the show told BuzzFeed News: "Blind Date is for everyone."
Stonewall, the LGBT rights charity, commended the decision. "We're thrilled that, for the first time ever, the returning Blind Date will be inclusive of same-sex relationships," a spokesperson told BuzzFeed News.
"Since the show's end in 2003, representation of lesbian, gay, bi, and trans people has come a long way, and we hope to see Blind Date's move inspire shows of a similar format to extend their remits to include LGBT people too. Not only will this send a strong message that LGBT people and their relationships are valid, but it can also enable viewers to learn more about LGBT people and their relationships."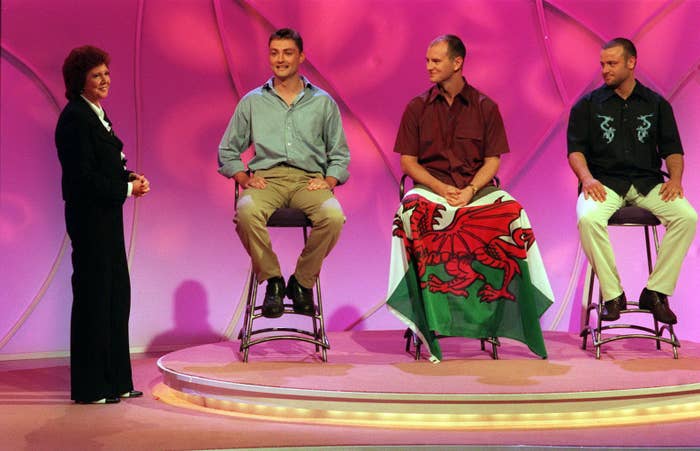 The previous absence of sexual and gender diversity on the show prompted regular criticism from LGBT viewers throughout its run, with many calling on producers to recognise the full spectrum of the British public, rather than only heterosexuals – to no avail.
The set format, of three contestants of the same sex asked questions by a "picker" of the opposite sex from behind a screen, never changed.
Such disappointment was compounded by the high esteem with which LGBT audiences held its famous host, the late Cilla Black, who died in 2015. The presenter, who found fame in the 1960s as a pop star, was regarded as a gay icon and befriended by numerous high-profile gay entertainers.
Black's bouffant hair, glittery outfits, and Dynasty shoulder pads, combined with her frank, sometimes innuendo-strewn Liverpudlian humour, secured her an enduring, beloved place within the LGBT community. It also made her a favourite among drag queens, who would often mimic her.
But the show, a primetime spectacular watched by millions every Saturday night on ITV1 from 1985 to 2003, never yielded to the calls for same-sex dates. Black, while privately appreciating her gay fans and friends, publicly supported Margaret Thatcher and the Conservative party, which in 1988 introduced Section 28, effectively banning school teachers from mentioning homosexuality – at the height of the AIDS crisis.
The new Blind Date, however, is being made by So Television, Graham Norton's production company, which also produces his BBC1 chat show. Norton has been tipped to be the host of this latest incarnation, which is reported to be for Channel 5.
However, bookmakers are also taking bets on other high-profile presenters such as Emma Willis, Olly Murs, and Rylan Clarke-Neal, who met his husband while presenting Channel 5's Big Brother's Bit on the Side.
On ITV1, the successor to Blind Date, Take Me Out, has also never featured LGBT contestants. And BBC1's Strictly Come Dancing has never coupled a celebrity with a same-sex dancing partner. Channel 4's First Dates, however, regularly includes daters of every gender and sexuality.