The Cofounder Of Gaydar, The Groundbreaking Dating Site, Has Died Aged 51
Henry Badenhorst was a gentle, sweet-natured visionary who changed the landscape of gay life. He died on Saturday in South Africa.
Henry Badenhorst, the cofounder of the trailblazing Gaydar dating website, has died after falling from a tower block in his native South Africa, close friends of the businessman have confirmed to BuzzFeed News. He was 51.
The cause of death has not yet been formally established, but it is understood he killed himself.
Along with Gary Frisch, his business and romantic partner, Badenhorst founded Gaydar in November 1999. Frisch died in 2007 – he also fell to his death from the balcony of a building.
The couple dreamed up the website after a gay friend of theirs had been complaining about how hard it was to find a boyfriend on existing online dating sites.
Rob Curtis, the current managing director of Gaydar, told BuzzFeed News: "Eighteen years ago, Henry and his partner Gary revolutionised the way that gay men meet, and in doing so created a safer environment for LGBT people everywhere. The Gaydar team is shocked and saddened to hear of Henry's passing and send our sincerest sympathies to Henry's friends and family."
Frisch and Badenhorst had come to London two years earlier to set up a revenue management company called QSoft. But it was Gaydar that made their name and their fortune, and forged incalculable connections between gay, bi and queer men.
Although a few dating sites such as Gay.com had begun to capitalise on both the new opportunities the burgeoning internet offered and the need among gay and bisexual men to connect, Gaydar revolutionised the way it was done.
Badenhorst and Frisch introduced live chatrooms, sophisticated search facilities – including location searches enabling you to find the nearest gay men looking to meet – and, perhaps most important, profile pages. These provided numerous photographic features and endless capacity for people to convey who they were, what they liked and what they were looking for. It changed everything.
Gaydar enabled gay men in the closet, in the countryside, in countries where it was illegal, and in open, metropolitan environments alike to meet. It influenced a slew of copycat heterosexual sites, and paved the way for mobile phone dating apps such as Grindr, Scruff, and Tinder that are today enjoyed by tens of millions.
At the peak of Gaydar's success in the late '00s, it had more than 5 million subscribers. The Independent on Sunday named Badenhorst the fourth most influential LGBT person in Britain in 2007. And despite becoming increasingly known as a hook-up tool – as well as a dating site – it broke into mainstream culture, attracting blue chip advertisers from Ford to American Express, such was the draw of the so-called pink pound.
It had its detractors – those who said it was responsible for encouraging a harsh shopping-list approach to sex. Matthew Todd, the author and former editor of Attitude magazine, wrote a darkly satirical hit play, Blowing Whistles, inspired by the new culture born of Gaydar. Various tabloid stories also erupted from the site: MP Mark Oaten met a male prostitute on the site; Boy George met the model he was later imprisoned for chaining up against his will; Chris Bryant MP used the site replete with a picture of himself in his underwear.
But Badenhorst remained proud of his accomplishment. He also expanded the empire, launching Gaydar radio, bringing in over a million daily listeners; Gaydar Girls, a mirror version of the site for lesbian and bisexual women; and the Lo-Profile bar, which closed in 2013, shortly after the radio station. He sold the rest of the company later that year.
Widely acknowledged as a sensitive, sweet-natured man, Badenhorst was in his understated way a quiet revolutionary – a visionary for many. Despite earning millions from his venture, his demeanour was far from the flash entrepreneur one might expect. Twinkly green eyes, a soft voice, and a shy smile greeted those he met.
Badenhorst described the loss of Frisch as the worst day of his life, and according to friends he never fully recovered from it.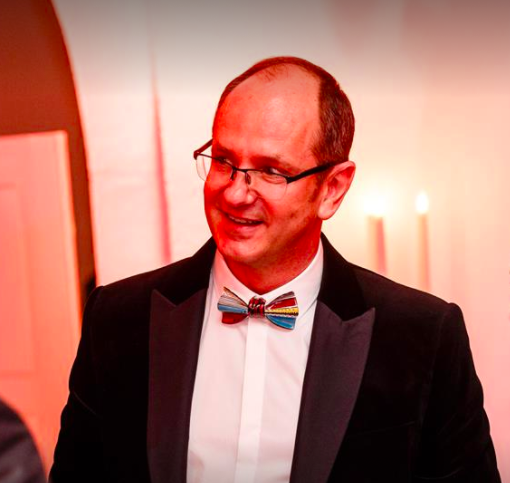 Growing up in a conservative, suburban, religious Afrikaans household in Johannesburg, Badenhorst could not have dreamed of what he would later create.
He told me in 2009 while I was interviewing him for the Observer: "When I was a teenager I knew I was gay but I thought I was the only one; but these days boys go online and see there are plenty of gay men." He also could not grasp the multitude of connections – from fleeting trysts to long-term relationships – he had facilitated: "It's only when you meet people and they tell you how it's affected their lives that you go back and think, 'This is what I've done.'"
If anything, this – preventing millions from believing themselves to be alone – is the legacy Badenhorst leaves behind. One of his friends, who did not want to be named in this article, noted the terrible irony of this: that the man responsible for bringing so many together could have left the world so alone. The friend also made clear that he did not want the news of Badenhorst's death to be broken by anyone outside of the LGBT press after the salacious way in which various tabloid newspapers had treated Frisch's death a decade ago. He said Badenhorst had been suffering from depression.
A local media report yesterday described the shock of witnesses who saw a 51-year-old man falling from the 23rd floor of the Michaelangelo Towers, a hotel building in Sandton, Johannesburg, at which an array of leading public figures have stayed including US president Barack Obama and Oprah Winfrey. A close friend of the Gaydar cofounder confirmed to BuzzFeed News that the man who fell was Badenhorst. He is survived by his siblings and parents.